Yes, headache. No, I am not calling this drama a headache, it is what the evil (soon to be bechari) Rushna has. Rushna is a character who has not a single bone of goodness in her. She is filled with selfishness, rudeness and judgment. But seems like the makers do not want us to feel bad about her. So, she is having constant headaches and now a fainting spell too. This development can make her a bechari in seconds and will also clear way for Mirha and Mehrab.
Mirha was again a victim of Aqeela's daughters. This happens to her again and again because she has zero IQ. She not only supports those girls but also keeps hoping that they will do her good. But after Rushna 1, we had a Rushna 2 in this episode. One more thing that annoys me to my core about this drama is PASAND KI SHAADI. No, I have nothing against love marriages but Ishq Tamasha shows that all you should be striving for in life is love marriage and this reinforcement episode after episode is ridiculous.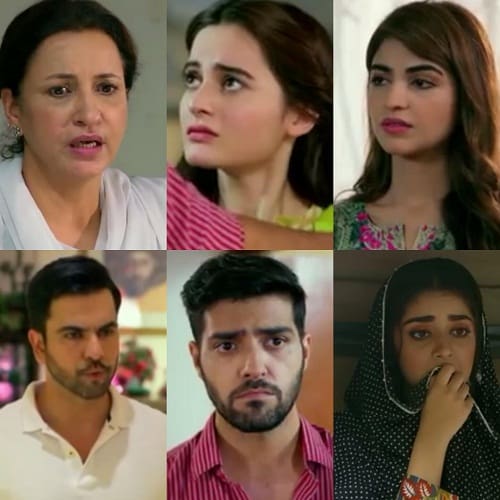 Palwasha also hit a new low in the episode. She is just not becoming the Balika Vadhu of Pakistani dramas but she also ended up blaming Mirha for leaving the house. Mirha aapi ko to Wahaj bhai ka maan rakhna chahiye tha will go down in the history for being the cringiest dialogue ever. Wahaj also deserves a standing ovation for being the biggest ass in the whole world. The guy just never wants to see what is in front of his eyes. Why don't you question your sisters what they are doing with their lives? Why you always have to ask Mirha about their mistakes?
Mirha finally left the house and even managed to give two or three good replies to Aqeela. She went to a hostel and did not contact Mehrab herself. Mehrab, on the other hand, is still locking away Rushna here and there and dreaming about Mirha.
I am afraid that the viewers will somehow end up watching Mirha and Mehrab looking after Rushna after she gets diagnosed with stage 4 cancer. Let's wait and watch!