This drama had a lot flaws in editing which made connecting all the scenes and the ongoing story together very difficult. We already knew that Mehrab will kidnap Mirha by mistaking her for Rushna, all thanks to HUM TV's unnecessary previews. But the whole kidnapping and the behaviour of lead characters was so frustrating. First of all, Mirha did not scream right away when a man came to their door and was being kind of violent. She waited for him to take her to the car before she tried to chant chachi jaan chachi jaan. Then the worst part was Mirha not recognizing Mehrab. This girl went to his office to call him to a function. Then he again introduced himself to her as Arham's brother but she still had to ask the maid in his prison because she had short-term memory loss maybe? Then she kept chanting main woh larki nahin hoon. So tell him who you are and maybe try to clear the misunderstanding?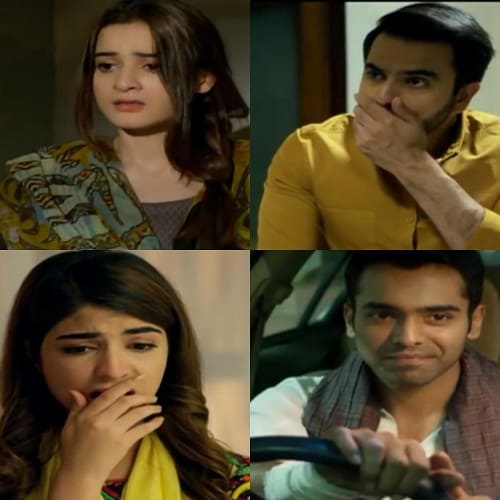 The behaviour of Mirha's family was (let me write this with extra oos) soooooooo unrealistic. Yes, the mother hates the orphan girl. But it is impossible that a house where a young girl disappeared is so calm that people are just sitting and having tea. Rushna loves Mirha so she was crying. But the other sisters also had a soft corner for Mirha, why were they so normal? It is so impossible for a house undergoing such a calamity to be this calm even if they are blaming the girl.
Mehrab who was introduced as such a sensible character became an abductor somehow and for whom he became a criminal was adorning himself as the dulha and was buying flowers for his future wife. Yes, they have shown Arham to be a person who just wants to have his toy whatever may the means be for getting it. But he could have protested a little knowing Rushna hates him already.
And they have again shown that there will be no nikkah at least for Arham in the next episode. How Mirha and Mehrab's story will progress will be a thing to watch for!