Opening Thoughts – Brilliant:
Oh wow, what a brilliant, interesting & happening episode of Ishq Zahe Naseeb. I am so glad that the pace of this drama has remained perfect throughout & now with the drama in its final stages, all the episodes have so much to offer & are covering all the characters & their tracks, simply superb. This episode like the previous episode was perfect & so engaging. Farooq Rind should be very proud of himself & Hashim Nadeem too. Ishq Zahe Naseeb is the kind of drama that has not been seen by the audience before & the popularity of it is not only well-deserved but gives a message to all the other drama-makers that the audience is oh-so ready to watch dramas like these. Ishq Zahe Naseeb keeps you engaged & keeps you guessing as well. Once again, this episode ended hinting about some 'raaz' & no, I am not thinking about it…but yes, I think I am.
Sameer's Mental State:
The highlight of this episode was definitely Gauhar & Sameer's engagement. This commitment is difficult for Gauhar, it has been shown right from the beginning but I loved how they gave an insight into all the emotions that Sameer was going through – all of which was flawlessly portrayed by Zahid Ahmed. Each & every emotion, every single thought running through Sameer's mind was clear. As much as Sameer wants to commit himself to Gauhar for the rest of his life, this transition is emotionally & mentally very difficult for him. All this while Sameer has stayed in his comfort zone, being Sameer & Sameera – with no one to question him or the existence of his other personality but now, as much as he is ready for the next phase of his life, he is finding it hard to accept that things are going to change for him. As much as Sameer is happy, he is equally upset & sad because he knows that Gauhar is going to replace Sameera – this is something that he has opted for himself but once again, considering how he has stayed in that bubble for years, it is absolutely natural for him to feel a little threatened. The way Sameer looked at the engagement ring showed that while Gauhar had all the things running through her mind, for Sameer it was a lot more that he was hiding, trying to achieve & getting himself mentally prepared for the change. Sameer wants validation of Gauhar, he has always shown that eagerness to feel emotionally validated & now when things are finally shaping up in Sameer's favor – the Sameera in him is frightened.
Sabeeha is forced to think a lot more about the things she has done in the past. The more Sameer ignores her, the more she feels guilty. I kind of enjoyed seeing how the tables have turned, Sabeeha has always guilt-tripped Sameer to an extent where she literally controlled him completely but now just one sentence from Sameer has her feeling guilty. Sabeeha obviously is not the kind who will give up but she did look dejected & helpless – may be she has realized that the ship has sailed & she can not do anything to turn things around.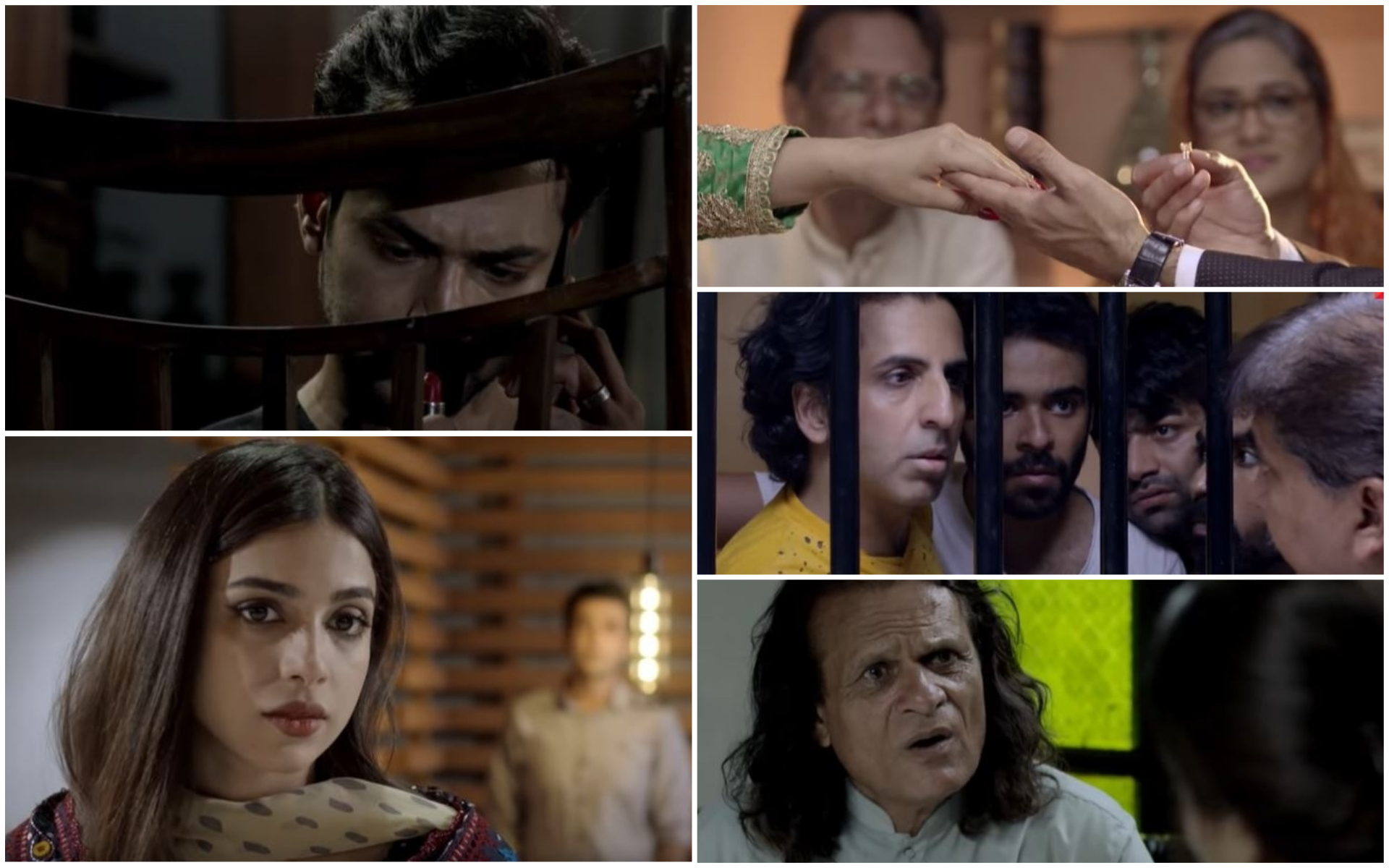 Finally, Akbar & Gauhar's conversation put things into perspective. Akbar is biological brother of Surraiya Begum, Sameer's mother, which makes him Sameer's uncle but because Ehsan didn't want Surraiya to have anything to do with her poor family, Akbar has kept this a secret. Oh well, that dialogue immediately reminded me of the things Sameer said to Saleem. Does Sameer take it after his father – where he just wants to be with Gauhar but is also very much aware of the class difference between himself & her? Looks like Sameer can't help it but he definitely takes it after his father, however it is nice to see that he has not once made Gauhar feel that way. I guess Sameer said all those things to Saleem to draw a line right from the beginning because he can totally see what a mooch he is.
Kashif connected the dots, he saw that the gift Donia got was picked up by Gauhar for obvious reasons. Gauhar let Kashif know that she has moved on & has now handed Kashif over to Donia & this was something that she wanted Kashif to accept as soon as he could to spare them the misery. This is what I love about Ishq Zahe Naseeb the most where without saying a word, the entire picture is painted with such beauty. Kashif knew that this was Gauhar's way of letting him know that she is very much happy for him to be with someone else. Sameer also got the same necklace for Gauhar, which I feel was a bit too much of a coincidence which could've been skipped but chalo, it's alright!
My favorite scenes of this episode hands down where those which covered Sameer's mental state as Sameera – upset, sad, helpless, unassertive & just unable to deal with the change. It was intelligent of the writer to actually show the emotional storm that Sameer was faced with, since he has relied on Sameera & her thoughts to find solace & comfort, he was actually now getting ready to let go of it, so showing his mental state was beautiful in a way that they made us connect with Sameer's character a lot more & made us feel for him at the same time. Simply beautiful. Those scenes did not even for a second seem disturbing, rather only made me feel sad that Sameer will have to readjust & this is something that he will get to learn alongside Gauhar – if she will accept this part of him, which is another misery & question that is at the back of Sameer's mind!
Closing Thoughts – Perfection In Every Sense:
This was one perfect & beautiful episode of Ishq Zahe Naseeb. I kind of feel sad for Sameer because it is taking a lot for him to bring Gauhar in his life & now before he will get to experience the happiness of this companionship, Jahangir will make sure to destroy it because he got a picture of Gauhar & Kashif. It was definitely nice that Gauhar got to say what was in her heart & she felt light but Kashif is obviously not going to take it the way Gauhar wants. Gauhar went to get a closure but Kashif will once again see it as an opportunity to rekindle the old affair where circumstances played a huge role in drifting them apart. I feel at this point Sameer might go a little wrong (I so hope not) because while he himself is hiding such a big secret & would expect Gauhar to be completely understanding of him, he himself won't be able to take it when he will find out that Gauhar was involved with Kashif. Sameer keeps on asking Gauhar whether she is happy, as if he is trying to feel validated again & again. Sonya Hussyn looked absolutely gorgeous in the engagement scenes. Gauhar has learned to smile through hardships, that is why as much as she felt her heart was about to explode after her engagement to Sameer, she just smiled & had a moment to finally let it sink in that this was a reality that she had to accept. Yumna Zaidi has such short scenes but she has made all of them quite impactful with her stares & gazes. There's so much emotion & sadness in her eyes – which actually reflects the way Sameer perceives Shakira because he knows she died a sad & tragic death. This display of emotion is so strong, convincing & absolutely beautiful. Zahid Ahmed as Sameera was beyond brilliant in this episode. I also really liked Sami Khan in the scene when Kashif finds out that Gauhar never made it to the court that day – it was like he felt a huge burden off his shoulders because all this while he held himself responsible for betraying Gauhar but now he knew they both made the same selfless decision for the sake of their families. Direction, story-telling, dialogues, vibe & the feel of all the scenes – spot on. Please share your thoughts about this episode of Ishq Zahe Naseeb.
Keep Supporting,
Cheers,
Zahra Mirza.