Opening Thoughts – A Good Episode:
Ohkay so, I am glad that finally the story moved forward & yes, apart from a few scenes, the background music wasn't loud either which made this episode easy to watch. After watching the previous episode & comparing it with this one, this episode for sure looked like a totally different work in terms of direction as well as editing & no I am not complaining. I really hope we're past the flashbacks, fillers & unnecessary repetitive scenes & here's to hoping that they are now starting to wrap this drama up. I did like whatever was shown in this episode because it was 'new' & we're finally getting insight into Sameer's life, especially in a setting where he is now sharing it with someone. I must add, all the stars that this episode of Ishq Zahe Naseeb is getting is only because of the brilliant acting that Zahid Ahmed & Sonya Hussyn have displayed in this episode, it was definitely a treat to watch them!
The Secret Is Out:
Gauhar got to see Sameer as Sameera, she did realize that Sameer was a different person, this was the secret he was hiding all along & that this was the reason why no one was allowed to disturb him after he came back from office & went inside his room till morning. I would've definitely liked if they had elaborated Gauhar's state of mind a little more but I have felt they have always treated her emotions as an afterthought. They have done this in the past when she got attacked with an acid, so this didn't come as a surprise. Some elaboration was definitely needed because this was something that she must not have imagined in her wildest dreams & seeing her husband in such an avatar that too during their very first interaction as a husband & wife must've been petrifying but they skipped her reaction completely. Let's just say, whatever was shown was not enough to look convincing but yes, Sonya Hussyn did act brilliantly in those limited scenes & she did her best in conveying Gauhar's emotions as much as she could.
The best scene of this entire episode was the day after Sameer & Gauhar got married. Sameer knew his secret was out, the state that he found Gauhar in was enough to let him know that he had scared her. Sameer did realize that he must've looked like a monster to his wife, that is why he was ashamed, he was terrified & he felt miserable seeing Gauhar in such a state. It was brilliantly shown that Sameer was not oblivious & he was very much aware of what he has done. The cry for help was loud & clear, Sameer knew that it wasn't the time for explanations or answering the questions, it was simply the right time to seek Gauhar's help because deep down he has this faith in her that she can help him overcome his demons & bring him out of his misery. Sameer obviously didn't want to leave such an impression on his wife but because he couldn't help it, he was embarrassed to the point where he also shed a tear. That entire scene was brilliantly directed & both Zahid Ahmed & Sonya Hussyn yet again proved their caliber as actors – phenomenal work I must say!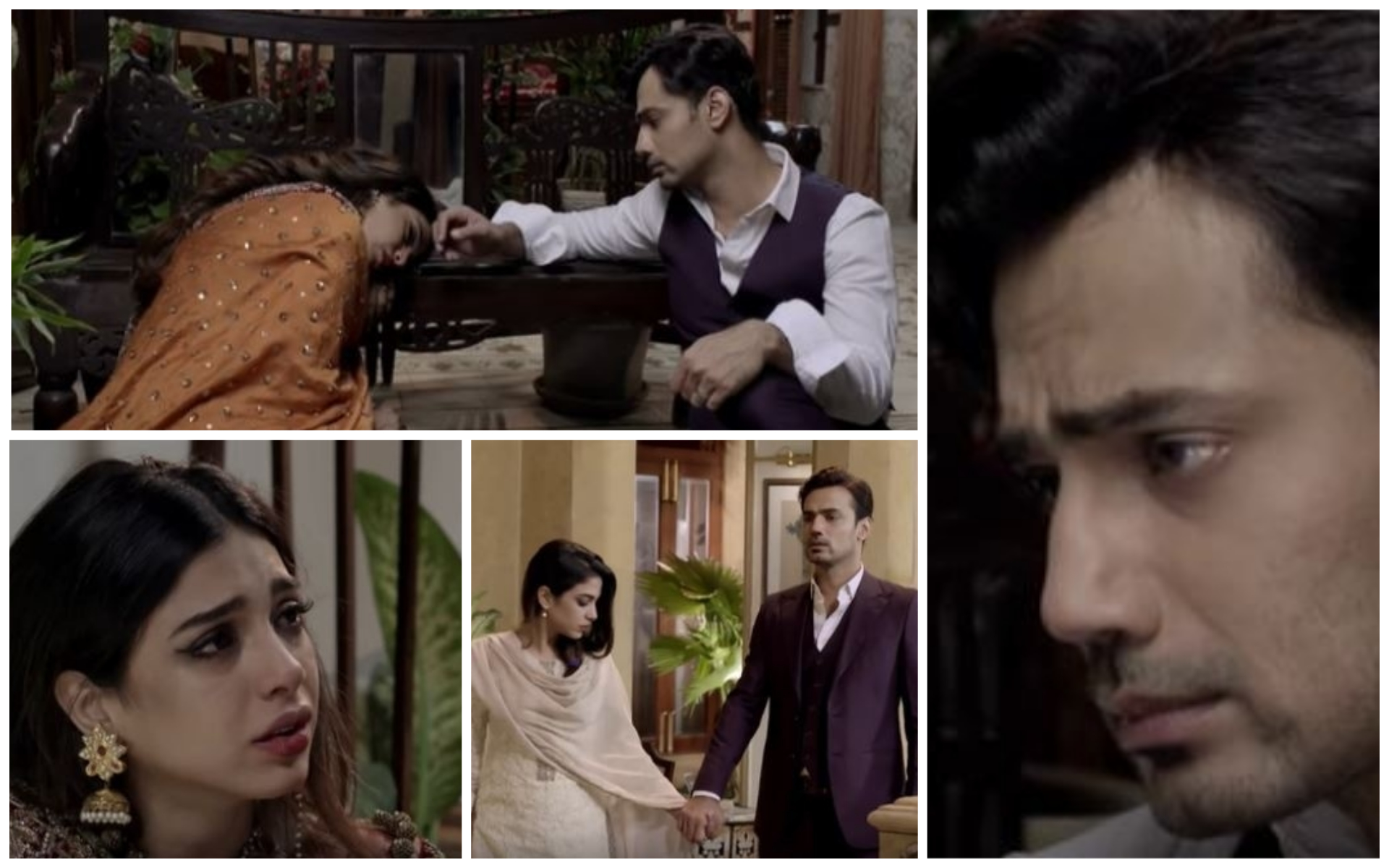 The rest of the episode basically covered the other tracks but yes, this time around even their scenes had a lot of meaning & importance which was good to see. Gauhar's family found out about Sameer's condition but yes, her father was right to judge that Saleem must've agreed to it by taking something in return. I am still not a fan of Gauhar's mother, she asks why Gauhar has to pay the price all the time, well I guess she should be asking this question to herself. Jahangir & co. found out about Kashif & now he is going to use this linkup against Gauhar & Sameer. Donia is just being herself, she is behaving like a girl in love & is happy to be engaged to the guy she loves but unfortunately, Kashif's got nothing to offer in return, which actually is sad. I used to feel for Kashif in the initial episodes but now I feel his character has become quite one-dimensional & there's nothing interesting about him. He is missing a spark & he's just another regular character that we come across in different dramas which leaves no impression or impact. Yes, he is engulfed in his misery but aur kuch? Nothing, so basically boring!
Sameer & Gauhar's interaction was interesting when he came back & showed Gauhar the signs of Sameera yet again. Now the ball's in Gauhar court & she has to come up with a solution to the problem that she, as Sameer's wife is faced with. Gauhar had realized the moment she saw Sameer as Sameera that 'this is the reality' & she can not escape it. She did understand right at that moment that Sameer needs help & he is not ashamed of asking for it either. This was definitely a defining moment of their relationship because Gauhar saw that Sameer was actually helpless & he was admitting it. If Sameer had acted as a typical husband, failing to acknowledge that he has some issues, that would've made things a lot more difficult for Gauhar but just his submissiveness & acknowledgement was enough for her to believe that she can help her husband, which is beautiful! I am definitely interested to see how Gauhar will deal with Sameer henceforth & for this reason I really enjoyed the preview as well. Definitely looking forward to their equation & yes, I'd be glad if Gauhar & Sameer will stay together & find their happy ending because Sameer is not a monster, he is just someone who needs love, care, attention & a lot of unlearning to do in order to feel secure & let go of his complexes! If this is the new ending that the team is coming up with, then I am excited for it.
In this episode, another aspect was covered, though I definitely blame Sabeeha for mistreating Sameer & making sure he doesn't come out of his guilt, like she had her ulterior motives but Shakira was twisted as well. Shakira was no way suitable to be around a child of Sameer's age because she actually messed with his train of thought & taught him things no one should teach a child. I am definitely not giving Sabeeha a clean chit & yes, whatever she did was because of her own selfish reasons but I won't blame her for parting Sameer & Shakira because that was actually the right thing to do & very much important for Sameer's well-being. It also looks like the new angle has been added to Shakira's story where she was subjected to some kind of mistreatment from Sameer's father Ehsan, let's see when will they reveal this detail.
Closing Thoughts – Exciting Precap:
Overall, this episode of Ishq Zahe Naseeb was definitely better than the previous episode. I thoroughly enjoyed watching the acting of Zahid Ahmed as well as Sonya Hussyn & after a lot of weeks the preview of the next episode is making me look forward to it. I so want to see how Gauhar will take care of Sameer & how he will accept her help. Kashif for sure is a nice character but I totally feel Gauhar is better suited with Sameer, he knows how to take care of her, he has shown it in the past & now it is Gauhar's turn to reciprocate the kindness with which Sameer has treated her all along. I'd be happy to see them both finding happiness & staying together, Kashif shouldn't get a forced happy ending only because he & Gauhar were once in love. They are past that stage so I am hoping the writer will keep it that way. Yumna Zaidi's scenes seemed new because her makeup & the overall vibe of her scenes was definitely different from the previous ones, but I am glad they are now giving us an insight into her personality & mentality too, she definitely seemed off so it is a good move that they have decided to elaborate it further, as that will allow the viewers to understand her character better. Yes, I am glad Sabeeha intervened & sent Shakira away because she was not an ideal person to be around a child so young. Also, definitely looking forward to the time when Sameer will get to meet his biological mother, I so hope the remaining episodes cover the actual story & the drama-makers are done with the flashbacks. Please share your thoughts about this episode of Ishq Zahe Naseeb.
Keep Supporting,
Cheers,
Zahra Mirza.