Ohkay so, Production of Six Sigma, Direction of Nadeem Baig & Writing of Vasay Chaudhry; Jawani Phir Nahi Aani hit the cinema screens on 25th September, 2015. As suggested by the trailers, it's a comedy movie that revolves around 4 childhood friends & their lives. I must say, it took a lot of recommendations from friends & family for me to watch it & now that I am done with it, I must say I enjoyed the movie solely for the fact that it was filled with Pakistani humor that I could relate to & have a good laugh at.
The movie is all about Sherry (Humayun Saeed) a USA returned, unmarried divorce lawyer who comes to visit his 3 childhood friends; Saif (Hamza Ali Abbasi) who is married to Kubra (Ayesha Khan), Sheikh (Vasay Chauhdry) who's married to Gul (Sarwat Gillani) & BB (Ahmed Ali Butt) who is married to Lubna (Uzma Khan), only to find out how miserable their lives with their wives are. Sherry feels bad to see that his friends have lost the entire spark that they used to have back in the day & takes it as his duty to revive some fun & thrill in their lives. Sherry thinks that he & his friends should have an all-boys trip to Bangkok because he feels that's exactly what they all need at this point of time.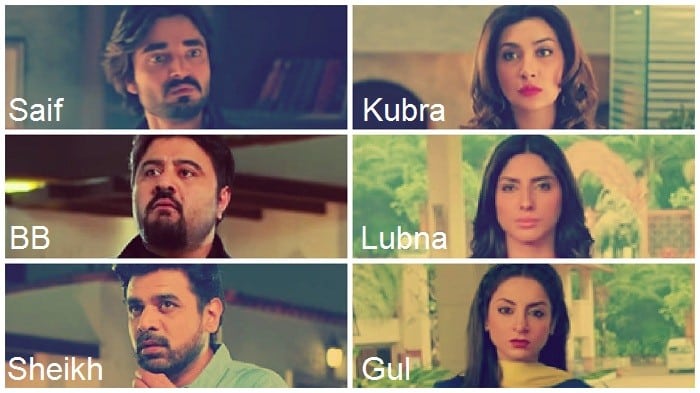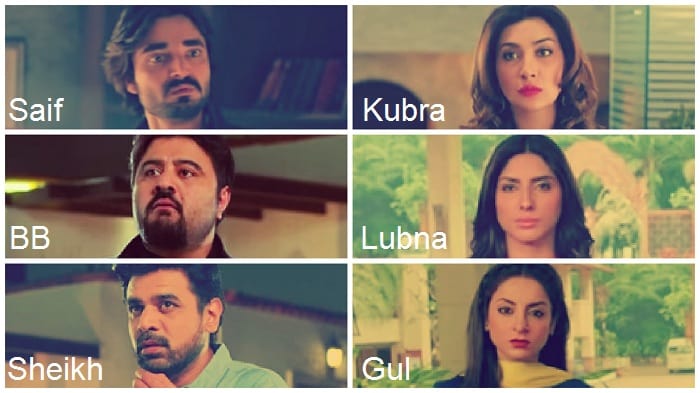 A little background knowledge about the characters is given in the initial few minutes of movie where BB is miserably lonely because his wife is a working woman. Saif; a young director turned Casanova who gets a kick start at his career because of a heavy financial support from his father in law believes in lying to his wife as he thinks she is too dominating & doesn't give him the space he needs. Sheikh, a very mediocre policeman who hardly has any achievements to his belt, because of which gets looked down upon by his wife who is a fierce Pathan lady that comes from a very well-reputed family too is also quite unhappy with the way his life is turning out to be. After seeing forlorn & bored faces of his friends Sherry comes up with a plan & eventually succeeds in tagging his friends along to Bangkok for a whole week by using shopping spree & a made-up story about his fragile health as a bait to get permission from the ladies & that's where the story begins. While Saif, BB & Sheikh believe that they are having a great time, it is actually Sherry who introduces them to what actual fun is & that's when he comes across Marina (Mehwish Hayat) who's a daughter of renowned Don of Thailand named Bichchi Don (Ismail Tara) who is named like that because wo jahan jatay hain bichch jatay hain. Bichchi Dons suggests that Sherry should get married to Marina because he's the first guy she has ever fallen in love with, forcing Sherry to come up with desperate measures of fleeing from Thailand the very next morning. That's when the three wives jump in to find out that their husbands lied to them about their whereabouts & they didn't ever go to any remote area in the Northern Pakistan for Sherry's medical treatment but instead came to Thailand to cheat on them. Sherry tries hard to save the day but eventually due to a heated debate between Saif & Sherry, he decides to leave his friends in the lurch & go back to where he came from.
Saif, Sheikh & BB's lives take a halt because their wives abandon them. While the three boys meet to lend a shoulder to each other to cry on, BB reads an article about Sherry marrying a Billionaire Mr. & Mrs. Mehboob Khan's (Javed Sheikh & Bushra Ansari) daughter Zoya (Sohai Ali Abro) in Lahore, that's when they decide they should go pay their friend a visit & also pay him back for wrecking their stagnant, fun-free but peaceful marital lives. That's when fate plays a trick with Sherry as Mehboob Khan happens to be a friend of Bichchi Don who also comes to attend Zoya & Sherry's wedding along with his daughter Marina. Who eventually becomes Sherry's life partner is what you have to see this movie for but all in all it is a fun-filled ride with tummy-tickling humor.
What I loved the most about Jawani Phir Nahi Aani is the fact that they have blended so many flavors of humor in 2 and a half hours of movie that you start laughing at the very first scene & leave the theater with a big smile on your face. Yes, there are quite a lot of adult themed & dual meaning jokes in the movie which I feel could have easily been avoided because the way they extracted humor out of Punjabi, Pushto, Politics, Current Happenings of Social Media, Bollywood & Gossips about Pakistani Celebrities was absolutely spot on & served the purpose of making this movie a great entertainer without the need of relying on any bold content. References like 'piece bara tight hai', 'CIA agent', 'gulllu butt', 'tabdeeli aa nahi rahi, tabdeeli aa gai hai' were used so aptly that you actually easily relate to each & everything because it looks like it has been derived out of the regular conversations that you have on daily basis over a cup of coffee with your family or while watching TV & surfing Facebook!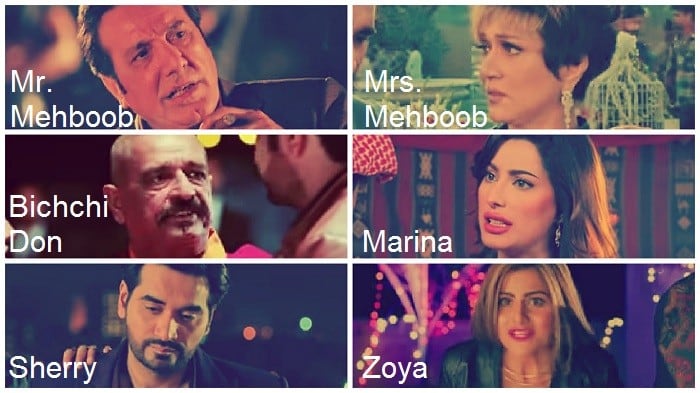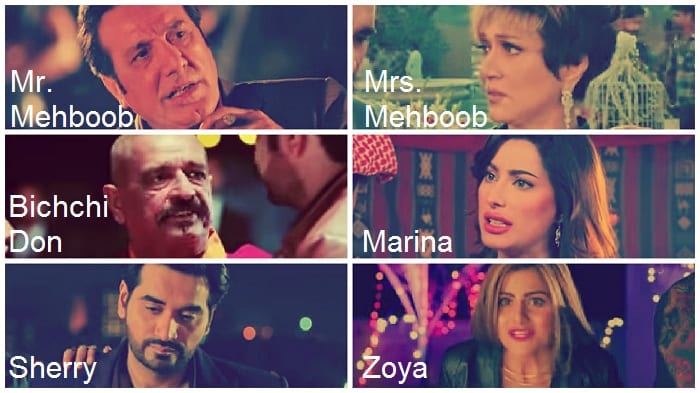 Usually when there are a lot of characters in a story, one way or the other someone at least gets ignored but it wasn't the case in Jawani Phir Nahi Aani. Each & every character got the time needed to establish grounds for itself & it never felt like someone lost the purpose in the course of story-telling. All the characters were relevant in the story & they needed to be there to complete the whole picture. I must say, I loved how each & every character was assigned to elaborate the clichéd flavor of comedy but in a very good way & I must say they all did a wonderful job. Sherry was there to provide a situational comedy, Saif derived the fun out of his confused mental state, BB & Sheikh did an amazing job in the background because their expressions never failed to leave a mark & they completed every situation without even having a say in the matter. Bushra Ansari's character was there to let us know no matter how rich one becomes, they can never let go of certain habits which included her fluency in Punjabi irrespective of the fact that it made her husband & daughter uncomfortable. Bichchi Don that later reappeared as an Arabian Sheikh gave a whole new dimension to the comedy because we're ourselves are immune of trying to merge Arabic with Urdu & that combination of both the languages stirred a lot of laughter throughout his part. Zoya's character allowed us to have a laugh at those 'burger' girls that we often interact with. I loved how the flow of comedy never stopped in between the situations & when one stepped back, another took the altar & did the honors of making us laugh. I must also admit that every time these 4 boys got together, their conversations were hilarious & they never allowed us to stop laughing.
Before talking about any other actor, I will take a moment to praise Sarwat Gillani for looking like such a cute doll throughout the movie. I loved loved loved her & she absolutely looked gorgeous, literally like a porcelain doll & honestly speaking, she is one of the major reasons why I am writing this review because I felt like I had to get it out there how adorable Sarwat looked throughout the movie. She not only looked beautiful but she acted brilliantly too because her Pushto accent was really cute & she did a phenomenal job in delivering it properly. Ayesha Khan looked perfectly comfortable in her character; she looked quite young, gorgeous & was a perfect match for Hamza Ali Abbasi. I for a second confused Uzma Khan to be Mahira Khan's younger sister because the resemblance is uncanny & she was quite good at the job that was assigned to her as well. I found Bushra Ansari to be hilarious because the command she has over Punjabi is phenomenal & she made it all look so effortless & it's a known fact that she is naturally gifted when it comes to comic timing; no one can match her level & she proved it once again. Javed Sheikh was amazing & he made the whole cinema hall laugh out loud at the Gullu Butt bit – to see such energy & such vibrancy coming from him was absolutely refreshing. Ismail Tara, another great great actor with a phenomenal comic timing & command over humor made his scenes a treat to watch too. I must say, all the boys looked graceful but Humayun Saeed stole the show. He looks way younger than he did in Bin Roye & even smarter too. There's no doubt about the fact that he is a great & seasoned actor but the way he molded himself as Sherry, I never expected that Humayun could be so good & effortless at comedy as well. Sohai Ali Abro was very cute & she did the whole American Urdu accent very innocently & I will mention that the way she has groomed herself is commendable too. There was something very childlike about her & she gave the hashtag & pouting fever a very cute face. Hamza Ali Abbasi, Vasay Chauhdry & Ahmed Ali Butt, all of them seemed comfortable in their characters & did a commendable job too. Honestly speaking, Mehwish Hayat was least impressive, not in terms of acting but in terms of styling, she tried really hard to look glamorous but somehow I couldn't see the femininity in her which was the missing key factor given the major role she was playing. Also, I think I should put it out there that the rest of the ladies like Sarwat, Ayesha & Lubna didn't look any less glamorous in decent clothing in comparison to both Sohai Ali Abro & also Mehwish Hayat. Yes, I get it, Mehwish Hayat is confident & she has polished herself but I think she is trying to achieve a very debatable image of some glam-girl & it is off-putting to say the least.
I must say the direction, the editing, the screenplay & the story, each & every aspect of the movie is brilliant but the one that won me over was Pakistani humor which made this movie work for me completely. It was good to see actors like Mohammad Ahmed, Bilal Lashari, Gohar Rasheed & ZQ making guest appearances as well. The makeup artists & the dress designers have done an amazing job for sure. I loved how the dress designers gave age appropriate ensembles to everyone. I was impressed by Bushra Ansari's dressing the most because she carried herself so gracefully. Sarwat Gillani's bright ensembles referring to her Pukhtun origin were beautiful & Ayesha Khan's clothing also gave her the look of a modern urbane lady. Humayun Saeed carried himself really well & even the men's clothing was designed perfectly too. The camera work was brilliant throughout the movie & the quality was speaking for itself. Songs were good & so was the choreography & Sohai did a great job in both her songs. By the end of the OST, Fahad Mustafa hinted about part 2 of the movie & I must say, if they are planning it, they should go for it but I feel now when they have gotten such a great response, they should respect the liking of the viewers too & that is why I feel they should keep in mind to cut down on those suggestive jokes a bit & also the song that marked the arrival of boys in Thailand could've been easily edited out too. The storyline was similar to Bollywood's 'Masti' & 'No Entry' but I hope & wish that they'd come up with a completely different story for its sequel. Overall, it was a great movie that delivered what it promised & it was 'comedy'. Are you guys planning to watch it or have you already done that? What are your thoughts on it? Please share your say with us in the comments section below. :)
Keep Supporting,
Cheers,
Zahra Mirza.