Written by: Vasay Chaudhry
Directed by: Nadeem Baig
Produced by: Six Sigma Plus & Salman Iqbal Films
*Spoiler Alert*
Jawani Phir Nahi Ani 2 keeps the essence of its prequel intact but the addition of new characters and actors definitely makes the film more entertaining. This time around Sherry's (Humayun Saeed) story is different but the relationship between the three friends remains the same. Right from the time the movie starts, you look forward to watching Pervaiz, Sheikh and Sherry together and once they are finally together, their journey is more entertaining than it was in the prequel. In this Sequel Rahat (Fahad Mustafa) is the new main lead and he makes his presence felt in every single scene. Fahad Mustafa definitely takes the lead in this film for so many reasons and outshines all the other male leads. Ahmed Ali Butt is once again seen doing what he does best – nailing a comic role! Vasay Chaudhry's comic timing is always remarkable therefore he does not disappoint either. Just like many other romantic comedies made in Pakistan, this one too opens in Pakistan and later takes its viewers to Turkey and then Dubai. Like every other comedy film which essentially revolves around men, the female leads do not have a bigger role to play but their characters have definite traits and are not merely caricatures. The comedy element of the film is far more entertaining than the romantic one. The romantic tracks are not covered convincingly, I did not find myself rooting for either of the couples. Sherry and Salina (Kubra Khan) fell in love a little too soon and the dialogues and situations that ensured immediately after their first meeting were not exactly convincing. Although, this is a comedy film and the situations do not necessarily have to make sense but even then this was a rare case of love at first sight.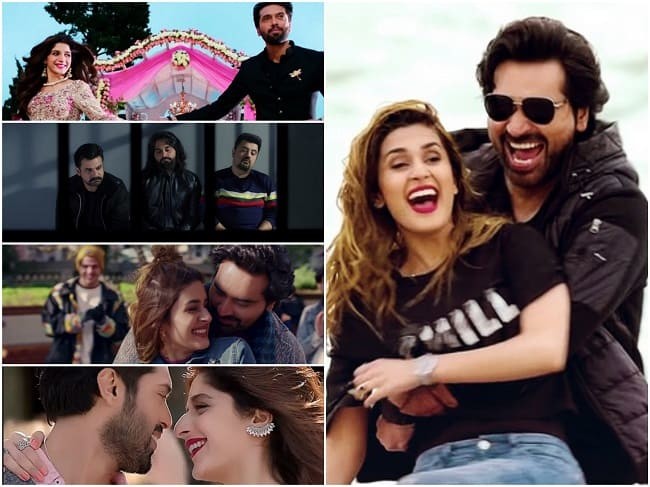 Although, there are jokes, scenarios and even dialogues in the film which are not exactly brand new but most of them were enjoyable. Jawani Phir Nahi Aani 2 is visually pleasing and the director Nadeem Baig has shot every single scene beautifully. There is a lot of focus on Pepe and Rahat's relationship dynamics in the beginning of the film but later on you are left wondering if there was need to focus on this aspect in such detail. Out of the songs in the film "Aya Lariye" and "Lahore Teray Te" were the best ones – they were catchy, had a Pakistani feel to them and they were well choreographed and captured. Like most of the Pakistani films, this one too could have been easily chopped down. Also, like every other comedy film, this one too has social messages. Although, the Pakistan/India dialogues made the situations relatively more serious but the message they gave was well-put-together. I also feel that Humayun Saeed looks great in traditional attire and he cannot pull off the cool boy look any more. He also has more of a screen presence in serious and emotional situations. Fahad Mustafa's wardrobe, his entire look and his body language was the most impressive. Ahmed Ali Butt was a lot like he is in award shows when he is giving performances therefore anyone who enjoys watching him do that will definitely enjoy this film as well.
Sarwat Gillani is just as likeable as Gul as she was in the prequel. Uzma Khan looks great in this film and her performance is superb too – she should be given more meaty roles in films because she looks good on the big screen. Mawra Hocane's makeover is perfect but there is nothing new about her look or performance. In the first few scenes, it is easy to tell that Kubra Khan's entire look is greatly inspired from that of Karina Kapoor, she also looks a lot like her in few scenes but Kubra looks much more pretty with the long hair and traditional look. Omer Shehzad was the surprise package in the film, I have never seen him perform before therefore watching him own his character with confidence was a pleasant surprise. He is another actor who should be seen on the big screen more often. Sohail Ahmed entertains as usual which was definitely not surprising. Kanwalijit Singh is extremely impressive as Salina's father – loved his dialogue delivery and the treatment he gave to his character. Hamza Ali Abbasi makes an appearance in the end which is definitely good since he was an important part of the prequel. Adding political references in a film is risky business but JPNA makers took that risk! The story of the film however does not really justify the title.
Jawani Phir Nahi Ani 2 has more highs than lows. If you don't over-analyze the jokes, want to watch a film with the sole purpose of being entertained then you will not be disappointed. If the social messages were not presented too seriously, the romantic tracks were not handled so carelessly and some of the scenes were chopped down then this film would have been so much better. Overall however, the film is visually pleasing and is sure to make you laugh right till the end.