While growing up, I usually thought there are only one pair of jeans and they looked like the most hideous piece of clothing one could ever own. Straight, denim fabric which I could button and zip up on my waist. But lo and behold, as time went on I discovered more and more versions of these and was blown away by the sheer variety being offered to me. From skinny to boot cut to boyfriend to girlfriend to even mom jeans, here's a list of denims you should try out this season:
Skinny jeans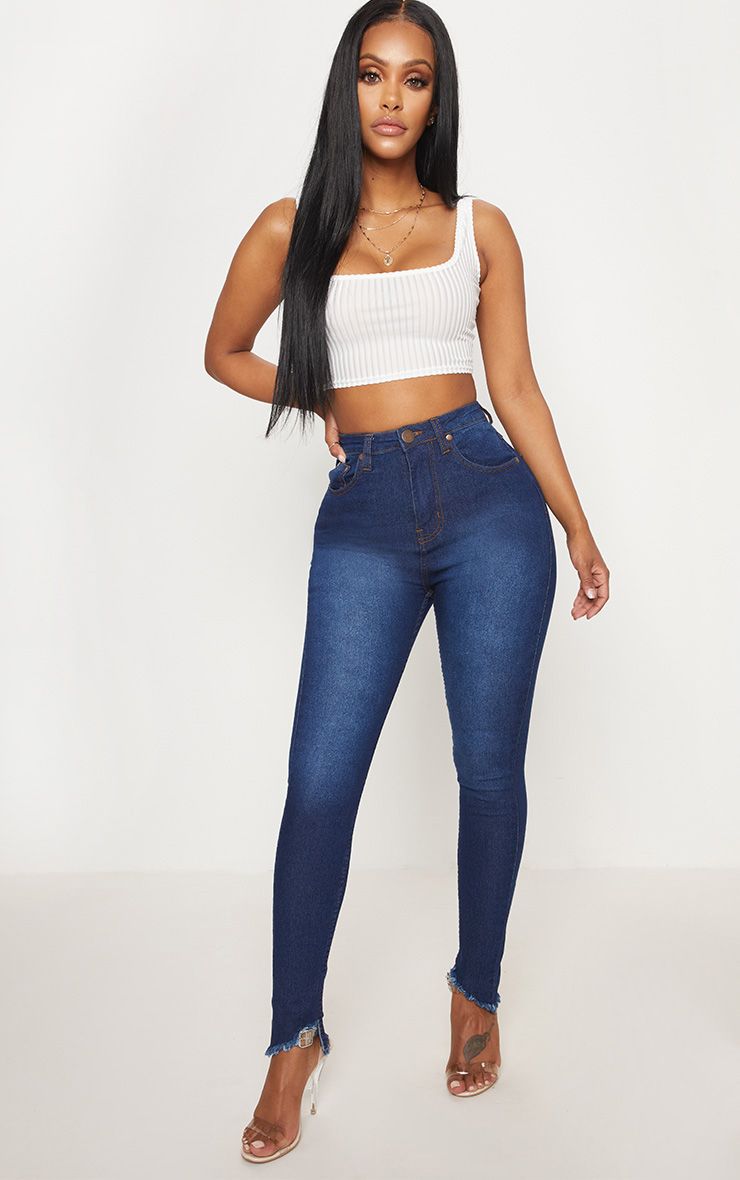 Skinny jeans as the name suggests "hug onto your skin", taking the shape of your legs and show them in the most sexy, flattering way possible. Skinny jeans come in low, mid and high rise. They are great for slim, petite girls.
Jeggings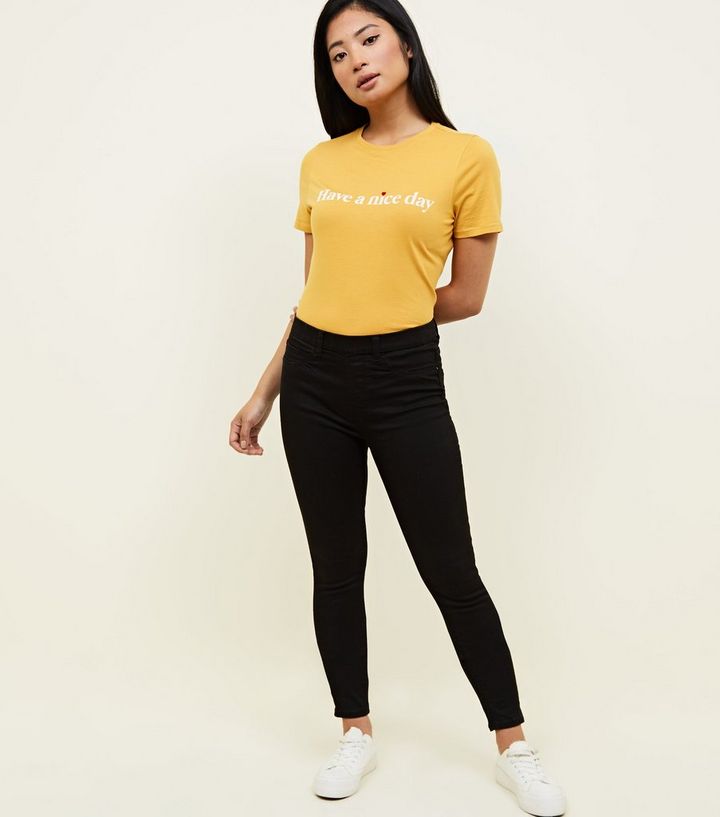 Jeggings are basically leggings in the form of denim. They are super stretchable and comfortable to wear especially with long tops. They are also great for winter season as they stick to your body, keep you warm and can be paired with boots.
Boot cut jeans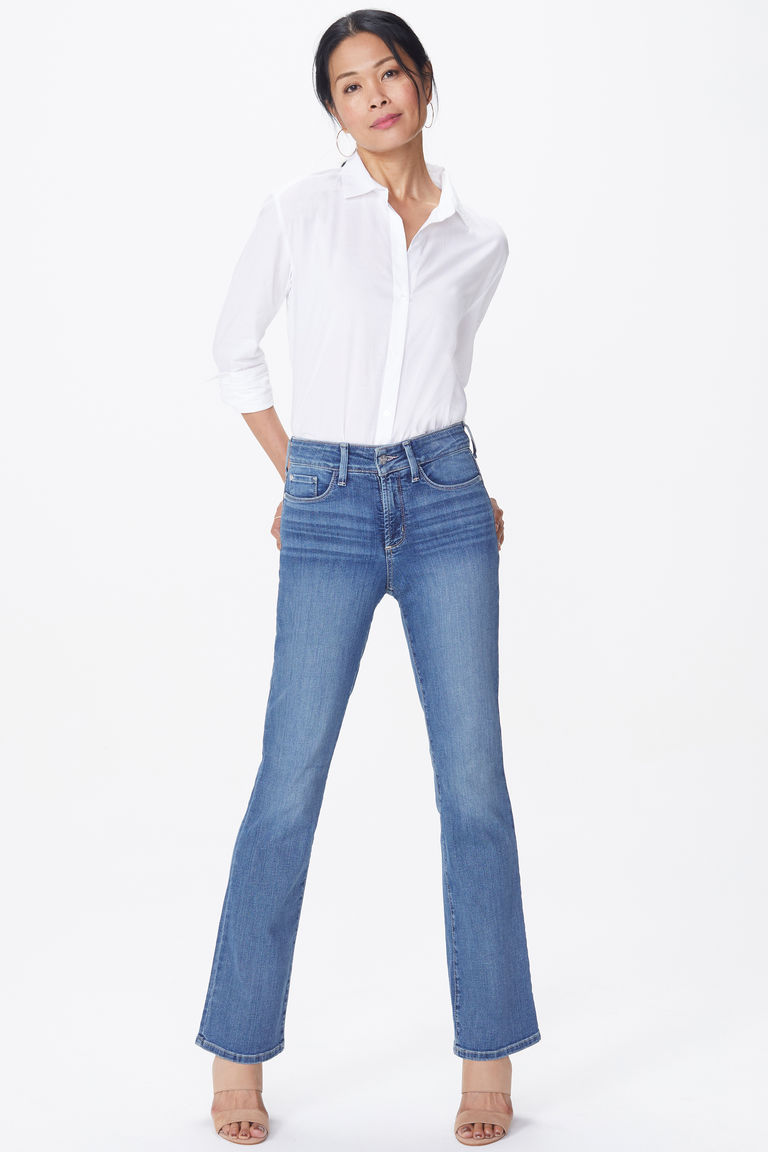 Boot cut jeans have made a comeback from the past. These are fitted till the knees and tapered from down below. They look super stylish when you pair them with heels.
Flared jeans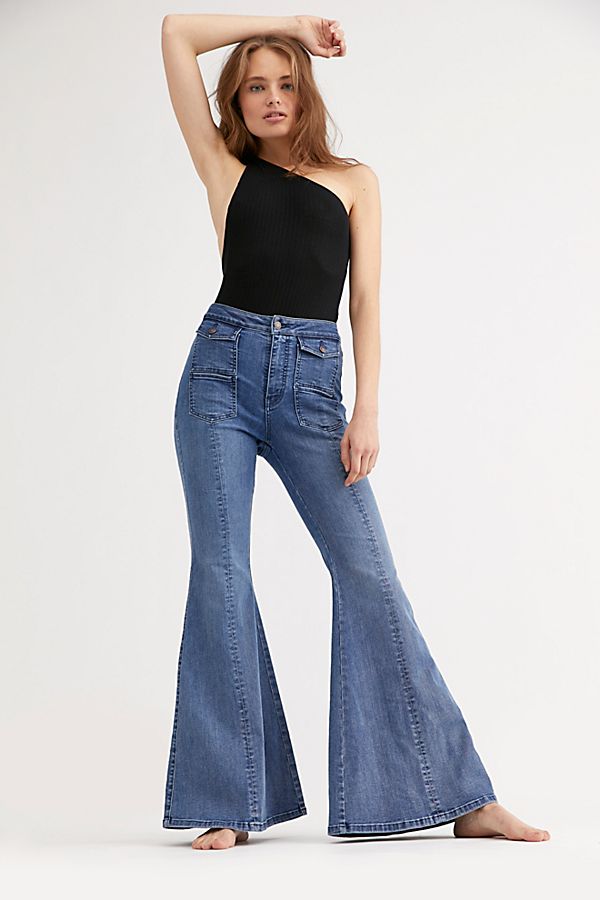 Flared jeans fall somewhere in between boot cut and bell bottom style trousers. Pair a short top with them for extra oomph to your look. They also look fashionable when paired with heels and boots.
Boyfriend jeans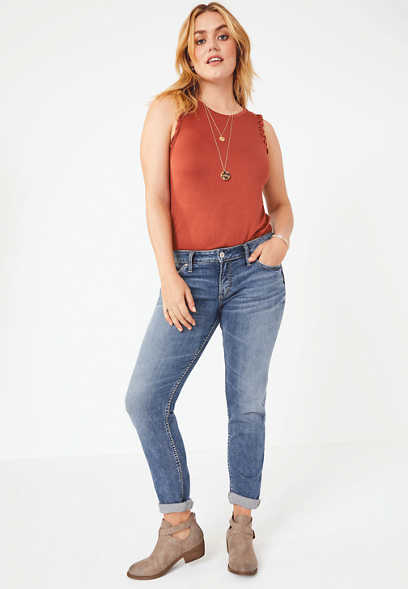 Boyfriend jeans are a great pair of denims to own. They are fitted at the hip and broaden while they move down, giving you a relaxed feel. They are usually paired with t shirts and trainers and give a tom boy look.
Culottes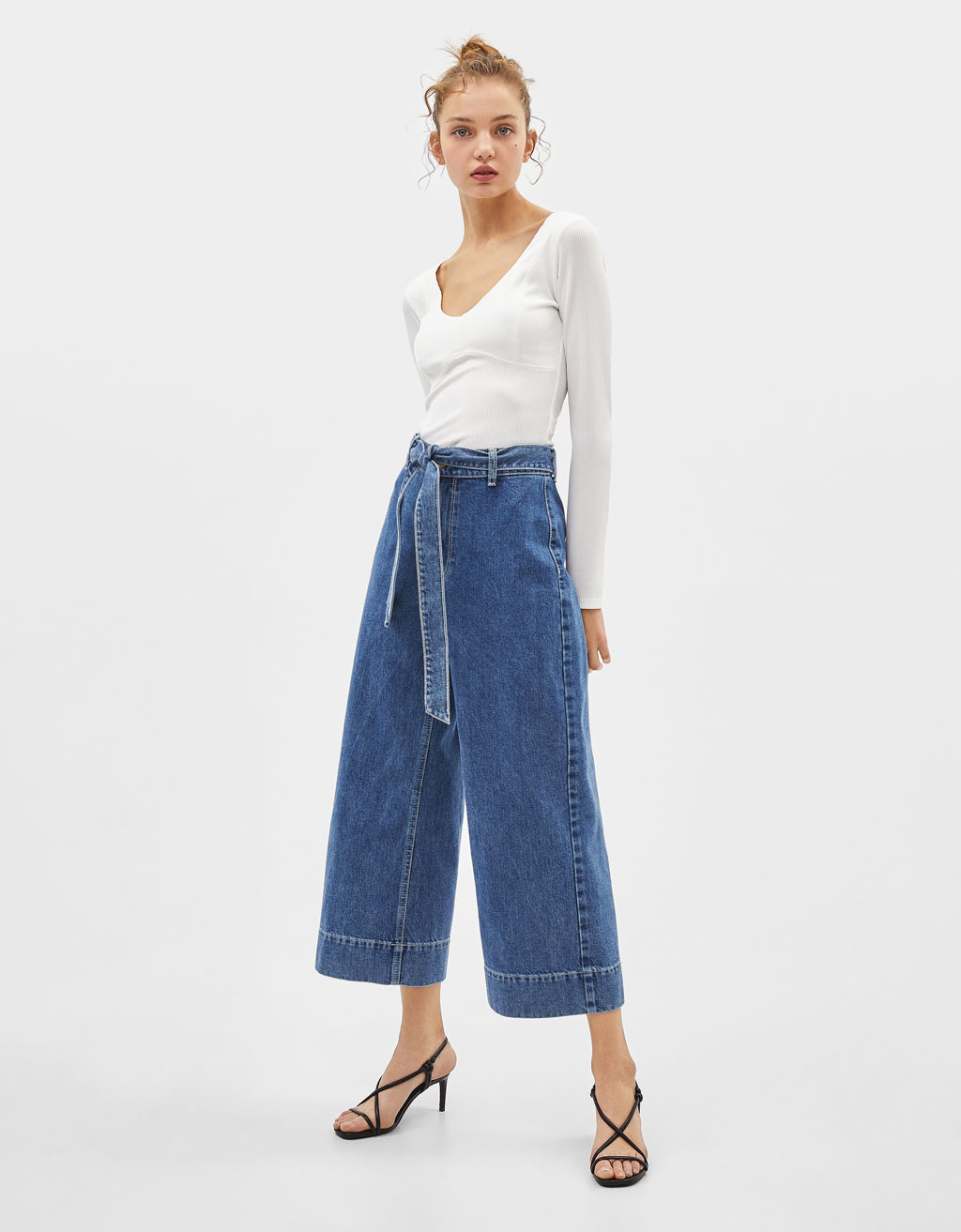 Wide legged culottes give the illusion of a skirt but are in fact divided from the middle. To pair a culotte, you want a fitted shirt that's cropped or that you can tuck in to balance out the wider silhouette of the pants. Wear heels to elongate your figure to complete your look.
Capri jeans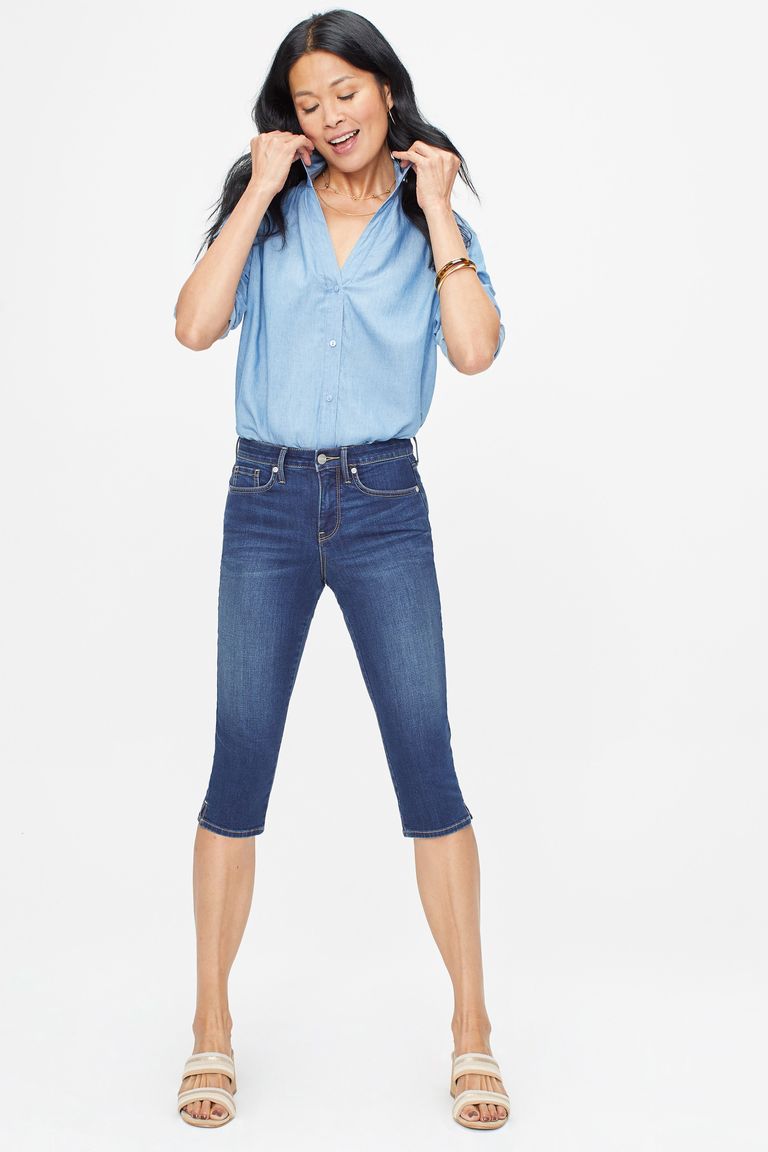 The length of the jean is just above the calf or on the calf in capri jeans. Capri jeans are great to be worn if you want to flaunt your legs and can be styled both formally and casually.
Ripped jeans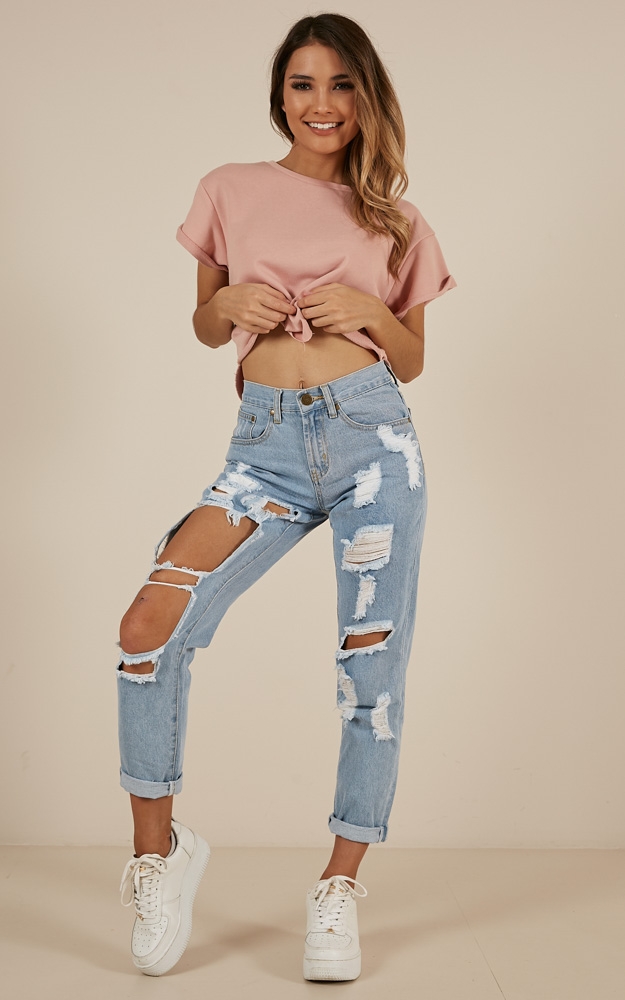 Ripped jeans give a grungy, Gothic look when you pair them with the right top and accessories. These type of jeans show off your daring personality and can be worn at any occasion.
Overall jeans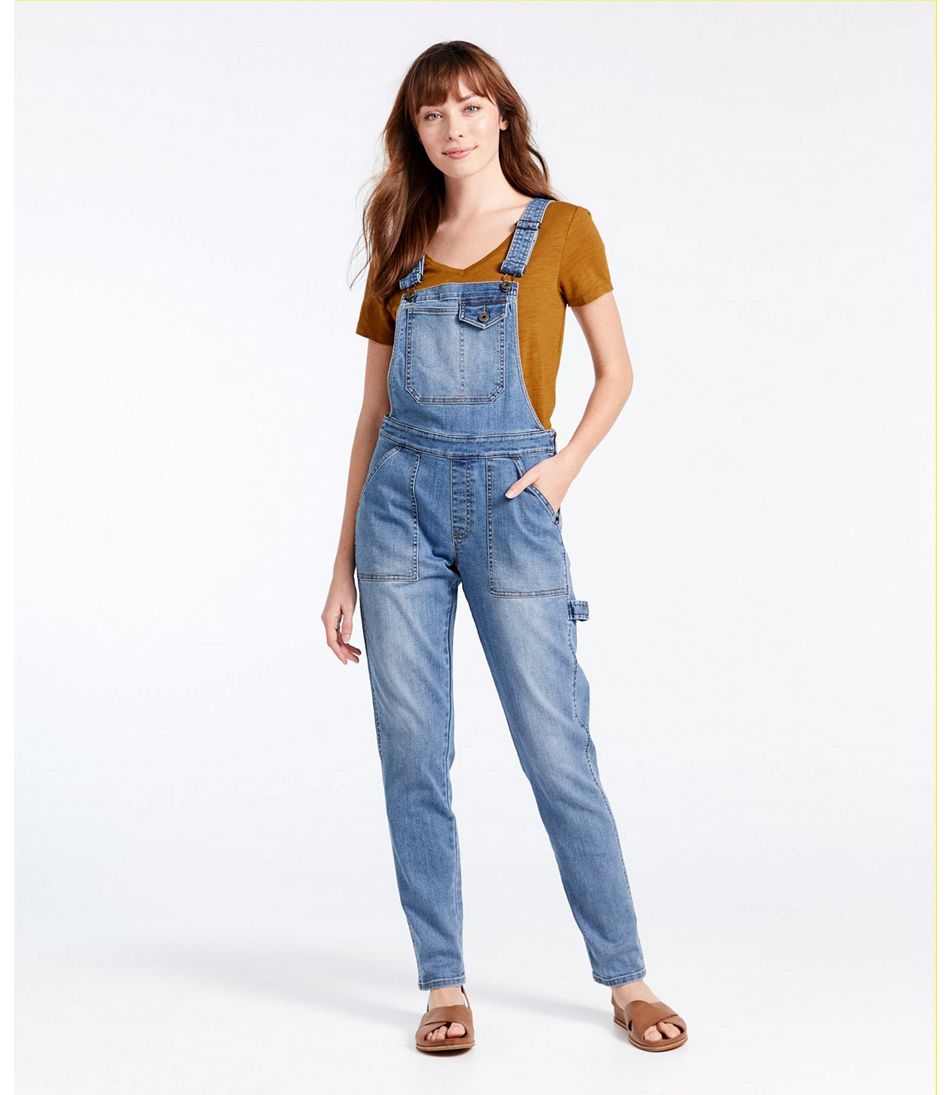 Overall jeans aren't just for a clothing item for kids anymore. Many women and ladies alike wear these with great panache. The overall jeans can be worn with a t shirt or off shoulder tops which accentuates your upper body. They're great for a night out, casual wear and are super comfortable to flaunt.
Colored jeans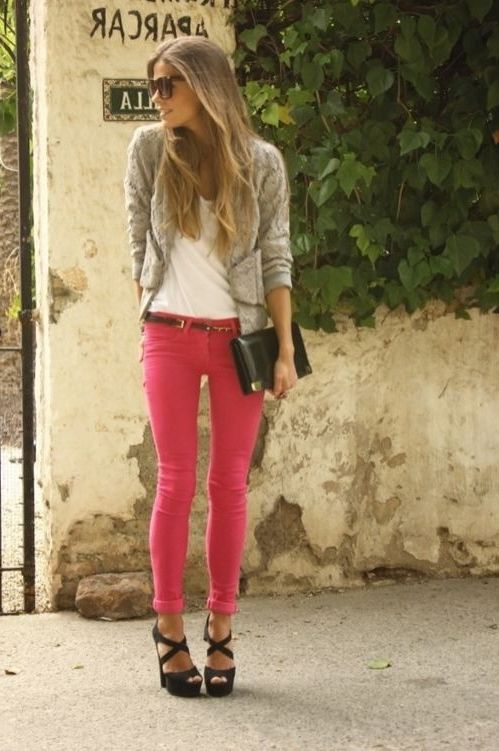 Denim does not come in just blue or black or white anymore. They are available in many other colors as well. Colored jeans are available in various colors like pink, blue, green etc with many other shades of them. You can steal attention by looking feminine and gorgeous with the new style of jeans.
So which pair of jeans are going to become your go to now?