Kabli pulao remains a compelling narrative with depth. Haji Sahab and Barbeena's unexpected encounter has now blossomed into a mutually fulfilling relationship. The most interesting element of Haji Sahab and Barbeena's track is that these two individuals had never comprehended the depth of their need for one another until they had the opportunity to personally witness the magic that their union so profoundly possesses. Prior to their encounter, they were living separate lives, each unaware of the void the other could fill. However, as fate brought them together, they embarked on a journey of self-discovery and mutual understanding, ultimately unveiling the unexpected magic that their relationship had in store for them.
Haji Sahab and Barbeena – Soulmates
The remarkable acting prowess displayed by Sabeena Farooq and Muhammad Ehteshamuddin has been nothing short of transformative for the narrative. In their roles, the stark contrast in age and outward appearances between the two becomes inconsequential. Their performances are a testament to their undeniable chemistry, compelling you to peer beyond the surface. As their characters evolve within the storyline you are more convinced than ever that these two are soul mates. With every scene they share, their performances deepen the conviction that destiny has brought these two individuals together in a way that defies societal norms and expectations, creating an authentic and powerful portrayal of soulmates.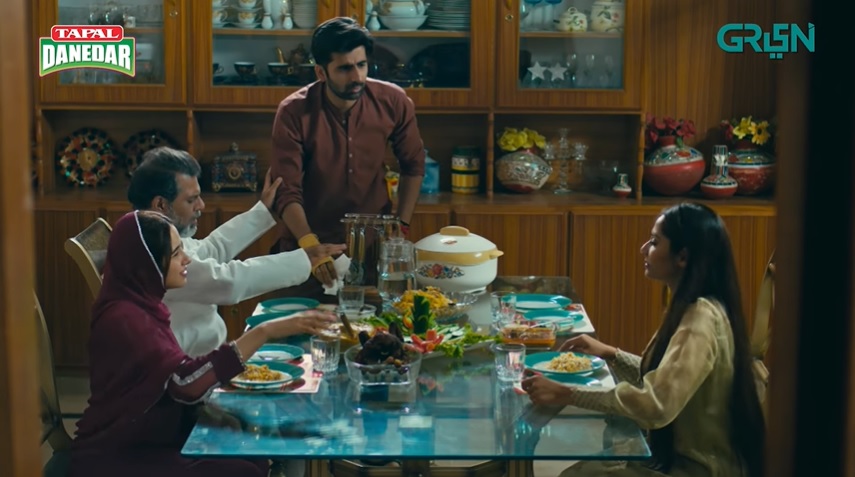 Haji Mushtaq and Barbeena's dinner with Hajra and Asad was pleasantly overshadowed by Haji Sahab's open-mindedness and warmth. This unexpected turn of events, in retrospect, seemed almost inevitable given Haji Sahab's character. Barbeena, despite her best efforts, found it challenging to conceal her astonishment throughout the meeting since there were so many 'surprises' in store. Haji Sahab's refreshing personality and genuine open-mindedness caught his guests off guard.
Haji Sahab's willingness to accept the difference between them and his ability to empathize with the young couple's situation immediately put them at ease. This meeting also highlighted the theme of generational contrasts within the drama. It became evident that sometimes, the older generation can surprise the younger one with their progressive attitudes and capacity for acceptance. Haji Sahab's open-mindedness served as a poignant reminder that preconceived notions and stereotypes should not be hastily applied to individuals, regardless of their age or background.
Favorite Scene
The most heartwarming moment in this particular episode undoubtedly centered around Haji Sahab's mention of Baraan, accompanied by the heartfelt explanation behind his curiosity. This conversation added another layer of depth to the narrative, revealing the emotional core of these characters. As Haji Sahab opened up about his continued inquiries about Baraan, the reason behind his persistence resonated profoundly. He wasn't just inquiring about Baraan out of 'curiosity'; his motivation was driven by a genuine concern for Barbeena's happiness. This unexpected revelation highlighted the depths of Haji Sahab's love for his wife, emphasizing that his primary goal was her contentment and well-being.
Barbeena's response to Haji Sahab's query was equally touching. Her willingness to move on from her past and embrace her present demonstrated her growth as a character. Her honesty, and the refusal to fabricate her feelings, indicated her respect for their relationship's foundation of trust and transparency. Haji Mushtaq's observation about Barbeena's wisdom while he was talking to his hosts at the dinner table was another interesting addition. It underscored the notion that wisdom in a relationship often transcends age or experience. Barbeena's emotional intelligence makes their bond even stronger.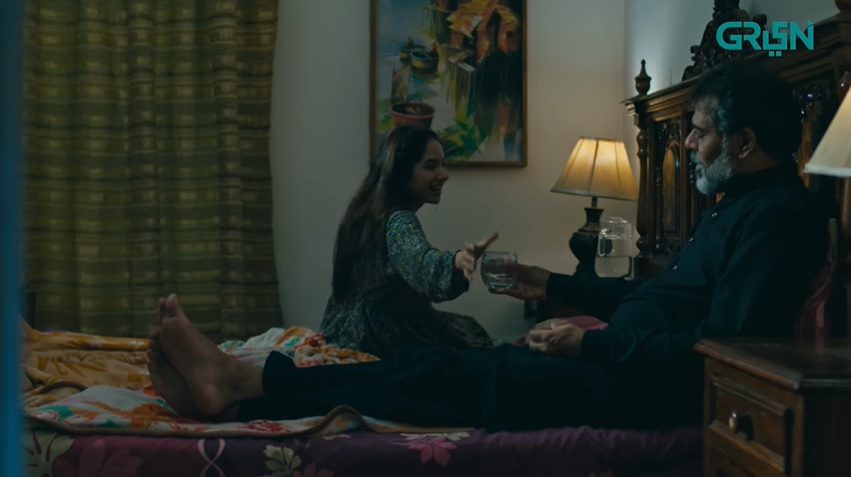 Ultimately, the exchange between Haji Sahab and Barbeena served as a beautiful reminder of the essence of a successful marriage. It emphasized that at the core of any meaningful relationship lies the mutual desire to bring happiness to one another. This heartfelt moment highlighted the love and understanding between Haji Sahab and Barbeena, making it one of the best scenes in the episode.
Baraan's Entry – More Surprises
I have to admit, I wasn't eagerly anticipating Baraan's entry. Up until this point, I had this misconception that he was Barbeena's husband, which had created a sense of apprehension. However, to my surprise, that does not seem to be the case. Also surprisingly enough, I found Baraan's character to be quite likable.
What struck me most was Baraan's profound love for Barbeena and his overall persona. With every scene, my feelings towards this character changed and by the end of this episode I no longer saw him as a 'threat'. On the contrary, he is another character who is deeply entangled in the complex web of emotions, desperately searching for his own happiness.
The fact that Baraan was already aware of Barbeena's marital status was another surprise. It made the narrative even more engaging and captivating. This unexpected twist sheds light on the complexity of the characters and their relationships, creating a storyline that is anything but predictable. It's a testament to the depth and intricacy of the drama's storytelling, keeping viewers thoroughly engaged and eager to see how these characters' journeys unfold.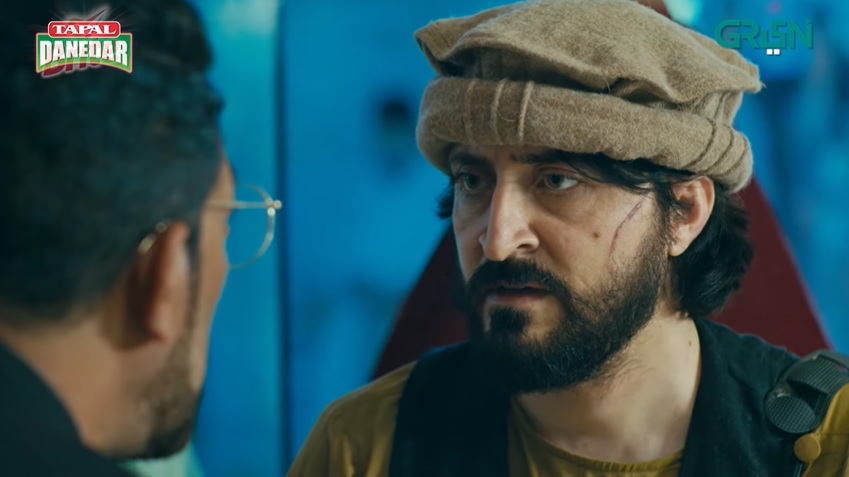 After watching this latest episode, I felt I needed to watch the earlier one in which Barbeena shared the details of her love story with Ayesha and her sisters. Rewatching those scenes actually deepened my empathy for Baraan and made me relate even more to his love for Barbeena. It became increasingly evident that Baraan, much like many of the other characters, is a victim of the circumstances that have shaped his life. His character transcends the typical archetype of being merely a third tier in a love triangle. Instead, he emerges as a multifaceted individual, just like Shamim, who is dealing with the complexities of love, longing, and the unpredictable twists of fate. The parallels between Baraan and Shamim's characters showcase the depth of storytelling in this drama.
Abdullah Farhatullah's performance in this episode was yet another one of the many pleasant surprises. He skillfully embodied his character, effectively conveying Baraan's intelligence, heartbreak, and resilience all in one compelling performance. It's truly gratifying to watch him make a comeback that will redefine his acting career.
Weaving the Magic
Kabli Pulao is the perfect example of the art of crafting compelling narratives, where all the essential elements of drama converge seamlessly to create a masterpiece. First and foremost, the plot is a testament to meticulous storytelling. It weaves together intricate threads of emotion, conflict, and suspense. The pace of the drama has been perfect throughout, allowing the story to unfold at just the right tempo, revealing secrets and surprises at precisely the right moments. Each character's journey is thoughtfully constructed, enabling viewers to empathize with their struggles and celebrate their triumphs.
The performances by the cast, led by Sabeena Farooq and Muhammad Ehteshamuddin, are nothing short of exceptional. Their ability to breathe life into their characters is a testament to their talent, creating a genuine emotional connection between the audience and the story. Their chemistry and nuanced portrayals contribute significantly to Kabli Pulao's success.
The direction and cinematography are equally commendable. The choice of camera angles, lighting, and visual aesthetics adds depth and dimension to the storytelling, enhancing the overall viewing experience. The music and soundtrack, carefully selected to complement the drama's mood, evoke a range of emotions, highlighting key moments in the narrative.
Final Remarks
Kabli Pualo continues to be a harmonious symphony of writing, acting, direction, and cinematography, orchestrated to perfection. It is a testament to the art of drama-making, where all the elements converge to create an unforgettable and emotionally resonant experience for the audience. This drama shows that drama makers do not need to bank on stereotypes to get the public's attention.
The preview of the next episode was so intriguing that it is going to be difficult to wait another week to watch it. Haji Sahab and Barbeena are going to be internet sensations perhaps without their consent. I am waiting to find out how this development impacts their journey. It seems as if this will cause more problems for them. Some of the scenes from the OST also suggest that they will end up being business partners as well. I can't wait to watch what Zafar Mairaj has in store for us next.
Are you watching Kabli Pulao? Share your views.