Kathputli – Episode 10!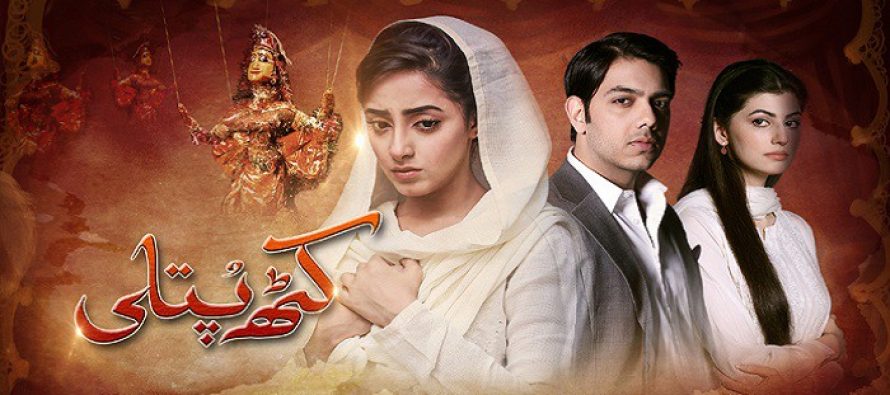 Ohkay so, honestly speaking this drama has exceeded my expectations as it is turning out to be a very good watch. Even though in the initial stages of the drama, it looked like it was going to be a story that will rely heavily on the 'bechari aurat' factor, I am so glad that hasn't turned out to be a case. All the characters are quite different and their personalities set them apart from all those characters that we might have seen in the past in such dramas that revolved around the similar themes.
Ahad went to Karachi & going by what he told Zaid, even he could deduce that Mehru has become quite special for Ahad, because of which he took a stand & fought for her. Right now, Mehru & Ahad, both are not ready to accept that they have grown into this relationship & they both mean something to one another but at least, it is good to see that they are taking their responsibilities seriously & they don't mind lending a shoulder to each other to cry on when things get emotionally upsetting for them. Ahad's concern about Mehru being alone while he was away was quite admirable. Even though Mehru tried to put up a facade that she was doing alright without him but the moment she found out that Ahad will keep on going away due to his job demand made her anxious, which was enough for Ahad to know that she wasn't as comfortable as she was posing to be. I must say, I really really like the way Ahad & Mehru's relationship is building up & also the way they both are dealing with each other because it looks like they have become such friends who can rely on each other emotionally & don't mind going out of the way for one another.
Ahad met his father at an old age home & learned the truth about everything that transpired after he left his parent's house. His mother passed away & Ahsan & Mehwish sent their father in an old age home to save themselves from fulfilling the responsibilities that they'd have towards him. Ahad finally convinced his father that he should come with him to Islamabad but he was concerned that his father will not only give a hard time to Mehru, but he will also taunt her & judge her character, which Ahad knew Mehru most certainly didn't deserve, which was also quite admirable & mature of Ahad to be honestly admitting the truth about his father. It was good to see some changes in Ahad's father's perspective where he recalled about all the things he used to say to Ahad. Ahad might not have gotten a chance to take care of his mother, but at least he has his father to care of & not only that, he has a very mature & wise partner as Mehru who is ready to help him as well. Mehru's concern about Ahad's parents melted his heart & made him realize that she is a selfless & good human being who was ready to help him & go through the pain of dealing with his father who can be difficult at times. I am sure when Ahad will see Mehru taking care of his father, he will realize that she is someone who he should never let go of.
It is good to see that at least there's someone who can silence Ehtashaam & force him to do some thinking & that is Saira. Saira is doing everything she can to make Ehtashaam realize that he is wrong & his decisions are affecting his mother's health too. Zeenat finally realized that she wasn't what a mother is supposed to be when it came to Mehru as she was too busy lecturing her to follow the instructions & abide by the rules that her brothers have set for her. It is good that things changed in Mehru's life & she got away from that dull & depressed surrounding where she wasn't even allowed to breathe freely. Mehru is living the life that she imagined that too on her own terms & conditions which actually is a blessing in disguise for her. Well, the new entry Saira's cousin will only come in her life to create problems between her & Ehtashaam. I hope things won't be stretched & the focus will be kept on how Saira will be trying to change Ehtashaam's mentality because that's what's needed the most.
Overall, this episode was really interesting & I really liked the conversations that Ahad & Mehru shared whether it was about Ahad telling Mehru to keep the doors locked or whether it was Mehru telling Ahad how he shouldn't ignore his father & his needs. I am sure Ahad's father will give Mehru a hard time but eventually he will also learn the truth about her which will change his perspective about her. The preview of the next episode suggested that Shiraz will become Mehru & Ahad's neighbor & things will then get a bit more tangled up. I am not sure if I am looking forward to the havoc that Shiraz's presence will create in Mehru's life but I hope Ahad will stand by her & will decide to to stay by her side. Please share your thoughts about this episode of Kathputli.
Keep Supporting,
Cheers,
Zahra Mirza.
Zahra Mirza
The one who starts her reviews with 'Ohkay so'. ;)
---