This episode didn't have any charm left, all because of the preview they gave in the last episode. The offering of money by Shahram for getting Arsala married to Atif would have been such a great development if the channel had not decided to tell the viewers beforehand about it. Still, Sabir's greed was easy to win for Shahram as he offered money to him. He didn't even think about the society's backlash or the daughter he knows has no manners. One mention of the cheque and he was on a mission to make everything right.
Shahram is coming out as a beautiful character. Now they have shown what the difference between love and obsession is. What Naima had was obsession where she didn't respect her sister's feelings and did everything to get Atif while Shahram believes in making the person you love happy by any way you could. Sabir was acting as such an obedient person before him and again cleared himself in front of everyone by reciting his old ballad of majboori. He is a clever person and knows how to get the advantage of every situation.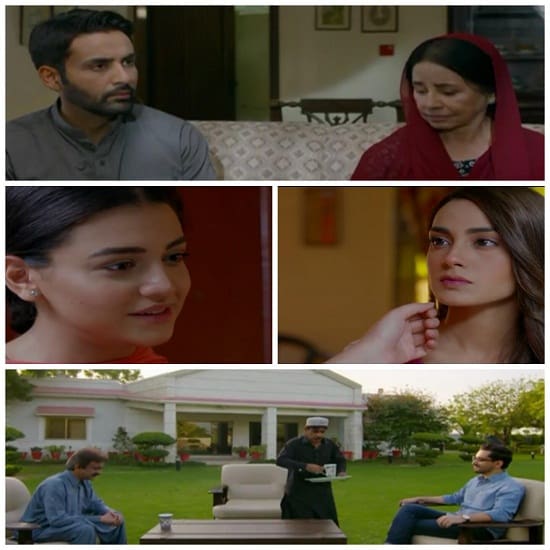 Atif again proved how horrible he is and that Arsala does not deserve him. Even before Sabir's suggestion of getting Arsala married to him instead of Naima, he was having second thoughts on his Nikkah day. Naima needs to get her share of slaps but this man just surpassed her in being horrible. His mother is again being the voice of sanity and telling him that this is not practical but somehow Atif had remembered the love he had for Arsala.
The highlight of today's episode is hands-down the exchange between Arsala and Naima. It was such a disappointment for me when Naima started to slander Arsala and all she did was going out and convincing Sabir that she wants to go back to Karachi. But finally, the moment came today when Arsala gave Naima a little reality check. It was hard to believe that a girl just keeps listening to derogatory remarks about her character. So Arsala did what a normal girl would do and showed Naima the mirror she deserved a look at.
Tauqeer Nasir has performed really well in the role of Sabir making it easily believable and Iqra Aziz has also finely brought out the cringe the viewers should feel towards Naima. Looks like Atif will also get a reality check in the next episode. Let's see how the story unfolds further!