So the episode opened with a similar sequence we saw in Humsafar. Our beautiful Arsala was enjoying the rain shower while the handsome Shahram was standing there and enjoying seeing Arsala have a good time. Then yes our girl asked him to sense the feels of Baarish which he did like a good boy. Here I want to write it in capital letters: ARSALA SMILED THE SHARMEELI WALI SMILE AT HIM! And I like many of the innocent viewers thought ke Hassi Toh Phassi (in this particular case of course). But no, she wants Shahram (and us) to suffer even more. Arsala is clearly giving out signals that she wants to be with Shahram and then she starts blaming him like he is trying to kill her or something. Her concern regarding her family is acceptable as per the story but a girl like Arsala who never even blamed Naima for what she did is blaming Shahram for no reason.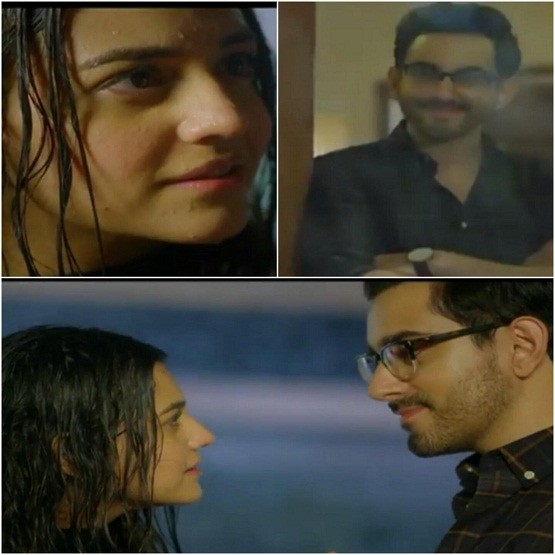 Bee Jaan is meddling again in both of the leads lives and wants to see them together. And to make her happy Arsala and Shahram are pretending to be hone wale dulha dulhan which is absurd. She is Bee Jaan and not a 3 year old whom they are trying to fool. Arsala at least should come up with her true feelings in front of Bee Jaan so she could help her with the whole situation. But no they will play make-believe for 3 or 4 episodes because why not?
Naima and Shehnaz's situation is incomprehensible at this point. Arsala does not come home anymore. She sends money on time and still they keep blaming her for whatever turmoil Naima is facing in her marriage. Maybe the dialogue writer ran out of more lines and consequently Naima is stuck with Main tum se bohat mohabbat karti hoon and Maine humare liye bohat se khawab dekhay thay. 
With the last episode being a good progress, I was hoping to see the story move forward. They should have made Arsala come to terms with her feelings for Shahram so they could go for the whole family fiasco which would follow. Khamoshi has been a big victim of dragging storyline. Let's hope the next episode will solve the Zubiya plot and Arsala will finally admit that she likes that bechara khawar hota hua larka too and maybe stop friend-zoning or Bee Jaan-zoning him!