This episode had plenty of important developments to its credit and quite unexpectedly this time around Mahpara's track was much more poignant than that of Hani or even Saad! While Hani and Saad's love story was always the centre of attention but tonight everything that Saad did for his phupo, with the help of Tania, was the highlight of the show. This latest development once again highlighted the sensitive and caring nature of Saad's character which is also the reason why he leaned towards Hani in the first place. While it was somewhat frustrating watching Hani suffer, Tania's reaction to the whole situation and the turn phupo's track took was extremely gratifying. The story continues to be convincing, engaging and unpredictable but even in this episode the flashback scenes were unnecessary and didn't go well with the situations at all. Apart from that, Sadia Khan's perfect eye make-up and hairdo stood out like a sore thumb.
For the first time tonight Salar opened up about his past and the viewers found out why it wasn't just his father whom he hated but he despised his mother as well. He blamed his mother for not taking a stand and in a really subtle manner the writer aptly put forward a really important message without holding the wife/mother responsible entirely. The fact that Salar's mother also told her side of the story and eventually decided to call Hani's family was the most pleasant aspect of all these developments because in a neutral manner, the viewers were shown both sides of the story. Although Salar's mother never had the courage or resources to walk out of the abusive relationship with her husband but she did whatever she could do to help Hani. Her helplessness made perfect sense as well since Salar is the kind of person who wouldn't think twice before hitting his own mother. Nauman Ijaz's performance was brilliant in this episode, he completely owns this role just like every other character he has played till date. Sadia Khan's acting was right on point in this episode but her outlook didn't go well with the situation Hani was in.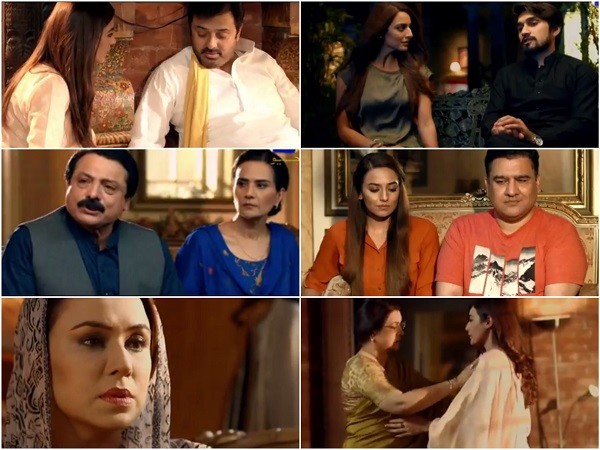 Tania's decision to call off the marriage and that of proposing Mahpara on her dad's behalf was completely in line with her character. She was always shown as a confident and practical woman therefore everything she did tonight was logical as well as convincing. She was heart broken and upset but instead of getting angry, she decided to go away quietly from Saad's life. Her heart break however could have been covered in a much better manner if the timeline wasn't so confusing in the past two episodes. Also, Kinza Razzaq's heavy contouring and highlighting didn't compliment her cute face and was distracting. If it wasn't for all these glitches this entire development would have been far more impactful. Having said that the connection with all the characters is such that I always find myself feeling for them mainly because of the way they have been etched-out and the manner in which the story is being taken forward.
Mahpara's conversation with Saad was one of the best scenes of this episode because it showed just how far these characters had come in all these years. Apart from this, some of the dialogues tonight covering Saad's agony were beautiful and even Salar's dialogues were written intelligently – the way his entire story was summed up in a couple of scenes was brilliant. The journeys of all the characters have been shown credibly throughout and it seems like their tracks will be winded up nicely too. Mahpara's ending gave hope that Hani and Saad's track might have a happy ending too. The preview of the next episode however suggested something entirely different. It is impossible to predict what turn the story will take from here and how it will conclude.
How many of you watched tonight's episode? Do share your thoughts about it.
Rating
Reviewer
Date
Drama
Overall Score