The characters of this drama should be referred for a psychiatric evaluation. Yes due to the high TRPs makers want to extend it as much as possible, it is understandable but still its high time that they start providing closure to all the stuff going on. There are far too many useless tracks that can be wrapped up now.
The whole episode was about degrading Arsala as much as possible. Naima did what she always does. She started accusing Arsala of Sabir's death, the same Sabir she hated herself. She claimed that Arsala was characterless n front of the whole crowd there for her father's death and guess what! No one stopped her. Because its a normal thing in Arsala universe to make stupid scenes on your father's death. The mother is the most horrible character in this drama. She also thinks her daughter is doing something immoral to get money for the household and she asked her young daughter to go and never come back because that is normal too in Arsala universe. The most disturbing thing in all this is that Arsala who they are trying to show as the independent girl taking care of the whole house since the start did not say anything in defence. She was silently standing there ke aao meri beizzati karo.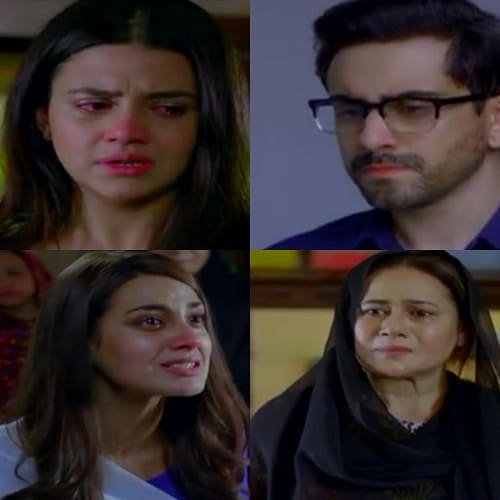 Atif was Naima 2 in this episode. All he was concerned about was why Shahram is spending money on everything. The only sensible guy in the whole episode was Mirza Sahib. He showed Atif mirror on his stupid tantrums twice. He was the only one pointing out that Atif was the one who should have taken care of all the bills and he even pointed out how evil Naima is making him the hero of Khamoshi.
At this point I cannot understand are they supporting Khamoshi? That people should keep listening to crap from others because that makes them look shareef and mashriqi? They should have shown Arsala standing up to people who were slandering her than just making her cry and silently go back.
Shahram is spending so much time with Arsala that his judgement has become cloudy. He is acting like a dumbo because now Arsala was ready to say yes, he is going to marry Zubiya. He should stay away and clear his head a bit. It is alright if he does not marry Arsala at this point but marrying psycho Zubiya is not something he deserves.
The next episode is again going to show horrible stuff happening to Bee Jaan and I don't know how can people take it as it is not the last episode!
P.S: They forgot to remove red makeup from Iqra's nose in the scenes she was not crying!