The previous two episodes of Woh Mera Dil Tha focused entirely on introducing all the main characters and laid down the foundation for the most unexpected twist! Zaid's character is an interesting mix of carefree yet sincere as well as daring. Although he isn't as serious or focused as his father would want him to be but he is a reliable friend who will go out of his way to keep his friend out of trouble. Even though Zaid is blunt and not polished like his best friend but he isn't selfish either. His character is likeable for many reasons, the most important one is that the shortcomings in his personality do not really hurt anyone.
Faiza Iftikhar has intelligently shown two different characters which break stereotypes; usually the guy who wears the suit in our dramas and is rich and decent is the perfect hero who every girl falls in love with and characters like that of Zaid are their best friends who usually aren't "perfect" enough to be the heroes! The situation here is quite different and the writer has made Zaid's character more appealing without making Arham look bad. Both these characters have their strengths and weaknesses but after this episode there is a good reason why most viewers will like Zaid's character more than that of Arham. Sami Khan is absolutely brilliant as Zaid, he makes you feel for his character without even trying. Furqan Qureshi is equally convincing as someone who is in a predicament; he cannot let Naina go because he loves her but at the same time he doesn't know how to convince his parents for this marriage. Unlike Zaid, he thinks too much about the consequences of his actions which is why he never goes to pick Naina and this time around he also sent Zaid to give Naina his message instead of going to her place himself. Zaid on the other hand does whatever he can for Arham without questioning him or thinking about the outcome.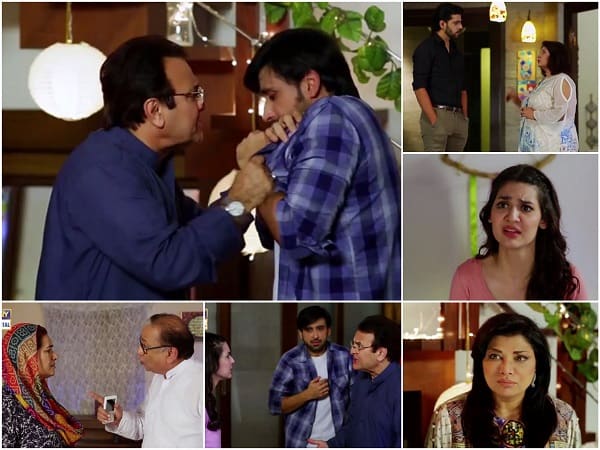 This episode opened with Arham mustering up the courage to tell his mother about Naina but his mother instantly told him off. Sometimes it seems like Arham doesn't try hard enough and isn't daring enough to take a stand. There is a good reason why he cannot seem to plead his case more firmly but one can't help but wonder how Zaid would have reacted in such a situation! He wouldn't have been so calculated and that could have changed everything. Right now even though Zaid's father keeps on telling him that he cannot depend on Arham and he should find a job for himself, he continues to do what he wants to which basically shows that if he makes up his mind about something, he doesn't let anyone convince him otherwise. Naina is a strong girl who is willing to take the bold step of telling her parents about Arham even though she too will face the same retaliation from them as Arham would face if his father finds out what is going on but she decided to stay quiet for now. She knows that she is completely helpless unless Arham supports her decision to tell her parents about their relationship. Madiha Imam is doing complete justice to her role and there are times when you feel like she fell for the wrong guy.
Naina's father caught Zaid in her room and naturally he thought that they were in a relationship. Although Naina wanted to clarify this misunderstanding but Arham's repeated requests to keep his name secret proved to be a main hurdle. What happened after that was covered superbly! Naina's father had said already in one of the previous episodes that he only wanted someone shareef for his daughter, nothing else mattered. Since Zaid's father has been his trusted employee for so many years now, his decision made perfect sense. Naina's father's insecurities are another reason why he thought this was the best decision. His character is a perfect example why people should not let their past define their present! Zaid's father too wants his son to do exactly what he wants and never expects him to do anything right.
Tonight's episode was one of the best episodes of this play so far, some of the supporting actors in the previous two episodes failed to impress but this episode was perfect because it focused on the leading characters. The story took an interesting turn from this episode which was completely unpredictable.
The preview of the next episode was really interesting. It is highly unlikely that Arham would take the bold step of marrying Naina secretly. Will Naina eventually give up on Arham? Will everything she witnessed tonight change her opinion about Zaid? I am waiting to find out!
How many of you watched this episode? Don't forget to share your thoughts about it.