The episode was nothing short of a headache. Today finally Bee Jaan's son kicked her out of her own house. The scene was not just painful but disgusting too. Yes, these things are happening in our society but the way Basit's character took a 180 degrees turn is unacceptable. Basit loved his mother and always respected her opinions but all of a sudden he has become such a pain. Nasreen has succeeded in everything as she sent Bee Jaan to an old age home. Her daughter is finally betrothed to Shahram. All in all, it was a win-win episode for Nasreen.
Arsala has gotten what she was thriving for so badly. She has gotten herself another chance to cry and her self-imposed mazloomiyat was shining brightly in the whole episode. Her constant woh rishta Bee Jaan ki khushi ke liye qaim kiya tha has become annoying to the point of explosion. At this point, Arsala's character only looks like of a person who gets lucky every time since she never strives for anything. She only cries all the time and waits for some saviour to come and get things right for her, be it Bee Jaan, Tahseen or Shahram.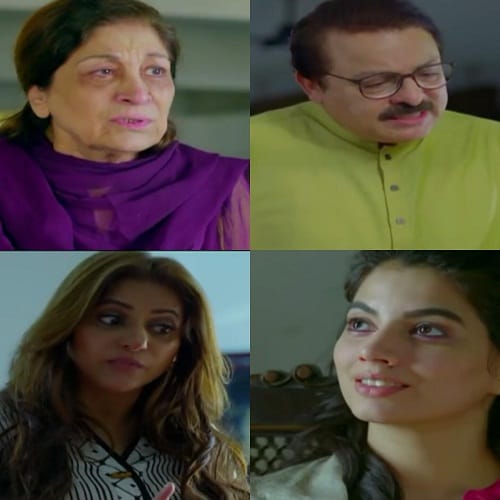 There is nothing left in Naima's track. They have brought Atif to Karachi now and in such a huge city he will bump only into Arsala because why not. Naima is waiting for Atif to call her to Karachi while Atif has no intentions of doing that. Naima's whole dramatic breakdown on Sabir's death went in vain since people were not buying it. Another instance when Arsala got lucky because the girl does not even bother to do something when her character was being slandered so badly.
The actress who plays Zubiya seems so bored in all of her scenes that one cannot even think of her as evil. She has put zero efforts to make the character look real or obsessed with Shahram. Nasreen is the one who looks like Shahram ki ultimate deewani instead of Zubiya.
The preview for episode 29 is up and it will not be the last episode. Seems like Khamoshi is working hard to become Alif, Allah Aur Insaan 2!
P.S: No one talks at an old home like BED NUMBER 4 again and again!