Tonight's episode of Woh Mera Dil Tha was interesting overall with the exception of a few scenes which could have been chopped down. The story is unpredictable but some of the supporting actors are unbearable! Thankfully the leading cast is doing their job well therefore they keep you coming back for more. Naina overheard her father talking about the mistakes he had made when he was young and why he accepted Zaid as Naina's life partner. His reasoning made perfect sense but he has no idea what is actually going on. This scene could have been better if it was wrapped up quickly, such scenes are tedious to watch if the dialogue delivery is too slow.
The most entertaining part of this episode was watching Zaid work out a plan to get himself out of this situation. His family was quite content with this proposal even though Zaid painted a grim picture of how terrible his future could be if he got married to Naina. These dialogues were hilarious and Sami Khan was beyond brilliant throughout this episode. Zaid's lack of interest in Naina not only because she is Arham's girlfriend but because he doesn't like her one bit makes this entire scenario even more amusing. Both of them cannot stand each other yet they are in this situation which is beyond their control. The only reason why they cannot reveal the truth is that Arham doesn't want his father to find out what is going on. Tonight, Zaid really was looking out for his own interest more than anyone else's when he suggested that Naina and Arham should elope. Right now, it seems like he just wants these two out of his life because there is no other way to escape the situation.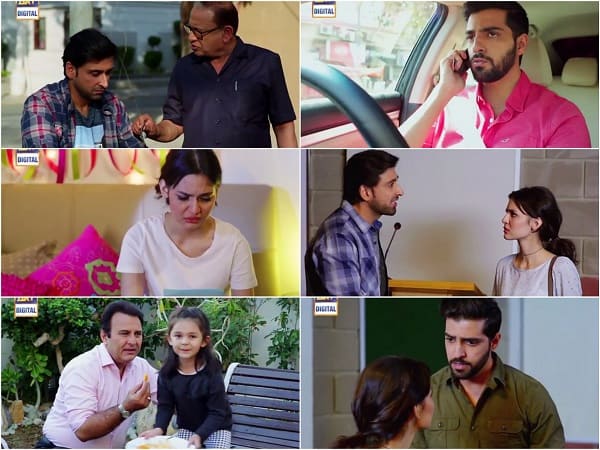 Arham's scene with his father was difficult to watch because the actor who is playing his father's role cannot act to save his life! Although the entire conversation was written well but it is difficult to take things seriously when the performances are so weak! This scene clearly showed that Arham's father wasn't going to give his consent no matter what therefore later on when Zaid suggested that they should secretly get married, Arham for the first time was willing to go along with it. This time around Naina was reluctant because after listening to what her father said, she knows how badly he will be hurt if she does something like this.
The scenes which showed Naina's father thinking about how he had raised her could have been chopped down and this episode overall could have been even better if it focused on the leading cast more and few of the scenes were not stretched. I am waiting for the time when the focus will be entirely on these three characters since their story is appealing and the performances are up to the mark as well. Sami Khan once again was the star of the show, he never fails to impress!
The preview of the next episode didn't give away too much therefore it is impossible to predict what is going to happen next! Zaid, Arham and Naina have my undivided attention and I can't wait to find out how their story unfolds in the future.
How many of you watched tonight's episode? Don't forget to share your thoughts about it.