Ohkay so, the writing of Maha Malik, direction of Shahid Shafaat & the production of Six Sigma Plus; Khasara drama had a decent start. The first episode gave an introduction to the characters & their personalities were elaborated in a great detail that too effortlessly. Though whatever we saw was not something new but overall, the introductory episode was quite convincing in my opinion.
Mohtasim (Mikaal Zulfikar), a business tycoon is married to Linta (Sarwat Gillani), a possessive wife. They both have a son as well & from the surface, their life might seem picture perfect but ground reality is different.

Moanis (Junaid Khan) lives in a small town named Ranipur, he has a wife Sila (Sonia Mishaal) & two sons. Moanis is a dutiful husband & works in Railways.
Moanis & his wife Sila are poles apart. Sila dreams big & she wants her life to be comfortable enough where her husband can support hers & their kids' demands without thinking twice. Even though Sila does compromise by curbing her desires but she still understands her husband's perspective & respects him as well. Moanis always finds himself in an awkward position where he has to explain himself again & again to Sila who always has a different take on things. Moanis is practical & humble, whereas Sila finds herself settling for whatever her life has offered to her with a bit of difficulty.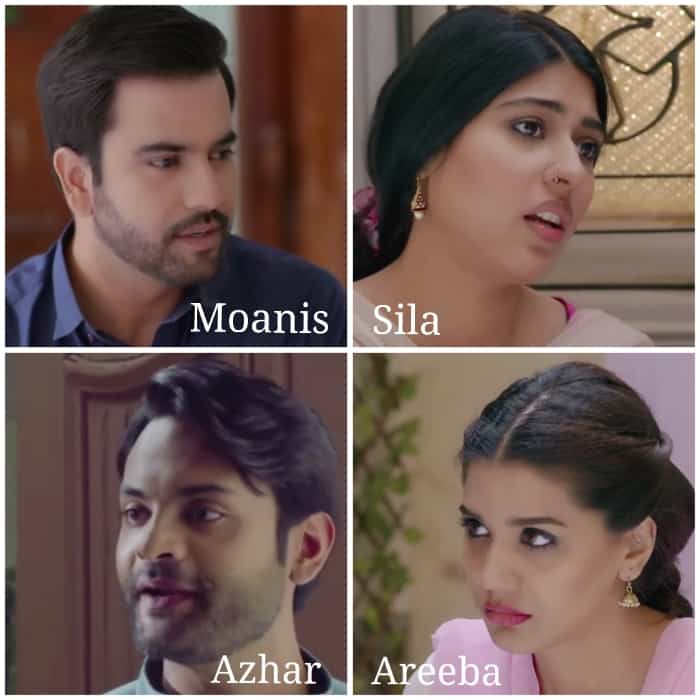 Sila has a friend Areeba who is also married. Areeba is the breadwinner whereas her husband Azhar is jobless. Areeba & Azhar don't have kids & apart from Moanis, Areeba happens to be another voice of reason in Sila's life where she tries to guide her, help her in making the right choices & also reminds her to be thankful for whatever she has in her life because at times Sila gets caught up in what she doesn't have while forgetting to appreciate what she does!
Mohtasim poses to be a good husband to Linta but he is having an affair with his secretary Arzoo. Arzoo has spent enough time with Mohtasim to know what sort of a person his wife is & how possessive she is. Arzoo is definitely not letting Mohtasim go anywhere that is why whenever she feels that Mohatsim might get in trouble because of her, she comes to his rescue so that Linta doesn't suspect them.
Mohtasim plans a visit to Ranipur for his new business venture & because Linta sees that Arzoo is accompanying him, she decides to go too because Linta is pretty sure they both are involved but she is just looking for a chance to confirm & witness it herself. Mohtasim & Moanis happen to be childhood friends where Mohtasim shifted to Karachi & earned a living for himself there & Moanis stayed in his hometown. Well, Mohtasim contacts Moanis & that's when Moanis invites him to stay at his place & I am sure Moanis will then get to learn about this new Mohtasim who has changed & has become an entirely different person.
Moanis seems to be mature enough & that is why he tries to make Sila realize that she has to protect herself. I am sure because of that very reason he won't take long in understanding Mohtasim's character & intentions too. I felt for Linta as well, even though she is right for being insecure because she knows that Mohtasim isn't loyal to her, her husband made it seem that it was her fault that there were rumors happening at the office about her mental health. It was like Mohtasim was conveniently making her feel guilty for being insecure & possessive about him.
Overall, the first episode was good & the direction was strong too. All the actors effortlessly portrayed their characters. Sonia Mishal did well too but she seemed a little too modern for a girl belonging to a small town. No, I am not stereotyping but Sonia definitely should've worked on her dialogues a bit more because the way she spoke was exactly how a girl from any big city would. I found a few dialogues a bit cringeworthy like Linta repeatedly calling Arzoo 2 number aurat…eekhs! Anyways, let's see how things roll in the future episodes. Please share your thoughts.
Keep Supporting,
Cheers,
Zahra Mirza.