Ohkay so, this was a pretty decent episode of Khuda Aur Mohabbat 3. Although the essence remained the same as any other episode which focused purely on the mourning of most of the characters, it was still a happening episode that didn't seem slow or boring to watch. I am glad the characters exchanged more dialogues instead of tears. Another major development in this episode was clarity on Farhad's speaking skills, luckily he hasn't lost any of it & is very much capable of talking to other human beings.
The 40th Day Ritual
For the first time, I am glad Mahi put her stance forward clearly & I could totally understand why she was doing what others weren't approving of. This is Mahi's promise to herself & she feels obliged because she wants to also fulfill the promise she made to Taimoor while signing her Nikkah papers. Even if he is not around, she accepted him as her husband & wants to at least do him right by observing Iddat at his place. I will however say that throughout the drama, the basic Islamic concepts have been dealt with extreme carelessness; first, it was Hijab & now Iddat where Mahi is casually talking to Sikandar & vice versa. Considering the slow pace of the drama, if they had shown these interactions after Mahi had completed her Iddat, it would've made a lot more sense but oh well.
Please don't tell me that even before the 40th day, Sikandar went to see Romana, attended a special session of her mehfil that she conducted solely for her, that too dressed to impress. It was so unlike him & I wonder when he left the place, how come his mother did not take notice or even bother asking where he was going because it was that the 40th day was approaching & the entire household was preparing for it. That scene seemed out of the blue & a bit too choppy. It wouldn't have made any difference if they had edited it out. I found it amusing when Romana showed concerned about Sikandar not looking too well, trust me girl he looked fine!
Sikandar & Mahi's conversations have become quite frequent & they continue to communicate about one thing or the other. Sikandar told Mahi that he finds strength every time he looks at her. The dialogue stated 'jab bhi mai himmat torne lagta hoon, mai tumhe dekhta hoon' which I think should've been 'jab bhi mai himmat torne lagta hoon, mai Romana ke pass chala jata hoon'.
Mahi's family didn't get the treatment they desired & it was ironic that Mahi's mother said 'itni bhi kya berukhi'! I am not at all condoning the way Mahi gets treated by her mother in law but Mahi's mother should be the last person complaining about her attitude & behavior because that woman has lost her son & that it purely because of Mahi's father & brother. If she had spoken all of this because she felt for her daughter then it still would've made sense but in all honesty, she was in no position to complain at all!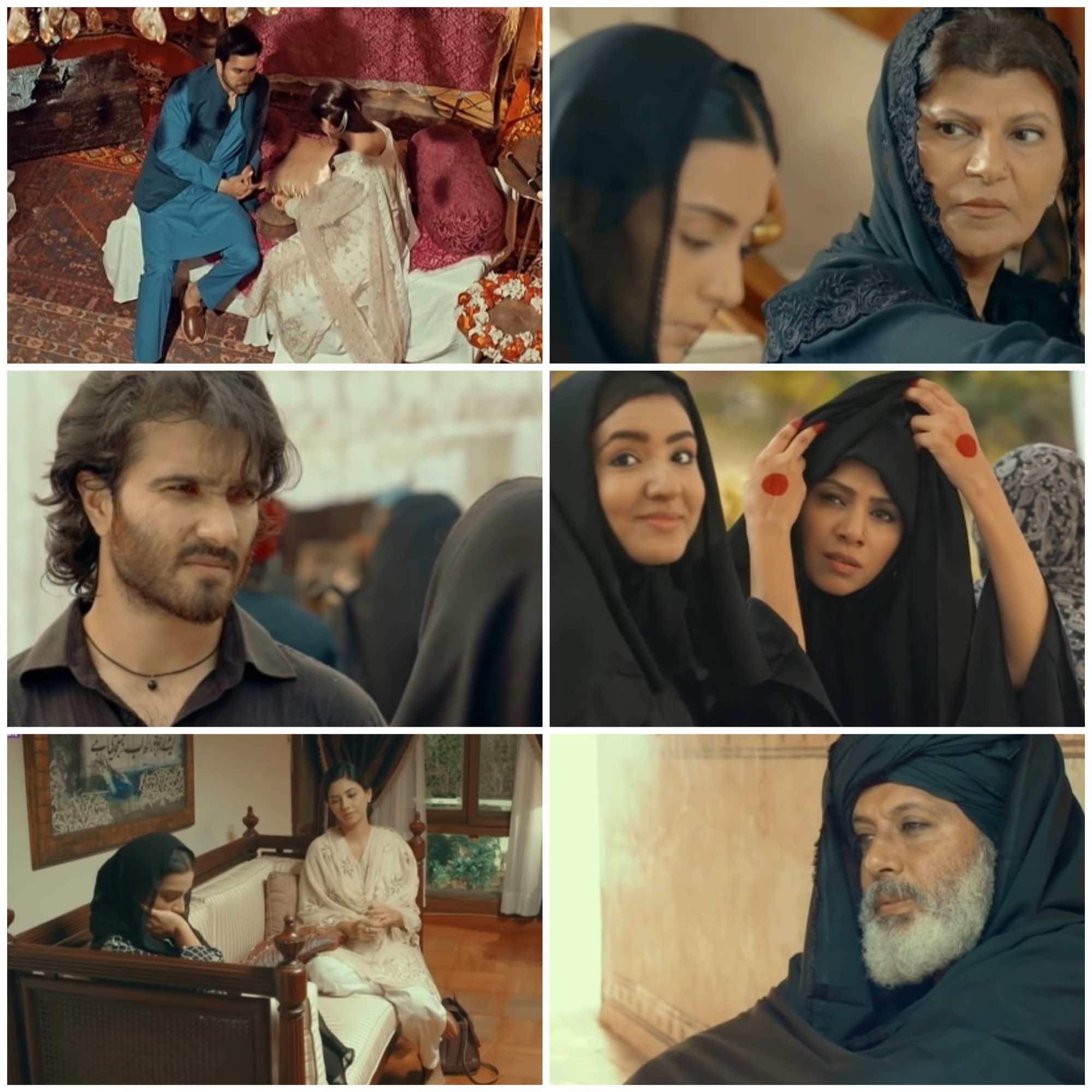 Romana also had a conversation with Mahi & in the preview, it showed Mahi is going to find out who Romana is. Romana also met Farhad & wanted to know more about him. Once again, there was no need to show Mahi standing right at the front door because she was still in her Iddat. She may get a bit of a benefit of the doubt when it comes to Sikandar because the two share the same roof but there was absolutely no need for her to come outside knowing that the gates were open to the public & strangers.
Dervish Is A Pakistani Superhero
The highlight of this episode for me was Dervish & the sudden change in his communication skills. I am not saying this as a compliment but out of sheer bewilderment. For the last 19 episodes, I was under the impression that Dervish spoke cryptically & was never too elaborate with his words & thought process. Honestly speaking, when I heard Taimoor's mother asking her house-help to approach Dervish & request him to come & say a prayer, I still thought he was not fit for the job because he can not really speak in that manner but immediately I got to see him giving dars to strangers. This seemed like a sudden shift in his personality & a very sudden development which the director resorted to.
Right from the beginning, for the last 19 episodes, the Dervish has not spoken properly & has been very philosophical & cryptic but now he was seen having regular conversations without much philosophy to them. At one point, I felt maybe the Dervish was the writer of Khuda Aur Mohabbat 3 or maybe he had those special eyes that Taher Shah once spoke about in his song because just by looking at people, he finds out everything about them. He knew this call was for Farhad & that he had to go to Mahi's house. After taking a look at Mahi, he also figured out she is the girl Farhad is after & everything in between. I think it would've been far more appropriate if they had dressed Dervish as some Pakistani Superhero with laser beams beaming from his eyes because that seems to be the only justification for his supernatural powers. I say this because I fail to believe that any regular human being can do all these accurate calculations about anyone else just by looking at them!!! I find Dervish more comical & kind of see him as comic relief in this overly melodrama, therefore I enjoy his antics because I don't take him seriously. However, I must say, the sudden change in his speaking style was a big surprise that the writer & the director had in store for us & I thoroughly enjoyed this twist!
Looking Forward To The Next Episode
This episode was definitely nice because the characters for once behaved like normal people where they spoke to each other & had something or the other to share. Iqra Aziz's acting was quite powerful in the scene where Mahi tells Sahiba why she has chosen to stay at Taimoor's house. The preview of the next episode seemed quite promising. I also find it funny that Romana will ask Farhad to pray for her & Sikandar but it seems his prayer will take a U-turn, which will result in Sikandar & Mahi's union, lol. Let's see. Please share your thoughts about this episode of Khuda Aur Mohabbat 3.
Keep Supporting,
Cheers,
Zahra Mirza.