Ohkay so, this was yet another excitingly slow episode of Khuda Aur Mohabbat 3. In this entire episode, it was reinforced that Jageerdarni was not in a mood to forgive Mahi. She did not even pay heed to the consideration & compassion Mahi was extending towards her. Her bitterness at this stage is now taking away from the fact that she has lost her son, despite the fact that it felt she had her reasons to behave that way during the initial days' post Taimoor's death. I really hope they do not prolong Jageerdarni's saas-y attitude & give Mahi a relief & a break that she most certainly deserves.
Mahi Doesn't Deserve This
Throughout this episode, I felt nothing but sadness & grief for Mahi. Looking at what she has reduced herself to, made me upset. Although Mahi is taking it as a duty, her obligation & there is absolutely nothing wrong with that but to top it all off, the emotional & physical well-being aside, she is not even at rest mentally was what saddened me the most. Mahi had so much to deal with & now on top of it all, she holds herself accountable, rather deems herself sinful because Farhad with his bad-duas is harrowing her in her thoughts. I really feel there is a lot of imbalance here because the way the writer has tried to uplift Farhad by literally putting Mahi down through all means is disturbing, to say the least. Once again, if they had worked through Farhad's emotions & his reasons, maybe it would've been easier to understand that Mahi deserved all of this because, at this stage of the drama, all I can think about is how unfair it is to her & how she shouldn't be going through all of this.
Mahi let her friend Rida know that she can't help but think about Farhad. At this point, the writer & the director obviously want the audience to think that she still has that emotion of love or something of that kind in her heart for Farhad but I will definitely take it as a trauma & nothing else. Ever since Taimoor has passed away, Mahi has only thought about Farhad's bad-duas & she has held herself responsible for it all, therefore it doesn't come as a surprise that she can't help but think about what he said to her. It is absolutely natural & doesn't translate as anything else.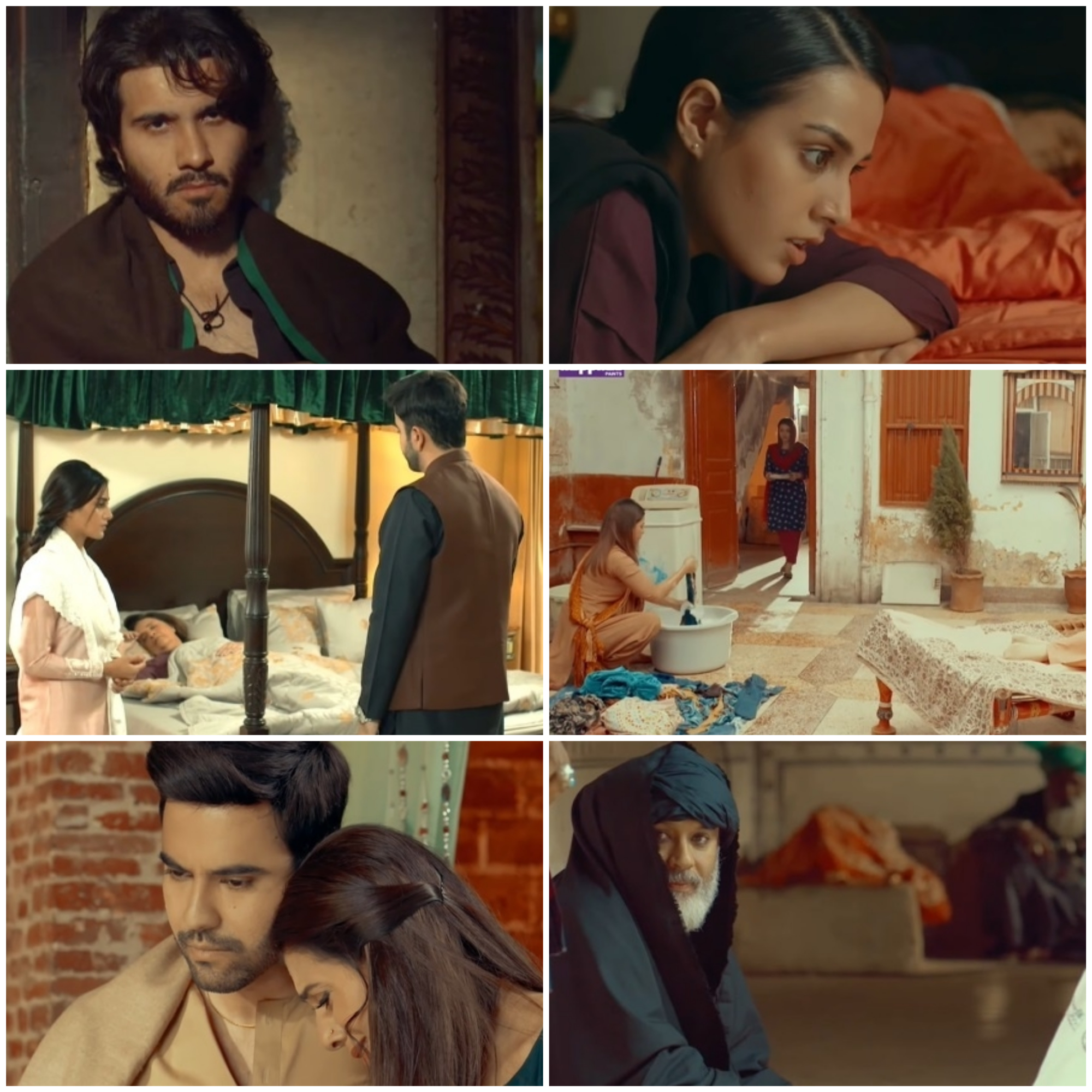 Romana definitely wants more than just an unspoken commitment from Sikandar. She does everything he tells her to do, he controls all the affairs related to her life, therefore it is fine for her to want more in terms of officializing & legalizing this relationship. It did seem Sikandar also understood her ordeal & started thinking on those lines but he hasn't come up with a decision yet. It is obvious that Sikandar will also be torn between Mahi & Romana where he will have to give up his love for responsibilities or vice versa. It doesn't take much to figure out that he will definitely pick his children & mother's well-being over Romana. Sikandar & Romana both will have to go through the trials & tribulations but let's see what's in store for them.
Another day at Mazaar & another yummy food parcel that was handed over to Farhad. Once again, it was amusing how Dervish knew which morsel of food belonged to which mouth, I am impressed. Farhad should be happy that he is not the only one who is crying because that quota is being shared by Naheed in Lahore as well. Supposedly she is getting married & even after so many weeks, she feels she hasn't gotten the time to mourn Farhad's loss! More than anyone else, I am desperately waiting for her to get married. Also, I am not sure why Fari seemed so surprised because, in the previous episode or the one before that, she was the one who pep-talked Naheed & told her it was time for her to move on.
Slow Paced Drama
This episode of Khuda Aur Mohabbat 3 was slow with a couple of important scenes. There is no denying the fact that all the actors have performed brilliantly but I really feel the director's approach in taking things slow & prolonging each & every nominal situation has killed the charm of this drama. There is absolutely no excitement while waiting for, or watching this drama whereas I had high expectations from it. Iqra Aziz deserves full points for bringing out her best & doing justice to Mahi. If it wasn't for her acting & performance, I wouldn't have felt much for Mahi either. The preview of the next episode once again suggested that Mahi & Farhad will cross paths but not sure if they will finally get to see each other or not. Let's see what happens. Please share your thoughts about this episode of Khuda Aur Mohabbat 3.
Keep Supporting,
Cheers,
Zahra Mirza.