Ohkay so, this was yet another slow episode of Khuda Aur Mohabbat 3 which followed the same pattern as all of the previous episodes. This one ended on an important note too but the fact is, the importance of that particular event will fade away because waiting for one particular development for an entire week doesn't really seem to be worth it.
Sir Jhoom Jhoom JayeEeeeEeee AAAaaaAAAAAaaaAa
In this episode, Farhad got a promotion & he took the place of Dervish. It is safe to say that a change of clothing turned out to be the only reason which resulted in his promotion because if we look at his personal growth, there seems to be none. I think during the time Farhad was observing mourn vrat for almost 10+ episodes, the director had plenty of time to work on this particularly important aspect of Farhad's character & journey by showing what he was thinking or feeling. Sadly, during that time, the focus was so much on the rest of the characters to make sure that they were madly concerned about Farhad, that the director lost that golden opportunity. At this stage of the drama, I can certainly say there is absolutely nothing to Farhad or his journey that makes me understand him or his feelings. Supposedly a character who happens to be the hero of the drama has shown absolutely no growth, there is nothing in his journey that has evolved based on solid reasons. It is amusing that just because W&D Dervish handed him a black suit, shawl & a turban, that immediately elevated his status to some spiritual being who was now worthy of everyone's respect? It doesn't make any sense whatsoever!
I never really thought I'd say this but Sahiba happens to be the worst character in this drama. This character is solely responsible for messing up with Mahi's mind & thought process & she herself seems so confused that she continues to inflict that confusion on Mahi as well. In the initial stages of the episode, Sahiba showed concern about Mahi & also bragged that she wanted to do something for her 'happiness'. However, as the episode progressed, Sahiba was now concerned that everyone else is going to find out that Mahi was unhappy & it won't be good for her therefore she should wipe her tears away. I really wanted to see some sort of substance in Sahiba's character & assumed there was going to be some but at this stage of the drama I stand disappointed, yet again!
In this entire episode, Mahi acted with her lenses because she didn't have many dialogues to say. It is amusing that in this entire drama, the supporting cast gets so much screen-time & dialogues that makes me wonder whether the writer forgot to work on the actual & main characters. When we look at Farhad, the people around him have always hyped him up & looking at the people around Mahi; they have always made decisions on her behalf, leaving her speechless – most of the time. Mahi's reasoning was that just because Jageerdarni mistook her tears as a 'yes', she couldn't say 'no'. Wow! I think it would've been so refreshing if it was Mahi who would've made the decision without getting pressurized by her family members. Mahi has earned it during the months where she observed Iddat, that if she had presented her reasoning, Jageerdarni would've understood.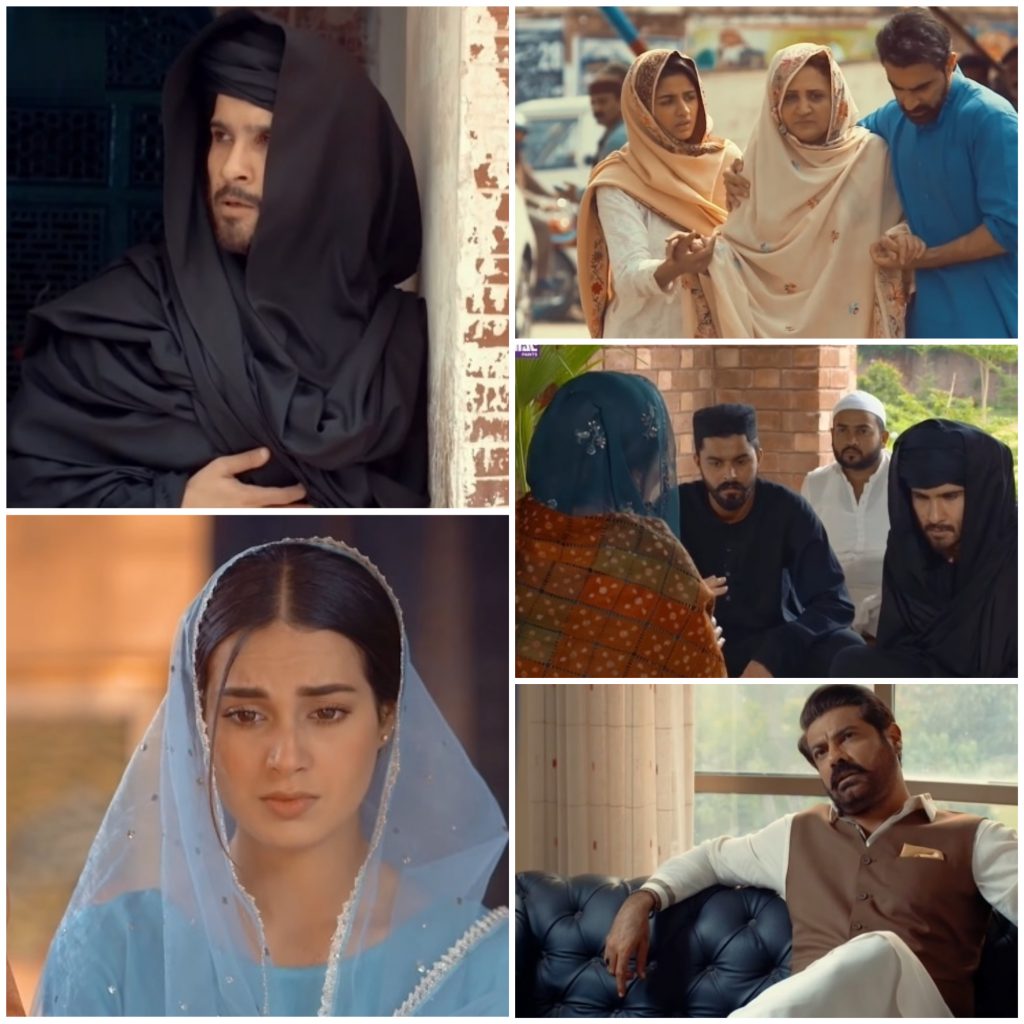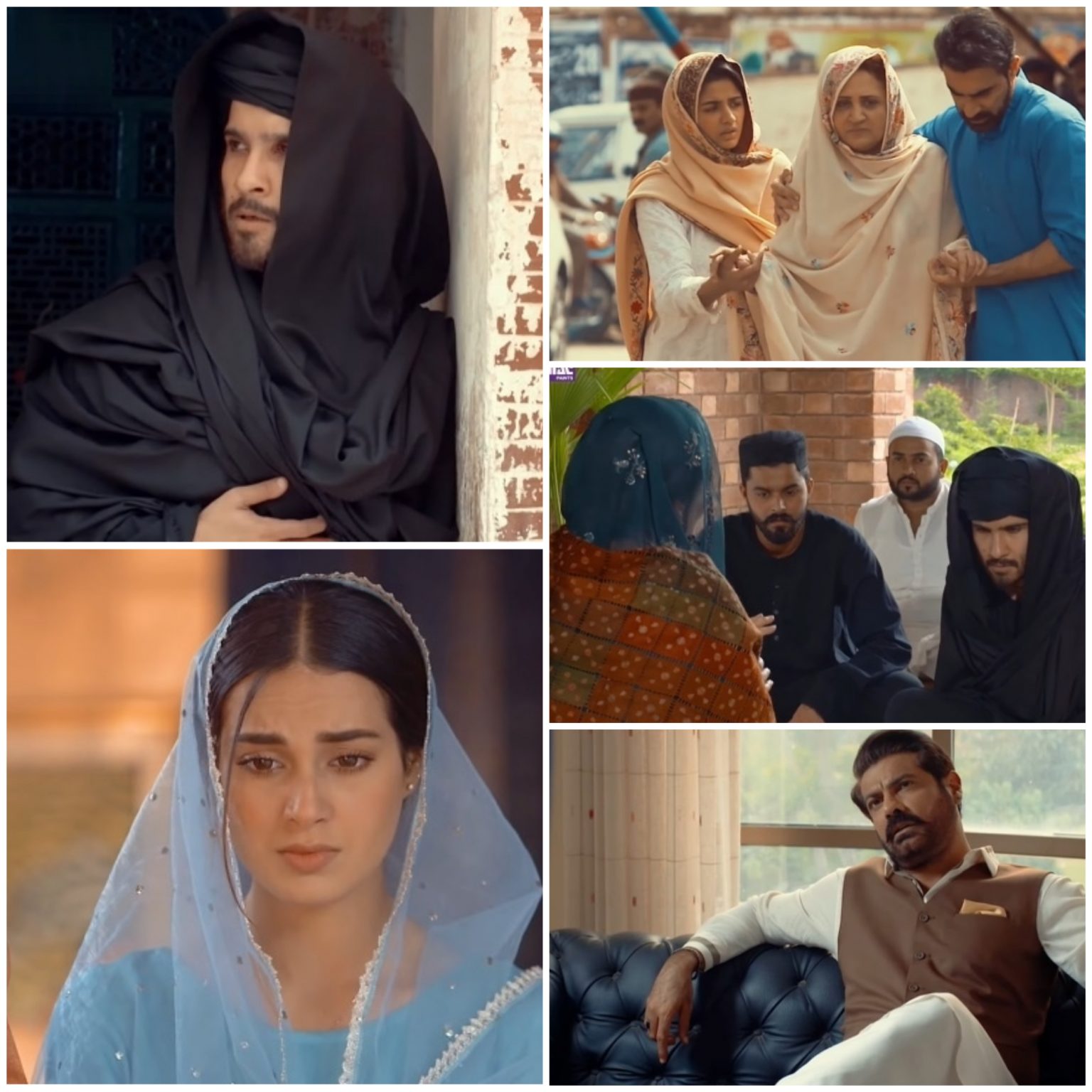 For a person contesting in the upcoming elections, Nazim Shah seems too 'faarigh'. Chalo, it is good that at this stage of the drama, he has got something special or interesting to do because apart from giving 'tao' to his mustache, I haven't seen him doing anything purposeful throughout the drama. All of a sudden, Nazim Shah has become this person who does things stealthily, whereas he has been always the one who was very vocal & out-there with his approach towards things. All of sudden he is interested in Farhad & the reason for which he has become this Fakir at a Mazaar? Why now? I wish they had told Dilawar to come too because the guy at least deserves this much information, based on the buckets that he filled with his tears mourning Farhad's loss!
It was nice to be reminded of how Farhad's mother, father, brother & sister looked because I had actually forgotten their faces. It is interesting to note that after the departure of W&D Dervish, Farhad got exposed to Nazim Shah & was also found by his family. I guess the Dervish had written the script till his role in the drama & now that he is out of the picture, Farhad has become a public entity with everyone finding out about him. W&D Dervish has disowned Farhad it seems & this is why he is not here to tell Farhad what is going to happen & who is looking for him. The way Noorah also told his assistants that if they find out Farhad, they have to be silent about it made absolutely no sense? All of sudden so much hype about something so simple where all they have to do is go to him & ask what happened that made him come to this Mazaar. I am glad that just when Farhad was having yet another acid reflux after overeating at Jageerdarni's Haveli, his mother spotted him. She will now do gharelu todka to help her long-lost son.
Farhad Who? 
This episode of Khuda Aur Mohabbat 3 highlighted all the things that are wrong with this drama, especially the way lead characters have been tackled by the writer & the director. I don't remember seeing a drama in a long time where there was so little focus on the actual growth & evolvement of the lead characters & the supporting cast was getting all the attention. It is like they do the talking for Mahi & Farhad all the time, which results in this major disconnect with them. Even if at this stage of the drama, there is nothing to pick up on what changed Farhad or what he is feeling, therefore I don't know what to take away from his character or journey. Please share your thoughts about this episode of Khuda Aur Mohabbat 3.
Keep Supporting,
Cheers,
Zahra Mirza.