Ohkay so, this was yet another slow episode of Khuda Aur Mohabbat 3. It is unfortunate that for a story as typical as this one, the drama makers decided to drag it to so much to turn it into an approximately 40 episode drama. The story has not moved an inch for so long & what's more frustrating is how in every single episode for the last few weeks, they only have a couple of new scenes, the rest of them are just flashbacks or events & happenings that do not add much to the story. I really think they shouldn't have labeled it as the third season of Khuda Aur Mohabbat because the title itself skyrocketed the expectations & there are no qualms in saying that this one doesn't only not meet the expectations but falls short of it completely!
Dilawar & Farhad's Meeting
This episode had only one major development which was Dilawar's attack on Farhad & everything that happened after was the least bit interesting or engaging to hold my interest in the episode. Dilawar obviously found out about Farhad & it wouldn't have taken him much to figure out what was the reason behind the orders that were given to him by Nazim Shah. Farhad also knew why Dilawar did what he did, his expressions said it all. It was as if it did not come as a surprise to Farhad because this is exactly what he expected from Nazim, especially after all the threats he gave to him a few days ago.
It seems Jageerdarni has adopted Farhad & she was taking her role as his mother quite seriously. I still fail to understand why & what is it in Farhad's character that everyone puts everything aside & glorifies Farhad as if he is someone special. I do acknowledge that this has been Hashim Nadeem's pattern in most of his dramas, everyone couldn't stop talking about Musa in Raqs e Bismil, everyone in Parizaad is touched by him, but the difference is, both Musa & Parizaad had it in them for people to be touched by their presence or feel inclined towards them. Sadly, this is absolutely not the case with Farhad, or even if Hashim Nadeem intended it that way, the director has failed to translate it on-screen. There has been so much focus on what others think of Farhad & how they can not help being his fans but sadly, they forgot to work on Farhad's character or his growth which actually would've made all these feelings of supporting characters justified.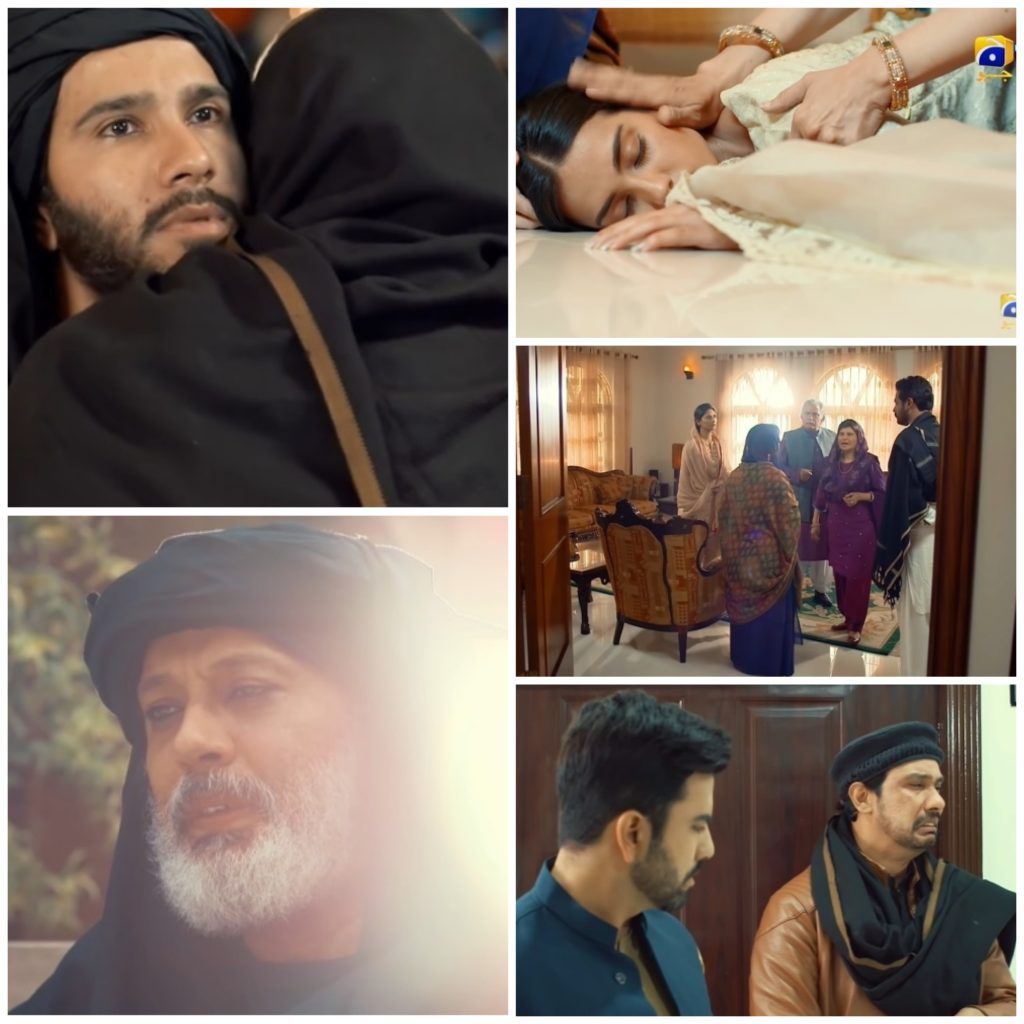 The rest of the episode covered everyone's reactions with Sikandar taking care of hospital expenses & blood donations. Kazim Shah was now introspecting which again seemed out of the blue, but I still like that they have shown a father having a soft spot for his daughter. It is refreshing to see that a father like Kazim Shah is still in touch with his emotions especially in matters concerning his daughter. I really wish to see him having a conversation on these lines with at least someone; acknowledging the fact that the loss of Taimoor was so traumatic for Mahi that he doesn't wish to put her through more misery!
Random Observations
This episode of Khuda Aur Mohabbat 3 was actually quite slow. It also gave me a chance to make random observations – I liked the color-coordinated outfits of Kazim Shah & Peerni Jee. I also wonder how awkward it must've been for Iqra Aziz to lay flat on the stairs that too upside down. Dilawar did not change his clothes all these months – if he had silently passed by Farhad, I guess that would've been enough to kill him – no stabbing needed. Also, they showed random people grabbing Dilawar, when I saw him standing in the hospital in one piece I wondered why didn't those people make a kachoomar out of him – especially after witnessing what he had done. Sahiba looked awkward with a dupatta draped partially around her bun – that's just not her style. I wonder what Naheed, Sajal & all those girls doing who had dedicated their entire lives to Farhad. Also yes, all this while every time W&D Dervish appeared in Farhad's hallucination, he seemed normal but this time around he came with a stark white light shining through his turban – wonder what does it indicate? He is no more & ready to welcome Farhad to the afterlife? Since the drama has become so boring, I would like to know what you guys think about or random things that you notice while watching the episodes Khuda Aur Mohabbat 3? Please do share with me.
Keep Supporting,
Cheers,
Zahra Mirza.