Ohkay so, in the middle of flashbacks, non-stop annoying Alaaps of Rahat Fateh Ali Khan & repetitive scenes, all that I could gather while watching this episode was how Farhad's health was deteriorating. It is sad to say that this drama has reached such a stage where none of it makes any sense anymore. If we try to find logic in Khuda Aur Mohabbat 3, we'll be left empty-handed, therefore it's best to just take it as it comes. However, given the kind of sensibilities all the viewers have, it is natural for anyone to find it hard to curb the urge of finding common sense while watching this drama too.
Flashback Galore
Farhad is revered by so many people & the two who have recently become his followers are Jageerdarni Jee & Sikandar, therefore I found it absolutely ridiculous that no one was there to prevent Farhad from leaving the hospital. He had good medical assistance at his disposal, but still, he chose to leave it & go to the Mazaar in order to suffer more? It just does not make sense. While watching his health deteriorate, instead of feeling sad or bad for him, all I saw was how this was nothing but a self-inflicted misery.
It was absolutely baseless that while the policeman was recording Farhad's statement, Dilawar was standing right there as if he didn't do anything. Although he did say that he wanted to confess but then again, why was he so comfortable when the policeman was around. Also, it seems Noora was always quite vigilant, therefore he is nowhere to be seen now. Farhad obviously did not have that much of security, so for him to approach Dilawar after he got caught wasn't such a big deal. This entire aspect has been tackled so poorly that it once again proves how the focus of the director was just on the execution & not much on whether things were realistic or not!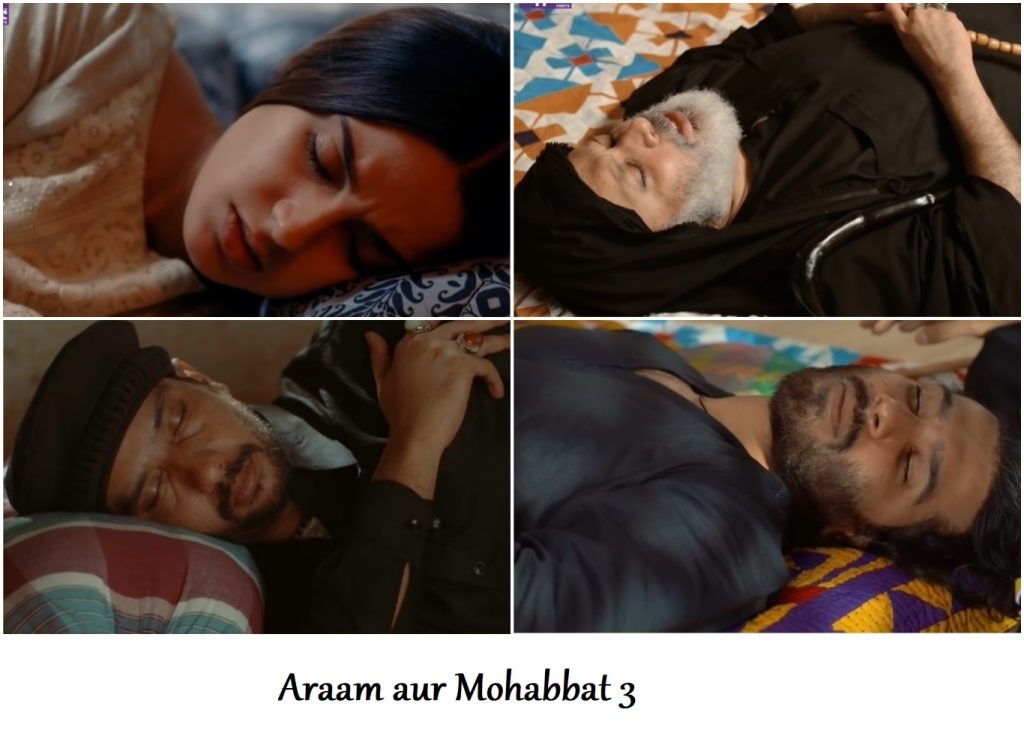 Jageerdarni Jee's plea forced Mahi's mother to think things through but I wish there was more to her instead of wailing over flashbacks. This was one such episode where I actually found it hard to concentrate while watching, therefore seeing the number of flashbacks, I knew getting a glimpse or two every now & then was enough. Also, all thanks to Rahat Fateh Ali Khan's shrill alaaps, the fraction of times when I did feel like paying attention, his screams snatched it away!
All the happenings since the last 4 – 5 episodes were enough to be decently covered rather wrapped in 2 episodes, but they chose to drag it only to reach the 40th episode mark. It is unfortunate that as much as I would've liked to, I just couldn't enjoy the philosophical conversations of Dervish & Farhad in this episode & also the ones that have been happening for a few weeks. Those would've been intense & profound moments of each episode but sadly the essence is lost amidst unnecessary dragging, loud background music & the slow pace!
Sigh!
The preview of the next episode clearly showed that Mahi too isn't going to survive. Farhad is bound to lose his life but Mahi will also die. Mahi's father would never agree to Mahi's marriage to Farhad. While watching this episode, I once again thought to myself what was so special about Farhad that everyone was ready to put everything at stake for him? I feel even when at this stage of a drama a viewer feels this way, it clearly goes to show the lack of depth, soul & essence in a lead character. Farhad's journey has not touched me one bit & I have also stopped feeling any kind of sympathy for Mahi as well. Here's to hoping that this drama comes to an end soon. Please share your thoughts about this episode of Khuda Aur Mohabbat 3. Also, don't forget to share random observations – mine was Dilawar's rings, us ne apne se ziyada bhari rings pehni hui thin. The biggest advocate of Mahi's love for Farhad – Miss Sahiba has gone mute after getting slapped by her husband? The most useless shot of this episode was seeing Mahi run for 3 seconds in slow-mo, all decked up & dressed to the nines? What for? No one knows except the director. Also yes, Romana was informed about Farhad's condition but why didn't anyone bother to contact Farhad's family? Farhad ko khud bhi abhi tak apni ma ki yaad nahi ai. & oh yes, this makes me think Romana is still relevant, lol!
Keep Supporting,
Cheers,
Zahra Mirza.