Ohkay so, I am glad that in this episode, the grand wedding was finally wrapped up, which means the story will move forward & the focus will be shifted on the lead characters. Although Farhad & Mahi definitely were running the show but the wedding was definitely the focal point right from the beginning. I am not too sure how I should feel about the pace of the drama because so far it seems quite slow & not a lot is being given away about the characters. It feels like even after the 4th episode, the characters are still being introduced.
Farhad Getting The Limelight
One of the best moments of this episode was the conversation between Rida & Farhad. It was nice to see Rida in a different light where she showed her emotions & spoke about how she always longed for a brother. Although it did look a little sudden but better late than never. I wish the scene had started on a positive note because to see Rida screaming at Fakira was off-putting. This is what I have felt about Mahi too when she literally talks down with Fakira, without even paying heed to the fact that she is older than her & only on that basis deserves some respect. It was interesting to note that a situation that could have gone wrong turned out to be so positive because even Nisar got to know what his daughter was feeling.
Mahi & Farhad continued to be around each other with Farhad thinking about her & Mahi being totally engulfed in Rida's wedding & everything related to it. Farhad's feelings at this stage make him look a little immature where just because Mahi decided to befriend him, he thought there was or there could be more to it. Mahi has never given him mixed signals & for him, he was just a friend. I also feel the little introduction that Mahi's family got was about how she belonged to a conservative & orthodox family, therefore for her to be so casual while dealing with a complete stranger during Rida's wedding can be a little odd. I feel at this stage the viewers should definitely get a lot more insight into the characters to actually understand what their mindset & thought processes are.
Naheed is definitely not coping well with the idea that she saw Farhad with some girls. His changed behavior on top of it is also making her nervous to the point that she is looking for a lot more clarity but instead is not getting what she wants. Farhad is pre-occupied & she is trying to figure out one chance to have a conversation with him. In this episode it seemed Farhad's sister picked up on what Naheed was up to, this is why she even smiled when she thought of the two together.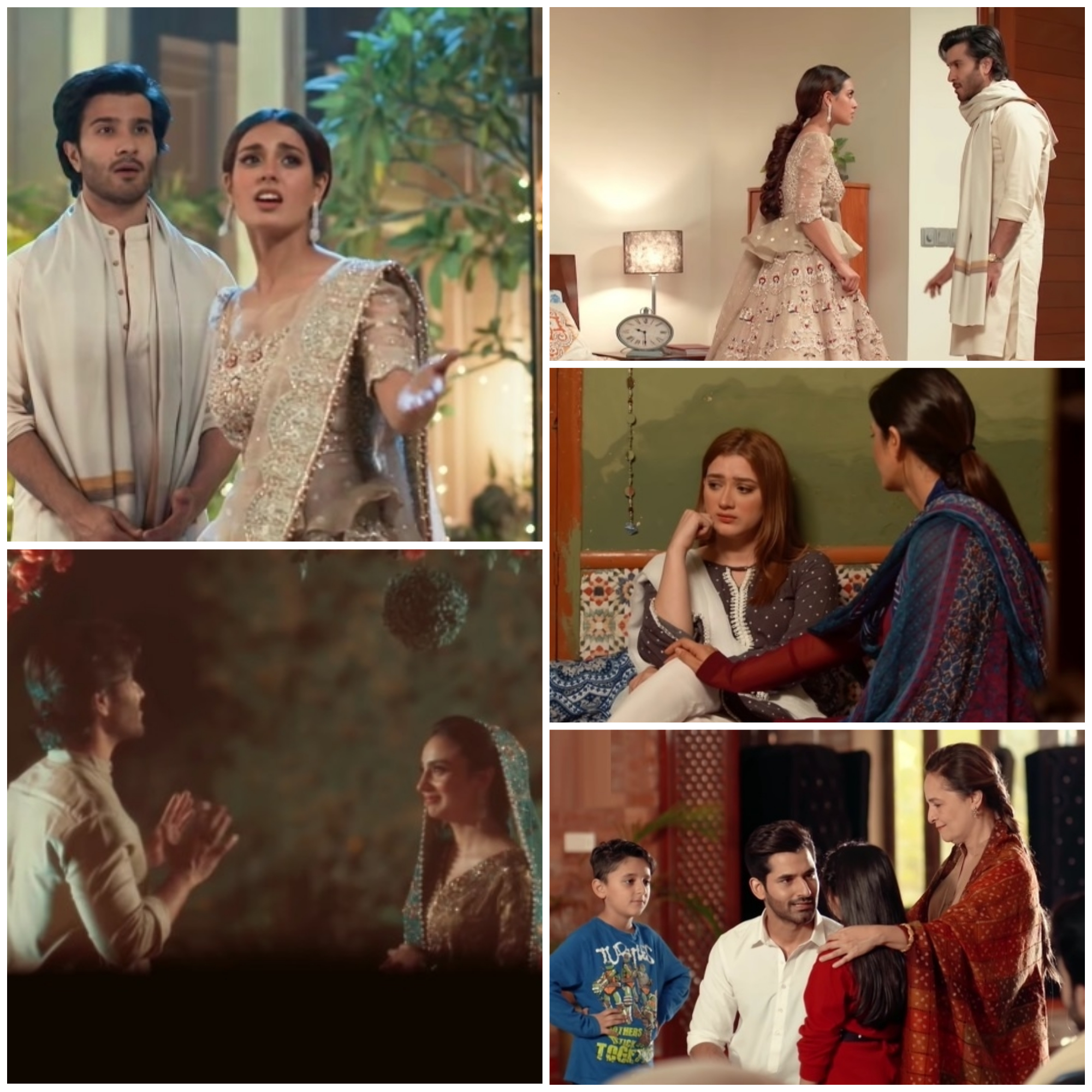 Nisar definitely has a soft corner for Farhad. He was quite impressed with his honesty & work ethic but after hearing the conversation he & Rida had, Nisar obviously has started seeing Farhad as his son. This equation definitely is nice because it is going to contribute in the later stages of the story with Rida & even Nisar being on Farhad's side when he'll be needing it the most.
Sikandar has lost his wife & he is a father of two kids. Their family also needs some more introduction. So far it is mostly about their mother wanting her sons to get married. As much as I like Hina Bayat's take on Siraiki accent, I feel her sons should've also put in some effort because when she is the only one speaking such heavily accented Urdu, the scene loses an impact when the characters around her do not speak the way she does. It would've made them all coherent as a family which I feel would've definitely made an impact.
So far, this has been established that this season of Khuda Aur Mohabbat is going to be very different but the only thing I wish was that the characters & their personalities, their emotions were elaborated a bit better because it seems the focus on making it larger-than-life was so much that somehow it didn't really give me much to connect with the characters as such. At this stage, it just seems I am watching a story of some of the characters without knowing much about them & when it comes to Hashim Nadeem's dramas, he always makes sure that all of his characters stand out right from the beginning. I can only hope that I get to know the characters better in the episodes to come.
The Journey's About To Begin
This episode of Khuda Aur Mohabbat was definitely good, it does qualify to be a good entertainer but I am definitely looking for that essence, that depth which Khuda Aur Mohabbat series has been known for. Feroze Khan as Farhad is definitely impressive & Iqra Aziz is doing the best she can as Mahi but I wish there is more to her than just a loud, boisterous girl who is a bit too carefree. The last interaction of Mahi & Farhad was unexpected. Mahi didn't think before mistaking Farhad's intentions. It just goes to show that she never really saw him as someone she'd hold a high opinion of. For her, he was just a random guy she met therefore when she felt uncomfortable, she let him know & didn't give much thought to it. Farhad on the other hand seemed rattled because he never expected that Mahi would misjudge him, or she actually could do such a thing. This entire misunderstanding was nicely done because it showed how both Farhad & Mahi had different mindsets & how they both perceived the equation they have shared over the last few days.
The preview showed that Farhad is seriously going to pursue this & with this, I really hope his journey kickstarts where he will be met with different obstacles. The first one which he failed to understand was where Mahi just walked over him & didn't even give him a chance to explain himself. Anyhow, with so many people at the Qawwali night, I expected to see more at Mehndi & Barat functions but it ended up looking like an intimate ceremony being attended by close family & friends. Once again, I live for the aerial shots that they show throughout the episodes, those are definitely my favorite. I am also hoping to see the essence of different cities being brought to life on my TV screen in the episodes to come, let's see if that happens. Please share your thoughts about this episode of Khuda Aur Mohabbat.
Keep Supporting,
Cheers,
Zahra Mirza.