Ohkay so, the writing of Hashim Nadeem & the direction of Anjum Shehzad, Khuda Aur Mohabbat aired on Geo TV back in 2011. Now when the Season 02 of Khuda Aur Mohabbat is going to commence this Saturday, I decided to binge watch the 1st season so that I have an idea about what the plot of the drama was. I must say, it was a beautiful journey & I can't really remember how many times I got emotional watching the sufferings of the main characters. Just when Dhaani drama began, I remember a lot of readers commented that the plot of Dhaani was similar to Khuda Aur Mohabbat, so yes, I will say that I found quite a lot of similarities between both the dramas but when the character of Hammad began his journey of self-discovery, he made me forget about Dhaani completely because honestly, I feel the character of Hammad is far more likable & stronger than the character of Sameer in Dhaani.
So, the story of Khuda Aur Mohabbat revolved around the two families; the family of Commissioner Amjad Raza (Firdous Jamal) & the family of Molvi Aleemuddin (Salman Shahid). Amjad Raza's family included his wife & three sons, Sajjad, Hammad (Imran Abbas) & Ibaad. Molvi Aleemuddin had two daughters Imaan (Sadia Khan) & Haya & his nephew Abdullah (Ahmed Jehanzeb) also lived with them since childhood because his parents passed away. Amjad Raza belonged to a financially sound background already & his ancestors had a lot of property in the village, but Amjad Raza chose to educate himself & he moved out of the village. He made a name for himself, became a bureaucrat & gave his family a luxurious & comfortable life. On the other hand, like the name suggests, Molvi Aleemuddin was a very simple & humble cleric who barely made a living for his family but all that he wanted & worked for all his life was respect & dignity.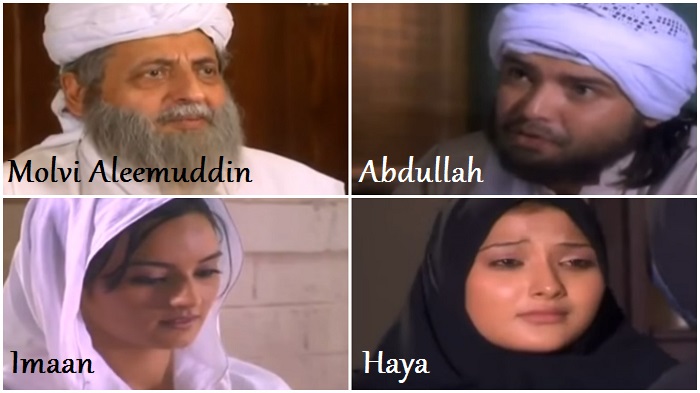 Hammad gets to see Imaan & that is when he falls in love with her, only to discover himself & discover the value & importance of everything in his life. Hammad's love for a very simple girl allows him to see the real face of his family members & shatters the trust he had in them ever. Hammad's sister in law Abrina (Farah Shah) wants Hammad to get married to her younger sister but Hammad doesn't budge because by then, his love for Imaan takes control over his mind & heart & that is when Hammad's love creates problems for him & Imaan's family. Hammad's mother insults Molvi Sahab & that is when Hammad decides that he will eliminate any such person who would oppose his love. That becomes a turning point in his life & his emotional transition begins, where he finds himself, his love, his love for Almighty & his entire perspective on life changes but the base remains the same & that happens to be his love for Imaan.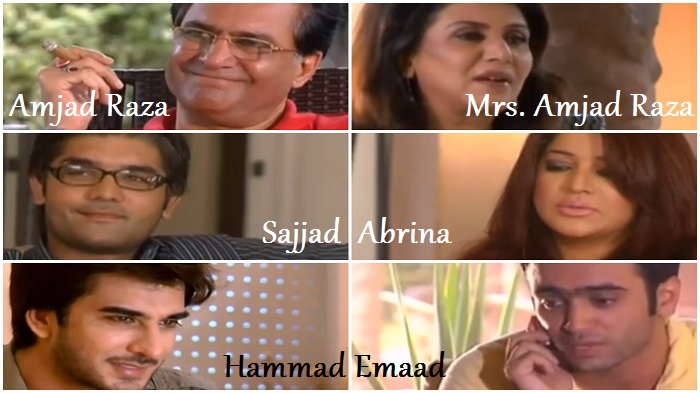 After leaving his home & family, Hammad starts working as a coolie to be able to make some money for himself but till that point, he lives a very purposeless life until one day he meets a stranger who makes him familiar with the idea of love of Almighty & religion. After putting forth his proposal for Imaan in front of Molvi Sahab, Hammad does realize that he doesn't fit the bill of Molvi Aleemuddin's choice for his son-in-law, so he also takes it as a hint to explore what religion has to offer to him but while he is at it, he shows more acceptance towards it & accepts it wholeheartedly, without any hidden agenda of impressing Molvi Aleemuddin or to show him that he has had a change of heart.
When Hammad leaves his home, he comes across so many people like Siddique (Mohsin Gillani), Najma (Fazila Qazi) & Abdul Ghafoor (Shafqat Cheema) who didn't have the money his father had, but only had love & consideration to offer to him & they immediately become his family who not only feel for him, but stay by his side through thick & thin. Like I said before, Hammad's character is far more likable & respectable in comparison to Sameer because Hammad had a backbone, he had a personality, he had a mind & more than that, he had a determination & a will to love Imaan to such an extent where he left all his wealth, comforts, family & luxury for her sake. I loved how they introduced Hammad's character because he was always shown to be a kindhearted human being who always connected with people emotionally irrespective of what their social standing was, that is the reason we saw how Hammad shared a cordial relation with his driver Shakir (Khalid Butt) & his daughter Nighat.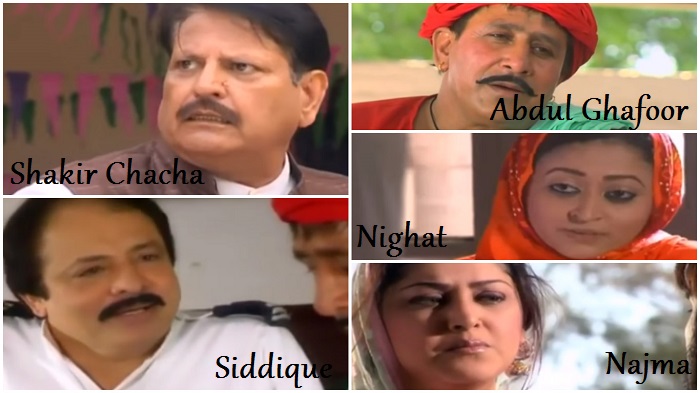 Molvi Aleemuddin feels pressurized & that is when he decides to get Imaan married to her cousin Abdullah, who also loves Imaan but doesn't say much. After seeing the sufferings of Hammad & the change in his entire personality, Abdullah feels that may be he & his uncle are being unfair to Imaan. Imaan feels burdened as she considers herself responsible for Hammad's sufferings, that is when she decides to meet him, only to tell that she has nothing to offer to him & requests him to return to his family & his life that he had left for her. Imaan does feel the intensity of Hammad's love for her but she chooses to ignore it as she can never think of letting her father's trust on her down, that is why, after meeting Hammad for the last time & rejecting him, her health starts to deteriorate & it costs her, her life, that too at such a moment where Molvi Aleemuddin does get convinced that Hammad is capable of getting married to Imaan & that way, this love story ends tragically.
I must say, the way the writer had written Hammad's character & the way the director showed his transition was beautiful. This entire journey was so enticing & captivating that it just didn't allow my mind to divert at all. Even though it is a done deal that Imran Abbas is a phenomenal actor, but his acting as Hammad was so convincing. Imran Abbas made everything, like Hammad's love for Imaan, his restlessness, his grief, his hope, his efforts, his speechlessness every time his eyes met Imaan's, just so beautiful that I couldn't help feel his pain. I must say, I didn't expect to see such an ending & till the end I was hopeful that may be Hammad & Imaan will get to be together & may be all the prayers & all the efforts of Hammad won't go to waste & he will get Imaan as a reward for all the struggles that he did till day but Alas! They weren't meant to be.
I loved how simple the approach of the director was, it just made things a lot more real & convincing. The director for sure extracted the best acting out of all the actors, be it the protagonists or the supporting actors, each & every actor did a convincing job & the writer made all the characters seem quite important, like there was not even a single character that I can pick which wasn't needed in this story. This story highlighted so many factors about how society puts pressures on people irrespective of which social class they belong to. Even though Molvi Aleemuddin knew that Hammad's wish was not wrong & he was not at fault for wanting to get married to Imaan but he was too scared about his image getting ruined & also about the class difference between them that he didn't accept Hammad's proposal, even after seeing how much he changed. This drama highlighted the fact that people measure their strength & respect based on how much wealth they have garnered all their lives, that is why Hammad's family doesn't accept his love for Molvi's daughter & Molvi Aleemuddin doesn't accept Hammad knowing that he belongs to a very different world. I loved how Imaan took care of her father's wishes & didn't even think about going against his decision, she actually understood all the struggles her father had been through in his life to earn respect & make a name for himself, that is why she chose to stick with her father's decision despite knowing that the idea of Hammad loving her to such an extent will haunt her all her life.
I am glad that I decided to watch Khuda Aur Mohabbat & after watching it, I know that I missed a very nice drama, which was filled with some beautiful characters, a lot of emotions, some amazing dialogues, some very meaningful conversations, beautiful performances & a heart-warming & unique love story. I loved the OST of this drama too, however I do have an issue with the lyrics but keeping that aside, I also feel it was used a bit too much that after a few episodes it lost its charm. The direction was amazing & I couldn't help but rejoice at the fact that it only had 14 episodes. Imran Abbas once again made me a fan of his acting, he surely is one of the best actors of all times & I am actually excited to see him in Khuda Aur Mohabbat Season 02. Please share your thoughts about Khuda Aur Mohabbat Season 01 & do let me know if you're excited for Season 02?
Keep Supporting,
Cheers,
Zahra Mirza.