This was the episode most of the viewers were waiting for because tonight Mahi finally made up her mind and took the bold step which wasn't an easy choice but one which was completely in line with Mahi's character. The opening scene was strong; a conversation with another mother who had chosen to stand by her child instead of abandoning him gave Mahi another perspective, one which she could identify with much more than everything else she was told by people around her after her child was born. The most emotional scene of this episode was the one in which Mahi goes to pick her baby. Adnan Shah Tipu deserves an award for his performance in this play; the character he is playing isn't an easy one to translate on screen but he is pulling it off faultlessly. Mahi's conversation with Sanam however could have been shown in a better way. Mahi was always there for Sanam but Sanam completely disappeared from Mahi's life after she had the baby and now the conversation they had wasn't one between too best friends but it was one between a therapist and her client. This entire conversation could have been equally productive and far more emotional if Sanam came to Mahi to help her explore her feelings and they talked like close friends.
In this episode the viewers heard from Mahi directly that she gave her baby away only because she was not given enough time to take a decision on her own. Now that she was at her mother's place and away from all the pressure, she managed to figure out what she really wanted. She decided to take her baby back and that was the most poignant scene of this episode. Mahi's conversation with Zain was extremely well-written as well, it was so well-thought-out that the viewers could not help but understand how difficult this situation was for the parents. Zain asked Mahi whether their baby was a boy or a girl, a question which everyone asks parents on the birth of their newborn baby. Answering this question was going to be the first most difficult step in Mahi's life. While this scene was on point, the scene in which Mahi was sitting with her mother confused me about the timeline. The baby who was a newborn few hours back was now at least 3 months old and I actually watched this episode again to see if there was a ticker somewhere telling the viewers how much time had passed in between! Also, the conversation between Mahi and her mother clearly suggested that this was right after she brought the baby back. I understand that these are tiny details but these details matter a great deal. It would have been better if the baby wasn't shown instead of showing a much bigger baby which caused confusion. I am wondering now how much time has elapsed since Mahi had this baby. This scene ruined the flow of this episode for me and the emotional connection was broken too.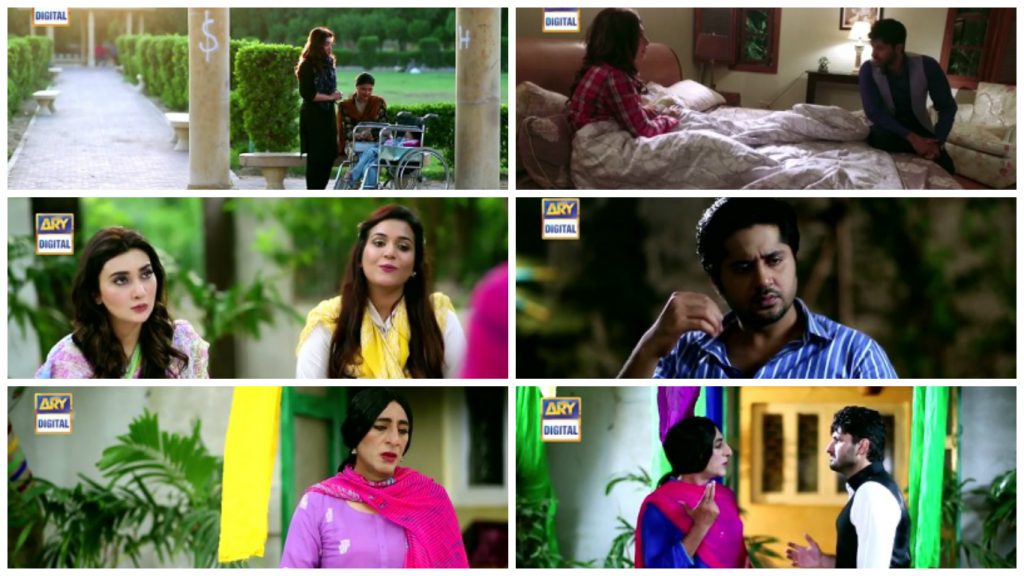 Zain's state of mind is completely different from that of Mahi. While Mahi thinks she can raise this child and protect him, Zain thinks he does not have the courage to accept this child. Zain's unwillingness to accept his child was shown through different scenes, not just this the scene in which he goes to see Adnan Shah's character went to show that he was disgusted by such people. Once again Adnan Shah nailed the scene in which he tells Zain that he was just another man who could not look beyond the obvious and one who was a coward. Many of the conversations tonight also suggested that nobody knew that leaving the baby was Zain's idea alone.
So far no one has talked about the choices this baby has medically and if he has none then that should be mentioned too. A child who is "special" or different than others in any way at all isn't raised like any other new born baby therefore it would be nice if the viewers get to see Mahi talking to medical experts about her baby's situation even if that is covered in one scene and the viewers don't hear the conversation entirely. This issue is not an easy one to handle and I hope that the writer has done the research needed to write about such a topic.
Aisha Khan's brilliant performance is being spoiled by her loud make-up which looks especially odd in this situation. Someone who is this upset and lost does not have the time to make these hairdos and put on such heavy make-up. I understand that a little styling and some make-up is a basic requirement but that is not the case here.  Overall, this episode was emotional just like all the previous episodes of Khuda Mera Bhi Hai. The preview of the next episode suggested that Mahi will ultimately have to make a choice and she will choose her baby over her husband.
How many of you watched this latest episode? Please do share your thoughts about it.