Brace yourselves. In these episodes, I actually felt a little bit of sympathy for Hamza. I know I know – outrage, disbelief – I hear you, but I felt bad for him for having a super annoying wife and a super annoying wailing mum as well. But it was a fleeting moment of weakness that made me feel that way for he really has brought this all upon himself and him chasing after Mehru is making me dislike him even more so the challu bar paani of sympathy I felt for him, I would gladly present to him to go jump in himself!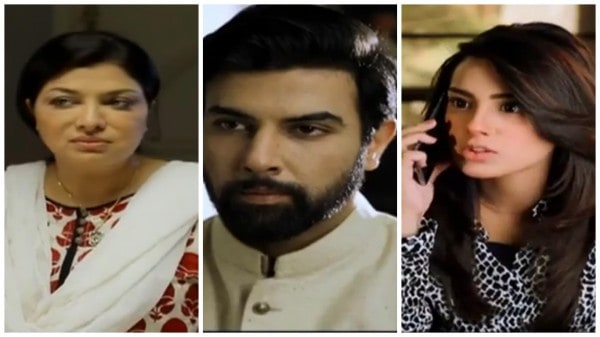 Ameer has gone to visit his mother. I do not understand why Ameer's mother lives alone and has not moved in with Ameer and Mehr once he had his own home to live in? She does not have any other children or a husband so that part I do not get. Anyways, Ameer's mother is adorable as he is but she senses everything is not as hunky dory as Ameer makes it out to be but he is adamant he is very happy and content in his marriage and life.
Mehru starts work and turns out her boss is Hamza. Uff when he said 'come in' and when he sat with his back to her how could she not recognize his voice or the outline of his head. I felt extremely uncomfortable that I was able to identify both and she was not – and Mehru apparently being in love with him and honestly – I am not! Promise! I was quite pleased when she told Maryam she would not continue working there so was very disappointed to see that she goes back to work the next day. Her 'terms of employment' that she laid out to Hamza did not impress me at all. Mehru keeps trying to stress that she has a strictly professional or innocent relationship with Hamza but I mean what is all this? Hamza knocking at her door knowing full well she is the only one at home? Employing her in his office? True, they are not being shown to embark on a full fledged affair or something but they are truly playing with fire and they know it.
The highlight of this episode not due to its amazing acting or beautiful dialogues or wonderful direction – but because I snorted with laughter was Hamza 'packing' his suitcase and announcing he is leaving! This guy really needs some male friends – all that women influence and that too of the Mareena-Shakra type is playing with his mind. I would not be surprised if he swooned and fainted soon!
And uff, Ameer ji ki adaayein! Poor Ameer really tries hard – the ring, the Eid suit, trips to the seaside, going along with everything Mehru wants – what else can he really do? Next week's preview shows that Ameer will see Hamza drop Mehru home. I truly hope he will have a tantrum of sorts or at least demand an indignant explanation for Mehru's behaviour is beginning to annoy me now. Her anger at Hamza's mother telling her off, not listening to her sister advising her to keep her distance from Hamza and then acting all 'holier than thou' when laying out her conditions if she works for Hamza – really not working for me. One could argue she is not doing anything 'wrong-wrong' but she is definitely headed down a path which is questionable and she needs to shut Hamza out of her life to be able to move on and do justice to her marriage otherwise she should really leave Ameer.
I love how well each actor has blended into their character. The focus is more now on Hamza and Mehru so we are seeing more of Sonya Hussain and Noor Hasan and they have done justice to their roles. It is nice to see Firdous Jamal acting more his age – his quivering old men characters were beginning to annoy me. I do feel that the story should begin to wrap up now. It would seem obvious that either of two things will happen – either Mehru stays with Ameer or ends up with Hamza and I would have thought that it is as simple as that but in spite of me saying that the drama should begin to end now, I do hope the director does not 'rush' into the ending hence spoiling the whole pleasure it has been watching Kisay Chahoon.
Seems like no review is complete without Hamza's 'chameleon' type dressing now that Mehru, Maryam and Ameer have all drilled how amazing his dressing is into my head. Enjoy! Would love to hear your thoughts on these episodes!