Opening Thoughts – Average:
Ohkay so, this episode of Koi Chand Rakh was again pretty average & didn't have much to offer. Oh yes, I am glad that the chapter of Ibrar closed because just when I was thinking that quite typically Zain & Rabail's relationship will rely on Ibrar's breaths, he breathed his last one changing the scenario from being too predictable. Other than that, there was nothing in this episode that was special rather it was full of clichés like it has always been!
Full of Clichés:
Matlab Nafeesa aur Nishal to the hi, Asad uncle joined the league of andhas too. To be honest, I won't be surprised if later Asad & Nafeesa will agree to Nishal's marriage with Zain because they are pathetically selfish. All this while, I felt that Asad was reasonable but he proved me wrong. He himself has failed as a parent & he has the audacity to assume that Rabail is responsible for Umair's condition & his poor choices based on the mere fact that Rabail was in Umair's room having a conversation with him for his own behtari. Nafeesa & Nishal put up an act in front of Asad but then he won't be able to judge them correctly since he also has lost his brains just the way the dye on his hair has lost its color!
Ibrar uncle ne itni shadeed acting ki ke dunya e faani se hi kooch kar gaye. It was the most amusing scene because it was anything but serious or intense. Ibrar uncle sounded completely normal in the middle of this manhandling when Zain promised that he won't be divorcing Rabail but as soon as Ibrar uncle heard that he was going to continue to meet Nishal, he acted a bit too hard & voila…!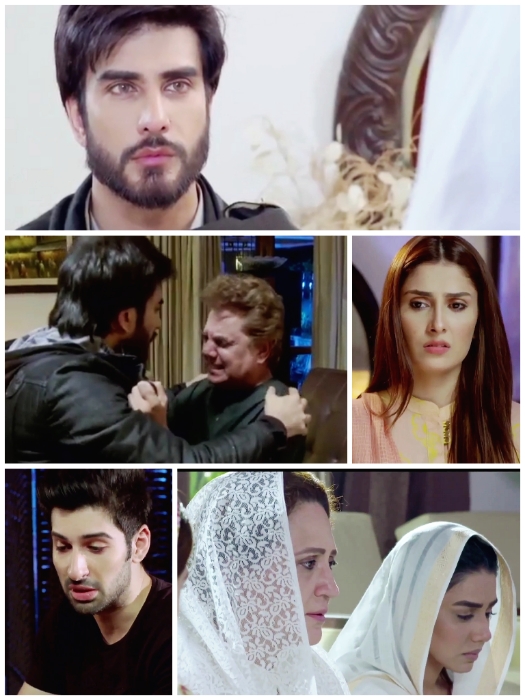 Oh well, as if there was a lack of clichés in this drama that the writer had to throw in that bahu is manhoos twist to it too. I am sure Zain's mother is definitely going to blame Rabail for snatching away the right of sporting a smokey eye, back-combing & wearing those bright colored sarees from her. It was as if Zain's mother was waiting for someone to put a blame on Rabail so that she could change her tone & oh, Sobi ki intense look dekhi thi kisi ne? LOL, I am sure she was upset that she'd now have to wait a big longer to chase Zia as she was forcefully mourning the death of Ibrar uncle!
Haye Zia bhai, matlab aur kitna beizzat hoge? I am sure koi aur izzat wala hota to drama ki dunya ko khair abaad keh chuka hota but like I said before, ye banda bezti proof hai. It is so funny that his so called best friend's father passed away & he felt it was the right time to fix his farzi marriage with Nishal. This surely serves Nishal better because she flirted with a loser & now he has become her galay ki noose. To be honest, I don't know what will I do if I hear Nishal ki husn ki tareef one more time…hadh hi ho gai hai. Zia bhai ki tareefain were puke-worthy. What a chichora I swear!
Closing Thoughts – Monotonous:
The rest of the episode went by in Umair's crying bouts & Nafeesa's bad-duas. It is so obvious that there's nothing special about the script of Koi Chand Rakh & they have nothing better to show that is why we keep on seeing repetitive scenarios where Zia is chasing Nishal, Umair creates a scene every other day, Nafeesa curses Rabail & Zain acts as if he is entitled to ditch Rabail & marry Nishal because it's not a big deal. It is also getting monotonous hearing everyone lecturing Rabail about her forced responsibilities whereas on the other hand, no one is ready to treat her with respect which she deserves. Anyways, please share your thoughts about this episode of Koi Chand Rakh.
Keep Supporting,
Cheers,
Zahra Mirza.