Opening Thoughts – Slow Episode:
Ohkay so, the story of Koi Chand Rakh has not been progressing for quite a while now. There is nothing new to it or let's just say that they don't have much to show. I think the channel should also air double episodes of Koi Chand Rakh so that we get done with this drama ASAP as to watch a turtle-paced episode every single week is no fun!
Zia Bhai The Great:
Zain has realized that he is a husband only in the matters where he can put restrictions on Rabail because other than that, there's not even a single responsibility that he is fulfilling as her husband. Zain is a perfect example of hypocrisy at its best where he does not have a problem cheating on his wife but because he has found out that Rabail's cousin had feelings for her, he is unhappy about it & reacting to it as well? It was very sweet to see Rabail putting all her energies in pleasing her dil & zuban jala husband of hers who had nothing but awazari along with 10 layers of foundations pasted on his cheeks. Yes, I am specifically saying cheeks because the makeup enthusiast in me couldn't stop noticing how Zain's forehead & cheeks were different toned. So, Zain does think about Rabail a bit & he is also considerate of the fact that he will be hurting his father by doing anything wrong to Rabail but then Nishal keeps him occupied or he gives her a lot of edge to do that. Zain can not just put the entire blame on Nishal & say that she sways him because deep inside even he wants that to happen.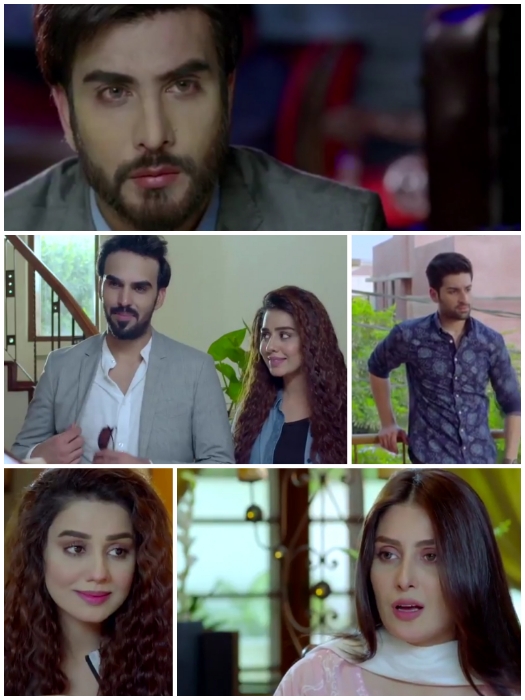 Rabail has been nothing but patient with Zain & she only reciprocates his rudeness with politeness but that is still not working in her favor. I felt for Rabail a lot when she said she had no one who belonged to her & that is why she cherishes Zain so much but yes, at times I did feel whether she was too naive to not see Zain's discomfort or she was just giving him some space or benefit of doubt like she asked for herself while talking to Sobi. I really feel annoyed when I see everyone misunderstanding Rabail I mean everyone else is doing their thing, no one bats an eyelid on what others do but when it comes to Rabail, everyone judges her. I really feel the writer has made things a bit too one-sided where everyone, starting from Asad to Nafeesa to now her mum-in-law & Zain, all of them are against her but Rabail chooses to ignore it all. Will she ever take a stand for herself or will continue to get oppressed!?!
Alay lay lay, Sobi ko sharammm aa gaii…pehle flirtiyaan karte hue nahi aa rahi thi aur she didn't even shy away from telling Rabail to arrange her marriage with Zia but Zia bhai ka naam lete hue Sobi ko sharam aa gai. Well, I really thought that out of all the people Zain's mother will be loyal to Rabail but even she was playing games & wanted Rabail to do the heavy-lifting if things went wrong in Zia/Sobi's case.
Zia Bhai The Great gave us a new proverb just because he thought Ignorance Is Bliss is outdated, he spruced it up to Ignorance Is Blessing. After getting Bhai-zoned by his very own Nishiiiiiii, he wore his staple grey coat (jo shayad production house ne 1 hi diya tha) & went to that cafe to have a lunch/dinner because he realized that he will be forever alone for a while now. Oh well, I actually got excited that Zia will spill the beans but nah, Zain came home to mazeed bistiofy Zia Bhai The Great!
Closing Thoughts – Move The Story Forward:
Overall, this episode of Koi Chand Rakh wasn't special but I had a good time watching it because of the comic quotient it had or because I derived some fun out of it. I really think the story should progress now because it has been stagnant for quite some while now. Please share your thoughts about this episode of Koi Chand Rakh.
Keep Supporting,
Cheers,
Zahra Mirza.