Opening Thoughts – I'm Baffled:
Ohkay so, this episode of Koi Chand Rakh left me baffled, reason being the hero getting a clean chit for all of his wrongdoings & his 2nd wife being held responsible for him stuffing up? How is it even justified? I guess our writers are only bent on proving this proverb right which is "Subha ka bhoola shaam ko ghar aaye to usay Pakistani hero kehte hain".
Zain Gets A Clean Chit & Nishal Gets A Dirty Mop:
This entire episode revolved around Zain's guilt & how he was trying to do everything to prove it to Rabail that he had changed & wanted a second chance. The timeline in this episode was quite confusing too. They did suggest that Zain & Nishal went away for 11 months & then came back, chalo let's say they were gone for 1 year & after he came back he started meeting Gulshan & Rabail. He spoke to Rabail & apologized, next thing we know that Gulshan died & after that only one week had passed. Now miraculously Ujala is probably 3 years old & Umair has completed his engineering. Wah!
Anyways, Zain is pretty much over Nishal & conveniently, he is blaming her for dragging him away from everyone? Zain was a grown up man capable of taking decisions himself, so how is he trying to walk away scot free while holding Nishal responsible for everything? Just because Zain is showing remorse & regrets what he did, he is the hero & Nishal, who is rightfully fighting for her rights is the villain here. Nishal's negative side is dominant, yes, that's true but she can not be solely blamed for things that went wrong in Zain's life because he chose to betray Rabail & walked out on her himself.
Rabail still hasn't forgiven Zain & she continued to spew falsafa, so much so that when Zain said "mai tumhe drop kar deta hoon", Rabail replied "Mai aur Ujala aik dusre ki taqat bhi hain aur kamzori bhi"…ummm I am unable to follow her train of thought here? Oh may be she wanted to say "Mai aur Ujala aik dusre ki Uber bhi hain aur Careem bhi". It is good to see Rabail standing her ground & still having this believe in herself that she can lead a life without a husband like Zain but all that aside, why is she such a bore & dha? Like every time I see Rabail, after noticing the layers & layers of cake on her face, I go on a yawning spree because she bores me to no end.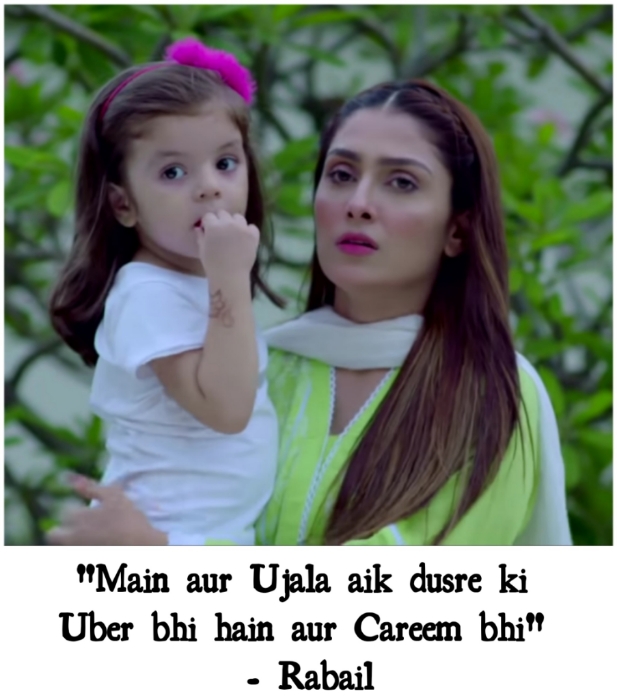 In this episode Zain gave so many compliments to Nishal which made me cringe because he was no in position to say all of that but like I said, in our dramas our writers just can not even think of punishing the hero equally for his mistakes that is why, Nishal was being labelled as: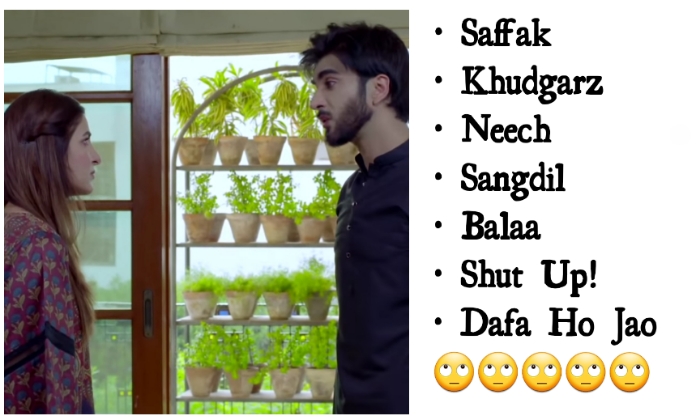 Nafeesa continues to be another opportunist in the mix. She now wanted Rabail & Ujala to come back to her house so that Zain & Nishal could still be together probably in Zain's parents' house. Also, I must say the amount of makeup that Gulshan's children wore right after her death was amusing. May be they saw their mother caking her face their entire lives that is why even after she had just passed away, they couldn't keep their hands off makeup in such a difficult time. It looked like right after her mother passed away, the first thing Sobi did was book an appointment with a hair salon that this why her curls looked perfect & the second thing Sobi was only worried about was the distribution of wealth – what an opportunist.
Closing Thoughts – Nonsensical:
Anyways, this drama doesn't make sense anymore. If Nishal was so keen on taking Zain back, she could have told him about the 'news bullet-in' then & there. I didn't understand why she insisted on him going back with her so that she could tell him that good news? Drag! The only good thing in this episode of Koi Chand Rakh was Nafeesa aunty's shawl & yes, Imran Abbas looked superb in simple black shalwar kameez, I so wish his character was just as good as his looks too but oh well. Please share your thoughts about this episode of Koi Chand Rakh.
Keep Supporting,
Cheers,
Zahra Mirza.