Hamza! Don't you get the message? Alvira does not want expensive gifts she wants your time!!! Alvira and Hamza's marital problems have old and boring written all over them. Hamza is too busy and Alvira feels ignored. The script of the play lacks depth and novelty. It is a story that has been done-to-death and the treatment is run-of-the-mill too. Alvira and Hamza don't have any compatibility issues but the only "issue" is that Hamza has to give his career more time because his professional life has just started, which in my opinion is understandable. He also feels obligated to provide Alvira with a certain lifestyle because of her background. Alvira is well educated, she could also work, that would have kept her busy and both of them could save money. I hate to see an educated girl sitting at home waiting for her husband to come back home when she could be doing something more useful with her life!! I hate to say this but Alvira's problems came across as self created for most part of the episode. I am sure her mother in law could do the household chores or she could have hired a maid out of the money she earned!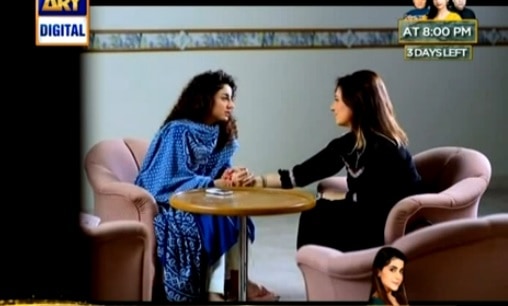 There were no fireworks when Alvira met her mother after a long time; I expected a little more excitement and emotions. The restaurant they went to looked like a college canteen and the same place was used to shoot Alvira and Hamza's anniversary dinner scene. The director did not put in enough effort to shoot these scenes in appropriate locations. Sometimes I feel like the producers did not invest much in the play or the director has his hands full with too many projects which he has to look after. Like I said in my last review, the feel of the drama is monotonous and dull because of the usual locations we see every week. Alvira and her mother never talked about ways to reconcile things so that Alvira could be in touch with her parents again but it was good to see Alvira's mother trying to convince her father to "forgive" her later on. I must say though that Alvira's mother's concern for her seemed fake primarily because of the over acting.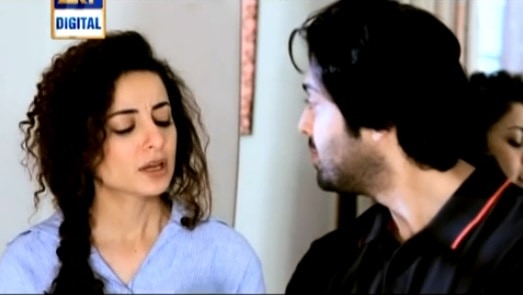 The roothna/manana looked really cute in the promos but watching Hamza make tea and breakfast all the time makes it look like a "Here Is Your Ideal Husband" commercial! All through this episode I was waiting for Hamza's mother to make an appearance in these 6 months that passed in the first half of this episode but she was nowhere to be seen! Alvira was expecting 6 months back too but she didn't look any different on the anniversary.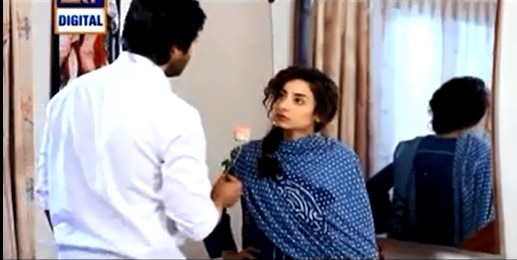 Honestly speaking I felt for Hamza more than Alvira in tonight's episode and I must say that this is the only aspect of the play which I like. For a change I can actually relate to the difficulties the male protagonist is going through in a marriage. I wonder if this was intentional or maybe I am the only one who is looking at the story in this way. I hate to say this but Alvira's complains are really childish – understandable yet childish! "I am pregnant, don't mess with me" says it all! I expected Alvira to call her mother when she did not get through to Hamza but somehow she didn't. How can a girl not think of her mother in such a time? Doesn't Alvira have any friends? What is life without family! A girl should never expect her husband to make up for the absence of her parents, that is definitely one thing all girls should know! There were times when Sarwat Gillani actually disappointed me with her acting in this latest episode.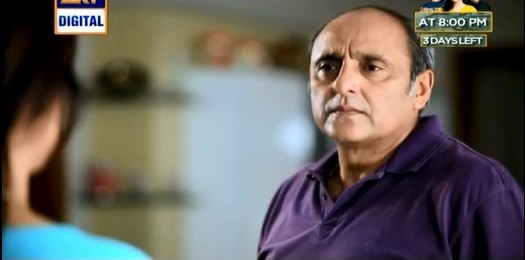 Overall this latest episode was fast paced as usual but there were barely any scenes that clicked with me. I was hoping that Fahad Mustafa and Sarwat Gillani's chemistry will win me over but the script and the direction is so average that nothing seems to be standing out at the moment.
Fatima Awan