Abdul Sattar Edhi has not been well lately and many of the celebrities have been visiting him. All of these celebrities took pictures with the renowned philanthropist in order to show their respect to him and to spread the word that he wasn't well so people should pray for him. Komal Rizvi is also one of such celebrities who recently visited Abdul Sattar Edhi to inquire about his health and spend some time with him. Komal took a lot of pictures with Edhi sahib and his wife but one of these selfies in particular was severely criticized by people on facebook because while on one side Komal had a big smile, Edhi sahib looked like he was in pain.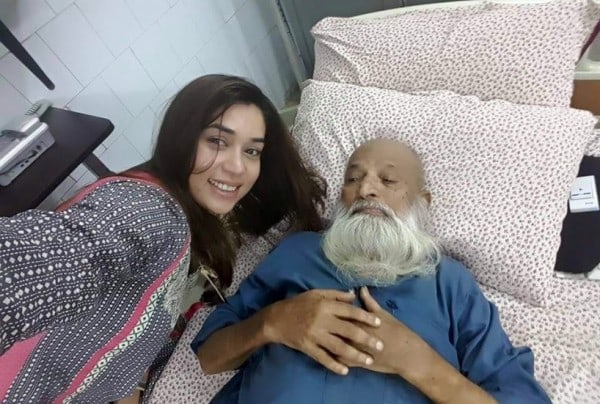 People also said that this was the '"worst selfie ever" and if this was Komal's own father she would not be smiling like this.
People said that Komal Rizvi's "poses" were inappropriate for the occasion and this visit was just a cheap publicity stunt. Some people also said that clearly both Edhi sahib and his wife did not want to be in this picture, something that was evident from their expressions.
Komal Rizvi was not happy with these comments on social media, she shared her feelings with people and said that it was not like that at all. Edhi Sahib wanted to be in those pictures and his grandchildren too were very eager to get these pictures taken with her. They even asked her to put the pictures of facebook. She posted, " Both Edhi Sahab and bilquis aapa seemed to be really enjoying my visit with my bhabi, nephew and niece… they didn't want us to leave… but alas, we had to go."
We never thought there would be a time when someone would have to justify a few selfies but sometimes things like these happen!