Written by: Syed Mohammad Ahmed
Directed by: Nadeem Baig
Produced by: Six Sigma Plus & Kashf Foundation
Schedule: Every Saturday 8 pm on ARY Digital
Kashf Foundation has a remarkable history of producing dramas that are meaningful and engaging. Dil Na Umeed Tu Nahin was one of the best dramas we got to watch on Pakistani television lately therefore the biggest reason why I was looking forward to Kuch Ankahi was the fact that Kashf Foundation is among one of the producers. Bilal Abbas Khan and Sajal Aly's perfect on-screen chemistry was another reason why I knew I had to watch and review this one. Syed Mohammad Ahmed has also penned down a script for a drama after a long time therefore that was definitely another plus. The promos of the drama also promised an entertaining and meaningful show such as Hum Tum, which I absolutely loved, and would really like to see more such dramas on Pakistani television. In short, I found myself looking forward to a drama with the utmost excitement after a long time.
Did the first episode of Kuch Ankahi blow me away completely? Well, not really. Are first impressions really the last ones? Definitely not! Was there enough to tune into the next one? I would say unquestionably yes. Therefore, I am going to keep an open mind and will be watching and reviewing this one.
Agha Jaan's Family Dynamics
Like any other first episode, this one also introduced the viewers to the main characters. The first thing I couldn't help but instantly notice was that Agha Jaan's family house is the same one as Laiq Ahmed's character's house in 'Betiyaan'. Since Syed Mohammad Ahmed played both these characters, to begin with, it took me time to warm up to this new character especially because one of the betis (Qudsia Ali) is the same too. Not only is the actress the same but the character is also similar. It would have been nice if the director had made some changes, especially in the outdoors of this house since everything is the same as it was in Betiyaan; the color of the entrance door, the paint on the railings, and even the plants and pots outside are identical. It was like being back in Laiq Ahmed's house where we witnessed so much forced emotional trauma that most people perhaps are still finding it hard to get over it. Having said that, Agha Jaan's character, for now, was different from that of Laiq Ahmed since he is not a single parent and has a playful relationship with his daughters. I just hope things don't get too serious too soon.
I absolutely adore Syed Mohammad Ahmed but he did not stand out in this first episode as much as he usually does instantly. For instance in 'Hum Tum' his character won me over instantly. Irsa Ghazal is playing a role that came across as 'typical' in this first episode. There was nothing refreshing about this character, in fact, some of the dialogues and scenarios were clichéd. The family dynamics did not have anything new to offer either; the oldest daughter being the Allah mian ki gaye, the middle one a go-getter (definitely better than Allah mian ki gaye), and the youngest one outspoken and lively. Unfortunately, this reminded me of the betiyaan in 'Betiyaan' as well except for Ayeza who was gladly missing from the equation.
Mira Sethi looked great for the role; her performance was on point but her character is one which we have seen a million times in Pakistani dramas. I really liked Qudsia Ali in Aulaad but I feel she needs to experiment more and perhaps tone down a notch too. Sajal Aly couldn't have been more well-suited for the role she is playing. It seemed as if she was the main breadwinner of the family but that was not clearly spelled out in this first episode. Agha Jaan's family dynamics were that of a typical middle-class household which is usually shown in Pakistani dramas, the most positive aspect was that the writer managed to dodge certain unbearable toxic stereotypes such as a greedy daughter waiting for a rich man to change her destiny but failed to dodge certain others such as the mother who belittles her daughters like its 'normal'.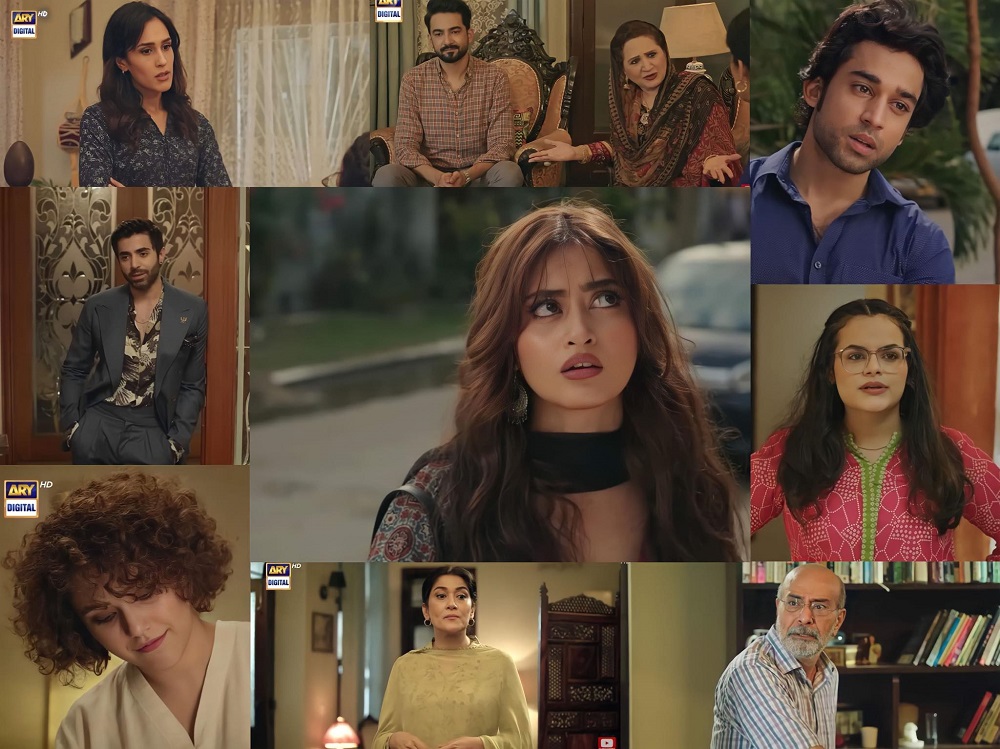 Salman and Aliya
While there was a great deal of focus on Aliya's household, Salman's family dynamics were covered in a single scene. Other than that, Salman's character was revealed through his interactions with Aliya and his friend. Salman and Aliya's scenes were fiery; well-written and acted out. However, these scenes were not "new" for someone who had watched all the promos of the show in excitement namely me ;) I think the production house shouldn't have shown so many of these interactions in all the promos. I am certain, there is a lot to unravel and look forward to but the fact that I had already watched these scenes took away the novelty from them. I found Salman's friend's comment about his insecurities quite interesting, was that really the case? Was Salman really trying so hard because the competitor was a female? Bilal Abbas Khan is a phenomenal performer. He makes sure that every character he plays has a different vibe altogether. I especially enjoyed watching his scenes; his energy and screen presence was faultless. I am waiting to find out more about both these main characters.
Sehrish's Family
Sehrish and Azfar's track was poles apart from the other two middle-class households, which was definitely good because it means we will get to see characters from different backgrounds. However, I hope and pray there isn't a love triangle involving these three characters; Azfar, Salman and Aliya. Shehryar Munawar's entry was a bit funny, his outfit was slightly tacky: I am waiting to find out more about the character though…there must be a reason why he carried that look. Sehrish's character had my undivided attention right from the get-go, the actress playing the role is a nice addition; new and pleasant. There was an air of mystery about this particular track which I found interesting.
Final Remarks
Personally, I found Bilal Abbas Khan's performance more impressive than any other. Sajal Aly is a fantastic actress, no denying that, but we recently watched her play a similar role in Ishq e Laa, and honestly Aliya at times came across as the odd one out in the house. Sajal Aly and Bilal Abbas Khan together however are definitely a force to reckon with. The 'Betiyaan' house, unfortunately, proved to be a major distraction. The kind of Urdu we heard in the drama was definitely music to my ears. Some of the dialogues were beautifully written even when the scenarios were not equally impressive. Although this first episode was not an all-out winner, it definitely had enough going for it to tune into the next one. I hope we get to see more of 'Hum Tum' in the upcoming episodes and less of 'Betiyaan' ;)
Did you watch this first episode? Please share your thoughts about it.