Directed by Ilyas Kashmiri and written by Rahat Jabeen, Kuch Na Kaho airs on Monday and Tuesday on Hum TV. The cast comprises names such as Huma Nawab, Emmad Irfani, Naveen Waqar and Mirza Zain Baig and while I have nothing personally against these actors and actresses their acting has failed to impress me so I have no idea why I decided to give this drama a go anyway. What has surprised me is that these very actors have given decent and convincing performances in a drama which may not be unique as far as the storyline goes, especially with the promos and OST giving pretty much of the story away but nevertheless, I found myself enjoying the first four episodes.
Kuch Na Kaho introduces quite a few characters within the very first episode. Huma Nawab is the widowed mother of two, Aina (Naveen Waqar) and Sajal (Shazia Naz). After her sister's death, she also raises her two sons Mohsin (Emaad Irfani) and Faraz (Mirza Zain Baig). Mohsin is married to Nadia (Zainab Jameel) and has a daughter. While we are still getting to know everyone here, I may as well add that Sajal and Faraz are engaged to be married and Mohsin and Faraz have a sister who has not been introduced yet but is married to Nadia's brother. Phew!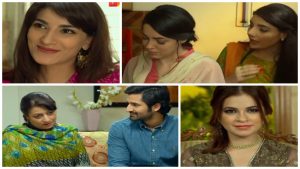 Mohsin is shown to be a conservative man who although is respectful of his aunt, loses his temper easily. He is not pleased about his girl cousins venturing out of the house for education or work. Sajal is the milder natured sister however Aina often speaks out against Mohsin and his restrictive ways. Aina is interested in Imran (Asad Zaman Khan) who belongs to a richer and influential family and he wants to marry Aina. Step in the evil cousin. Why is there always a desperate, stalkerish, on the verge of mentally unstable woman who will stop at nothing and then less to get married to the man who very clearly loves another. We have one here too in the form of Imran's cousin Ainnie (Hira Adnan).
Mohsin sees Aina when she is out with Imran and drags her home and although reluctant, eventually agrees to meet Imran's family. Abid Ali plays the role of Imran's father and wants Imran to marry Annie so that all the business and property etc may remain within the family. The whole engagement scene was very weirdly played out but I suppose they got their point across to Aina's family and Imran is now engaged to his cousin. Realizing he has been made a fool of, he tries to reach out to Aina and her family but is sent away.
The promos of this drama seemed strange with Naveen looking quite odd playing hide and seek and making faces underneath that fringe. I wondered if this was a drama tinged with mystery but the drama's initial few episodes gave a different picture. The other two dramas penned by this writer that I know of are Karb and Mere Humnawa and both were not very interesting but I am unsure whether it is because of the acting and direction rather than the story itself. HUM TV serials are generally very pleasing to the eye aesthetically and this drama too has good production values. So far the pace of the story has been decent and since it airs twice a week, I hope it continues to be fast paced.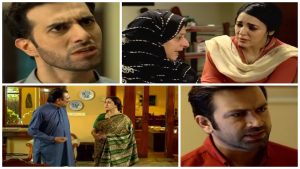 So far Naveen's character is that of a bubbly, headstrong girl and she seems to portray that well on screen. Emmad Irfaani's acting is often found to be lacking – I run for cover here for I know there are many of us who find him extremely pleasing to the eye and while I may not argue with that, his dialogue delivery and expressions often miss the mark. He is however pretty convincing as Mohsin except in his immense anger scenes when he screams at the top of his lungs, rolling his eyes and I found myself holding my breath for he looks like a wound up toy gone berserk and ready to explode! We get he has a temper, he needs to tone down the acting though, LOL. I was fed up of Huma Nawab playing Inspector Gadget and negative roles in every other drama so I was pleasantly surprised to see her play a different character here. Ever since she has made her comeback she seems to be uncomfortable with the characters she plays but if I am not being too critical I think she has done alright so far. Hira Adnan is a new face and I felt her to be the weak link for her dialogue delivery fell flat.
It appears Imran will try his best to convince Aina and her family that he loves her. His father seems confident he will be able to keep Imran away from Aina and marry Ainnie, but will he? I find myself looking forward to the next episode and that is reason enough for me to tag this drama as worth watching – for now. What did you all think of Kuch Na Kaho? Would love to hear your thoughts.
Kunwal Javid