Well. Pretty happening two episodes these were. A death, a wedding, a divorce and a failed suicide attempt! While most of the events and emotions running in these episodes were realistically presented, a few seemed a bit far fetched but overall the play managed to hold my interest for yes, we have in our minds established that Imran and Aina are to part ways but I like how the 'parting' is not brought about in a predictable manner.
The fatal heart attack was clichéd though but I liked how Aina's mother asked Faraz to make sure that Aina be with Imran now. Given that Aina and Imran are married and she is now pregnant with his child it does seem like the only logical thing to do and she makes Faraz promise that he will make this happen without creating a fuss. Little do they all know that things are not that simple. While I could understand Sajal's anger and blame game I could not accept her continued animosity towards Aina for she has been shown to be a caring and mellow person and if Faraz can be level headed and sensible about the situation and worry about Aina I could not see how Sajal could not get over her anger. Yes, Aina has dug her own grave so to speak and her actions were selfish but it is clear she is falling apart and even the suicide attempt does not melt Sajal's heart. Her speech about Aina living as a second wife or like a maid shocked me as much as it did Faraz.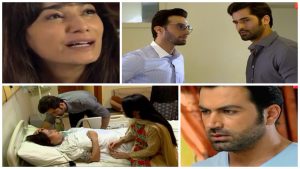 Mohsin knows something is amiss but can not get down to the root cause. I have a feeling that as Sajal fears it is Nadia who will innocently come across the truth and then all will come out in to the open. While Emaad Irfani's wobbling squawk takes the edge out of the scene, still his words made me feel for Mohsin a bit when he is hurt that Sajal should question his say in their lives. Aina's mother has always treated him as a son and yes he is overbearing but it is quite obvious that he has played the role of older brother and his khala's advisor. Anyway, while Mohsin nurses his wounds, Faraz does his best to take matters in to his own hands but he is not able to get through to Imran either.
You hear about love making someone crazy, figuratively yes, in books or songs but this drama has taken the meaning to a new level literally where Ainni bhi junooni and now Aina bhi! At least Ainni is consistent in her madness, but Imran and Aina are quite confusing characters. Imran has succumbed to rich boy pressure and has married Ainni but thinks he is very clever for she may have him married him but will never own his heart. My own heart skipped a beat in that scene for knowing how crazy Ainni is I thought she may just stab him in the heart there and then! But nahin, while Ainni and Imran play out Mean Girls ('you're so mean, so are you' – seriously?!!), kaatna peetna in this episode was for Aina and she slit her wrist. I am not sure if we were meant to feel for Aina and her helplessness but she was creeping me out myself with her mad dashes in the city, yelling at the guard and then messing up Imran's room. I suppose we are meant to see how she has hit rock bottom with news of the marriage and then divorce and while she seems to be still crying and moaning endlessly I hope this is to help her sit up and try to sort her life out especially as she now has a baby to think of. Given the immaturity and selfishness of her nature, coupled with the bouts of self pity, denial and madness I do not suppose she will change overnight but I am curious to see what she does next.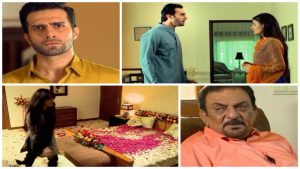 Poor Faraz gives me a mental image of those messengers in the olden times who read from scrolls the way he comes upon the pregnancy report and then the divorce deed. I am amazed at how Mirza Zain Baig has comfortably fit into the character of Faraz and made us really like him. Asad Zaman Khan as the buzdil, spineless Imran has been believable, it remains to be seen whether we can relate to this new side he has shown after marrying Ainni. I have to say this little talaaq ki talwaar that Imran's father uses to keep hanging over his wife's head is as menacing as Ainni's clenched teeth – there but ridiculous! Imran's mother's conscience is silenced with the threat of divorce where earlier the threat had been issued to Imran if he did not listen to his father. I was actually looking forward to Ainni being able to 'take away' Imran from his parents as in one scene she is shown thinking mockingly towards Imran's mother if for no other reason but for Imran's father to suffer for his manipulative ways but seems as if the tables have turned and Ainni's ruffled feathers can not do much except stay in those flouncy tops.
I am really enjoying Kuch Na Kaho till now. I like how each character has a role to play and you do not feel that some scenes are fillers or dragging the story. It is fast paced and I actually will not mind if it slows down a notch or two for a couple of episodes only for at the rate things are happening, a sudden end will not make sense either. Does Imran plan to get in touch with Aina now – I really hope there is no 'halala' scene in this drama. Will Aina step up and try to be a responsible adult now that she has her child to think of? What did you all think of these latest developments? Would love to hear your thoughts.
Kunwal Javid