The story has moved forward with a rapid pace in these eight episodes, I can't help but wonder how many more surprises Sarmad Sehbai has in store for us. Naimat Khan managed to get Dilawar Khan's attention and stirred things up just like he planned. Dilawar is desperate to get his hands on Naimat Khan and he will leave no stone unturned to find out who his step brother is. Dilawar Khan gives Laila the responsibility of finding out about his brother which obviously puts her in a very tough spot. Naina and Laila's meeting was another interesting development in tonight's episode. Sadia Khan however totally ruined that scene for me. Until now I had always felt that she was pretty average but tonight her acting left me utterly disappointed maybe because Sabreen Hisbani is a much more powerful actress and also because Sadia Khan's dialogue delivery and body language was very unimpressive to say the least. Laila is the only one who truly knows Dilawar and she certainly does not have a very high opinion of him. The reason she has no attachment with this man she has known for such a long time is that she is only with him because he provides for her. It does not matter to her whether he gets engaged or married as long her bills are being paid.
While finding out the details about Naimat Khan Dilawar discovers that finding him is not going to be an easy job. Laila's character is turning out to be the most mysterious one at the moment. When Daniyal questions Laila about the girl in the picture she gives a very unsatisfactory answer and changes the topic. Daniyal also thinks that Laila is hiding something about her past, when he asks her about her family the answers she gives are confusing. Does Laila have a soft spot for Daniyal or is she related to him in some way? She must have a good reason for putting her life in danger for Daniyal.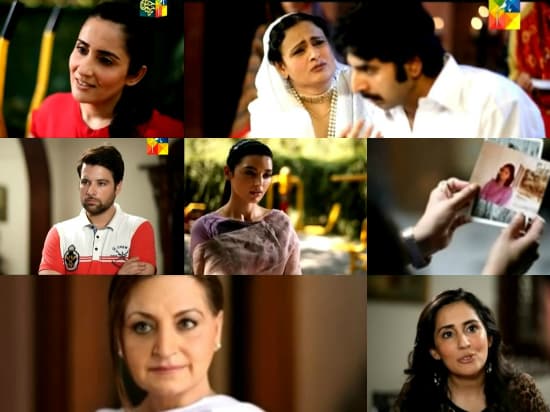 Naina keeps on telling her parents that she is against her marriage with Dilawar but she does not have a say in the matter. I am glad that she did not reveal Daniyal's secret because that would have seemed completely out of place. Naina and Daniyal's love story is moving forward gradually, I am waiting for the time when both of them will finally meet. Mikaal Zulfiqar is brilliant as Daniyal. There isn't a single scene in which he does not deliver. I feel for Daniyal's parents and am wondering if this recent incident will make him value his parents more than he already does. I kept on wondering if Daniyal is not scared of telling Dilawar who he is why doesn't he go ahead and do just that? It could be because he wants to find out who his mother is first.
Apart from the mysterious element of the play, the best thing about it is that the secrets unravel fast. All the characters and tracks get adequate screen time but I have to say that there are times when you feel rushed – not that I mind that as long the pace of the show doesn't slow down in the upcoming episodes! The preview of the next episode showed Dilawar showing Hina's pictures to Laila and asking her if she knew her. Hina must be Daniyal's mother and Laila probably knows about it already. Laila gives Daniyal a call to tell him that she has found his mother – will it be a trap? because it is quite apparent that Laila has a lot at stake. Do you think Laila and Daniyal are related?
Do share your thoughts about tonight's episode.
Fatima Awan