Ramazan is a month full of Allah's blessings and is aimed at making us pious and closer to Allah and to feel for its people.Every year,private channels including the news channels run special Ramazan transmissions wherein the importance of the month,Quranic injunctions,Hadith and Islamic ways of life are discussed and promoted.Roza kushai of children fasting for the first in their lives is performed on live tv encouraging other children and those who do not fast to fast.Naats and hamads are also played.Thus an overall atmosphere of piety and religious fervour is created.
But it lasts only till Chand Raat.Come Chand Raat and TV Channels start playing Chand Raat Musical Shows,Musical Concerts,Senseless Stand Up Comedians doing even more senseless shows and what not.
The three or now the five days of Eid (as some channels celebrate)are no less different either.There are dramas which feature full Bollywood Songs and full on dances.The theme of every play is romance and wedding,romance and engagement,every trick of the trade is played to get the love of your life including telling lies,tricking parents,getting ready to woo guys,every one even elderly people wanting to get hooked and what not.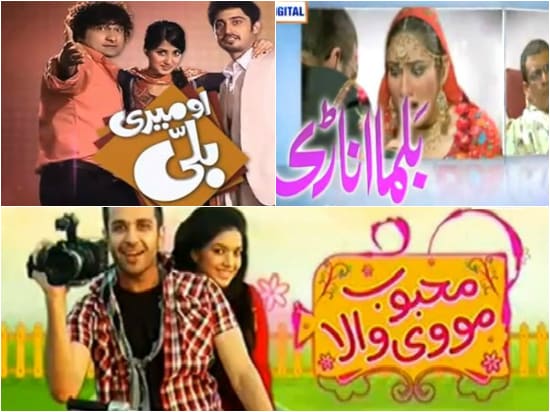 Names such as Mehboob Movie Wala,Salma ko mil gaya balma,O Meri Billi,Dil Walay Bachiyan Le Jayain Ge,Balma Anari,Shahruk ki churiyan,Saray Ghat ki Farzana,Karakti Bijliyan would surely give you an idea of the kind of dramas these would be.
On top of these romance-dripping dramas where sole purpose of the lives of characters is to get engaged/married,there are cheap romances full of vulgar dialogues such as 'kiya maal hai', 'tu ja ussay phansa' and 'brand new print mein release ho rahee ho' and I have quoted very mild dialogues here
Now I am not against good entertainment or light hearted plays but such obsession with songs and dances,romances and vulgar and crude dialogues is not only distasteful and makes these dramas unsuitable to watch with family,they present another paradox.Was Ramazan then only a business opportunity which TV Channels took full advantage of by showing Ramazan special shows full of religious information and emphasizing on getting closer to Allah? Was the piety and religious environment created through these shows throughout the month fake and put on just for the sake of ratings and ad revenue?
And if such dramas full of romances and songs and dances are the demand of the audiences on Eid,who watches the special Ramazan transmissions and how do the ratings of these shows come? Anyone?
Haseeb Ahmed