Drama serial Laa has to be the only play of recent times that ended at episode 13, not that I mind that but I can't help but question why plays like Mujhe Khuda Pe Yakeen Hai, Mausam, Izteraab, Ahista Ahista and many like them are dragged to the limit even when there are some major flaws in them and a play like Laa which may not have been a masterpiece but was certainly better than many other plays that are currently on air had to be ended so quickly? The OST of the drama is mesmerizing, it literally completely disconnects you from the world around you. Sarmad Sehbai's poetry has a depth which touches your soul, Sahar Ali Bagga composed the song equally brilliantly and Javed Bashir's voice is spellbinding but the entire OST is not available anywhere online. If Laa did not have enough viewership, it could easily have been shifted to a weekday the way Mere Dard Ko Jo Zuban Miley was but somehow the producers decided to end it sooner than many viewers expected it to.
Anyway, coming to tonight's episode, I have to say that while I am happy for Daniyal and his parents but many pieces of the puzzle didn't quite fit in. Firstly, I did not expect someone like Naimat Khan to forgive Dilawar and Dai Maa so easily. He lost his daughter and many years of his life because of Dai Maa. His sole focus for more than half of his life was planning his revenge but I guess he missed out one detail which was that he could only take the gadi from Dilawar if Daniyal co-operated with him. It was quite apparent right from the onset that Daniyal was not the kind of person who would be interested in money or status but somehow Naimat Khan did not see that. The way he let Dilawar Khan go was unbelievable. There was absolutely no need for the writer/director (whoever is willing to take the responsibility) to make a hero out of Naimat Khan! He should have shot Dilawar! He always had a soft spot for Daniyal therefore I wasn't surprised when he let him go.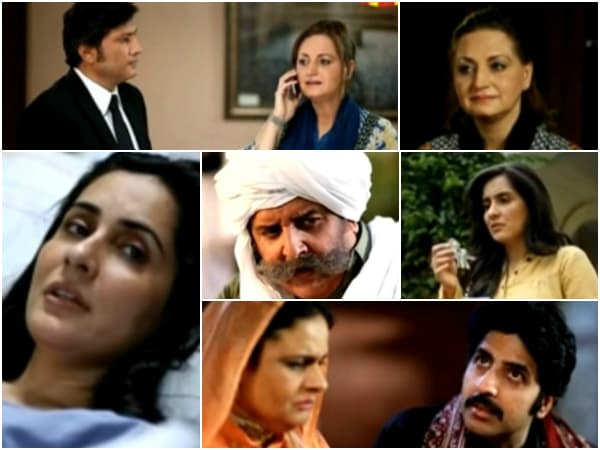 I understand that Daniyal did not want to cause more misery to his parents but one visit to his birth mother for whom he had given up everything would not have hurt. Hina could have gone to see her son since she was willing to give up her life for him, the letter alone was definitely not enough. If Daniyal said all those things to Hina in person they would have had more of an impact. Daniyal's gift to Laila was sweet and I think that particular track was wrapped up nicely. I always found the romance/ relationship between Daniyal and Naina very powerful but the way Daniyal smiled when he saw Naina even before she told him anything was rather strange since he should have still been in the same state of mind in which he was before – lost and depressed! The direction of this particular episode was very weak because some of the very strong moments were either not shown or were lost because of the imperfect timing but it was good to see that Daniyal's journey did not end at a sad note. All the letters were beautifully written because they conveyed everything in a few lines.
Overall Laa proved to be a gripping play that kept me glued to my seat primarily because of its fast pace and a different plot. There were some episodes that were directed so beautifully that watching 40 minutes of Laa was like watching a mini film and there were some which simply left you wondering how Daniyal kept on hopping from Lahore to Karachi and back! Farooq Rind could have done a much better job if he paid attention to minute details. The over-dramatic romance between Daniyal and Naina however actually fit in perfectly in the story because of the kind of spiritual bond that these two individuals shared. The biggest strength of Laa was that I could easily connect to all the characters big and small. Another aspect of this play that made it interesting for me was the way the focus always remained on the actual story and the way all the different tracks were interlinked. The characters were intriguing and the way their stories unfolded was even more exciting. Most of all it was refreshing to see Mikaal Zulfiqar playing a different role. It is always a pleasure watching Rehan Sheikh on screen. This time around he was simply brilliant as Naimat Khan. Khalid Malik proved to be the perfect choice for playing the chooza seth. Sabreen Husbani's perfect portrayal of Laila made me feel for her. Qavi Khan is another actor who never fails to impress me, I could always relate to Daniyal's father's feeling for him more than how his mother felt. Sadia Khan of course was the weakest link in the play but I must confess that I was expecting even worse from her because her performance in the telefilm Devar Bhabi was even more disappointing than her acting in Laa. I must say though that although it was great to see Laila Zuberi on screen after quite some time but there were times when she went overboard; I expected a much better performance from her. Laa could have been one of the best dramas of this season if the director paid more attention to detail and the final editing of the play. The strength of the play lied in the mystery element in the narrative and a unique storyline. Sarmad Sehbai may not be happy with the final product but the fact is that even with the weak direction, his script managed to engage many viewers..
Laa was not perfect but it was most certainly one of those plays you enjoy watching and reviewing. I would like to thank all those readers who read the reviews regularly and were kind enough to share their opinions under the reviews.
Fatima Awan