I must confess that while watching these two episodes I had a tough time believing that this indeed was a horror show. The drama is interesting and it keeps you entertained but the horror element of the show definitely does not stand out. There were hardly any horror scenes, there is definitely mystery surrounding the demon (lambe balon wali churail, as someone called it under the drama video and rightly so too haha) but is it the sort of play that gives you goose bumps? Most certainly not!
The Demon has befriended Ali and together they think of ideas to get back to Emaan for her rude behavior towards Ali. I am totally missing the demon bit here because somehow I have accepted the nice and sometimes naughty demon as Ali's invisible friend who keeps him company. The demon comes up with mischievous plans every now and then just like any other kid which cause problems in the house but it is definitely not half as evil as Emaan and her mother! The way Emaan and her mother are having a negative impact on the bond which these family members share is more of a concern right now than the demon itself. The Demon listens to Ali and decides to spare Bua. Bua keeps on saying she feels bharipan but no one in the house has time to sit down and do something about it because the problems Emaan and her mother are causing are taking up most of their time. Shahood Alvi is the start of the show with his natural acting, he always makes it very easy for me to connect to his character. Other than that this is turning out to be just another drama with a nakchari bahu who wants to have her own way!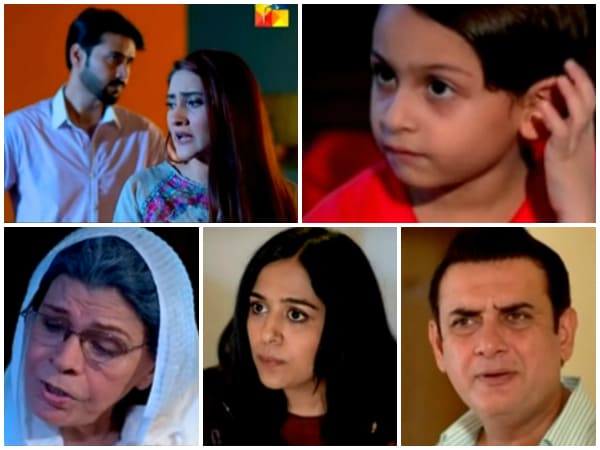 When Zubair and Bua go out looking for neighbors and children who can help them recite the Holy Quran so that the house will be safe from evil eye and demons, they are shocked by the response they get. Bua's reactions most of the times are over dramatic but the bond which she shares with members of the family is actually very sweet. when Emaan's mother calls Bua Churail and is very sure that she is the one who is responsible for Emaan's condition Zubair and his wife tell her off but she is definitely not one of those people who get the message easily. Umair, on the other hand sides with her wife-to-be and mother-in-law this time around. Bua insists that she doesn't want to stay in the house any more. Like I said for now the demon seems to be the troublesome neighbor/tenant who likes to see people fighting!
Ali's parents finally started considering the reason behind his new invisible friend. I must say that the child star Bilal Khan is doing a commendable job yet again. Learning such long dialogues and delivering them with perfection must not be easy for a child his age but he makes it look like it is a piece of cake.
I am not sure if a demon who likes to steal jewelry and generally enjoys creating misunderstandings and trouble in the house is actually something to be scared of! Things disappear and then reappear, door and windows shut and open – is that supposed to send shivers down my spine? The Woh team clearly did not invest as much money and creativity in this project as they should have. Like I said the play is watchable and entertaining but not terrifying in any way.
Fatima Awan