So I have been watching Laaj thinking that while the story is not extraordinary, it is not too bad either. But I am getting a little fed up with these promos for the next episode which give one idea and when the episode is aired it is all a figment of Zainab's imagination. While this may work a few times, I am sure if done too many times then the viewers will begin to lose interest.
When Reshma brings the bottle of poison to Zainab and drinks it and collapses, I was a bit taken aback for I had seen the promo last week and Zainab had the scene with Jahanzeb when she tells him she can not live without him and then collapses in his arms. Zainab has told him that she will wait for him till her last breath and beseeches him to somehow stop the wedding. He tells her nothing can be done and she should accept this as her fate and move on otherwise it will become hard to live under the same roof. Seems like Zainab daydreams a lot – that I had established in the earlier episodes. Now, given the neend ki dawa (which was in the bottle that apparently contained poison), she is dreaming again! Anyhow, dream is all she can do for the nikkah between her and Shahzeb takes place. Mubarak – not!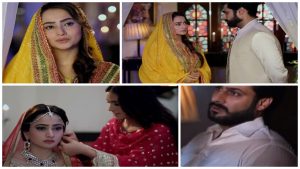 This has to be the first time I have seen a bride do what Zainab did on her wedding night and change into plainer clothes than she wears even on a normal day! Shahzeb is still dolled up and so she presents him with his moo dikhayi gift haha, and gives him a free ticket to remain in touch with and continue his relationship with Alisha. Wah! Even though I had found Zainab's one sided love a bit dramatic, to put it mildly, I could not help being amazed how she showed up with a cup of tea in Jahanzeb's room and claimed nothing had changed. Yes, she may still love him and may not be happy about the nikkah but well she is married now and to be openly saying she will love Jahanzeb and profess her love to him time and again – did not still well with me at all, I am sorry to say.
Which brings me to a thought that has been niggling my mind. The whole set with the diyas near the pool and the dramatic feature image of the woman in white with the dupatta covering her face and then now this theme – of being married but still professing her love to another man and allowing her husband to continue his own romance brings on a whole Indian movie touch to it. I had felt the treatment of this drama was different and I had put it down to the colourful and aesthetically pleasant set but now I hope this train of thought of living and let live while remaining married does not go down the road it seems to have. While I feel Jahanzeb is a bit of a coward, although I agree that living in that setup neither he nor Zainab could muster the courage to speak up in front of Bari Sb I still respect that he understands things can not be as they were earlier and presses upon Zainab to make peace with that too.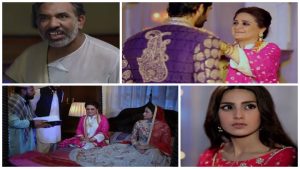 Dilawar and Sikander are still at loggerheads with each other where Sikander feels Dilawar is being a fool and that 'Bari Sb ki fitrat mein hai dassna, dass kay he rahay gi'. Sikander knows Bari Sb well and it appears he is not wrong in his judgement of her either for that is her plan to make sure Dilawar's grandchild does not make an entry into this world. The promo of next week's episode promises to be a happening one – if none of it is merely a dream, that is! While Zainab's character is annoying me a little now, I felt Zarnish Khan acted really well when I could feel her helplessness throughout the wedding and her frustration when she woke and realized she had not died.
What did you all think of this episode? Please share your thoughts.
Kunwal Javid