Ohkay so, the production of Babar Javed, script based on the novel written by Hashim Nadeem & the direction of Syed Ali Raza; Khuda Aur Mohabbat Season 02 hit our TV screens tonight. I must say, I am really glad with the treatment that they have given to the story in this season of Khuda Aur Mohabbat because I feel things are a lot more details & the scenarios are being established properly in comparison to the previous season. However, I will say that those who haven't watched the first season are in a plus because it seems that the entire story is going to be repeated in this season in order to give it & the character of Hammad a proper closure. I just binge-watched the first season & even though I loved it, I still feel that if I had a slightest idea about the plot of the season 02, I would never have watched it to enjoy this ride even more, but nonetheless, I am definitely looking forward to this journey & I will say, that this version does seem to be bigger & better, so it's a success already. So, yes, my suggestion to those viewers/readers who are planning to watch season 01 would be that they should skip it & enjoy season 02 in stead as they wouldn't miss a thing!
The drama begins with a narration where the war between love & the Gods of this world is being discussed. The narrator does have a point, that The One who created Love can never oppose it, but it is the self-proclaimed Gods of this world who deem it as their duty to go against it & deprive people of this emotion.
We are introduced to a care-free guy & his couple of friends having the time of their lives. They're the university students & seem to have no worry in their lives because the life has not thrown a curve-ball on them, yet! Suddenly, we see a shift in the scenario & get introduced to a Muaddin & his family in the following scenes. This happens to be the household of Molvi Aleemuddin (Firdous Jamal), whose family consists of his wife Rasheeda & two daughters Imaan (Sadia Khan) & Haya. We get an insight into their family set up & their lifestyle which is very humble & very simple. It is quite evident that Molvi Aleemuddin has kept his family closer to the religion & has shaped the characters of his family members that way. In the following scene, we get an insight into an entire different world, which happens to be a family of the retired commissioner Amjad Raza (Usman Peerzada) & his Wife (Saba Faisal). Amjad Raza has three sons Sajjad, Hammad (Imran Abbas) & Emaad. Sajjad is married to Abrina & has a son Sunny. Emaad is preparing to go abroad for further studies & it seems that the second son Maddy is already in abroad pursing his education. After retiring as a commissioner, Amjad Raza has stepped into politics because according to him, power means everything & he would go to any lengths to further expand the list of his achievements!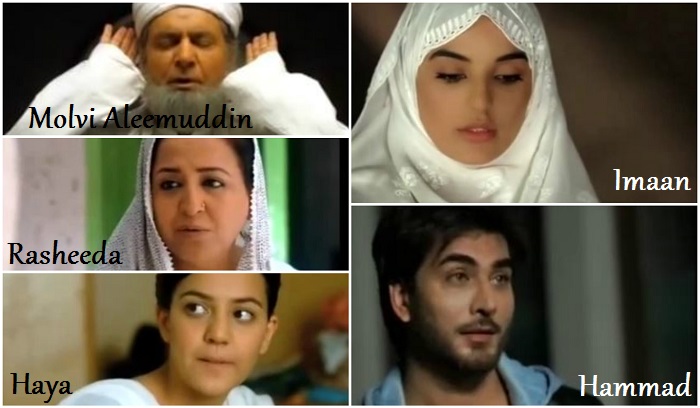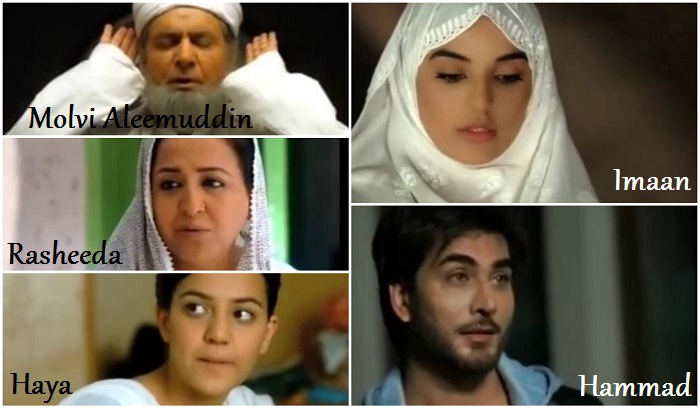 Hammad is having the time of his life in Houston & it seems that he is not even focused much on his education & is not worried about his future because he is well aware of the social class that he belongs to. Maddy knows that his father has earned & achieved a lot in his life & that is why he acts like a typical spoiled brat who has no sense of responsibility. Maddy's childhood friend Kami has also gone to USA with him & it seems that Maddy is Kami's safety net!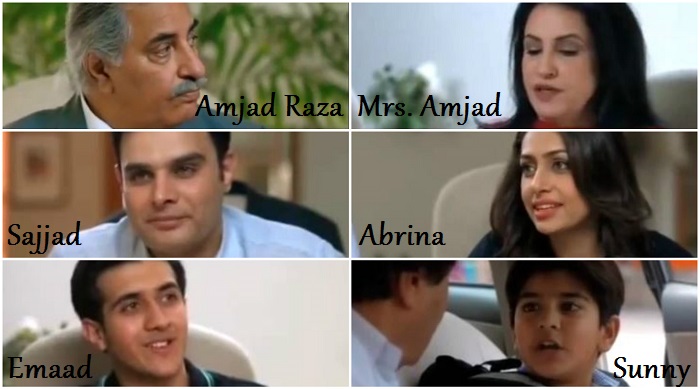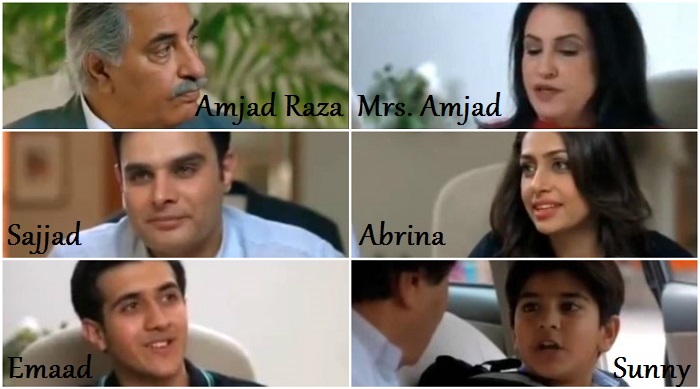 Shakir happens to be Amjad Raza's driver & he also looks after the Purani Haveli that Amjad Raza owns. Shakir has been working for this family since the time Amjad's father was alive & Amjad himself used to study abroad, that is the reason why Amjad's entire family trusts Shakir & depends on him. Shakir lives in one of the quarters of the Purani Haveli but before moving to the quarters, he was a neighbor of Molvi Aleemuddin, that is why their families are on very good terms with each other & Shakir's daughter Nighat seems to be Imaan's best friend as well.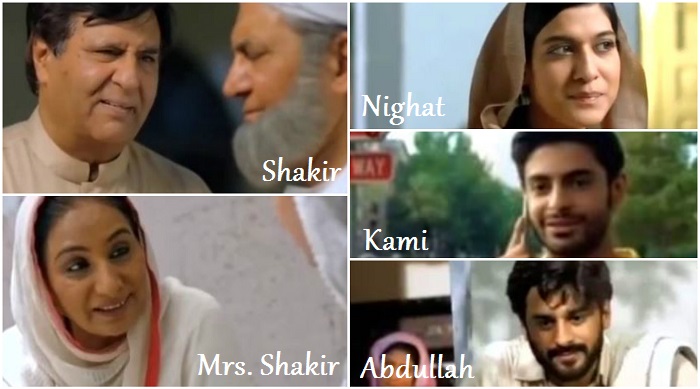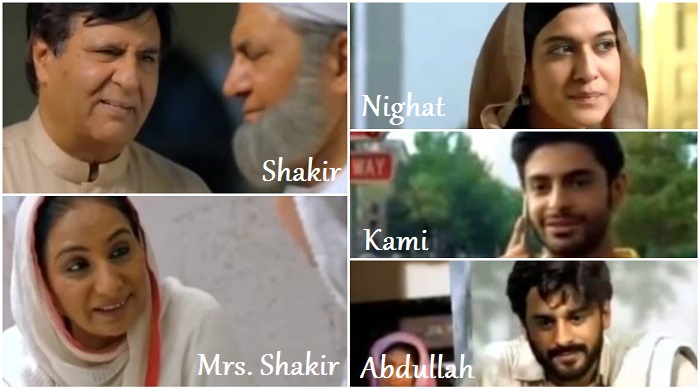 As the story unfolded, we got to know how Rasheeda was worried about the household expenses because Molvi Aleemuddin taught Holy Qur'an to his students free of cost, but his wife felt that he was being a little too generous. That is when Shakir's wife tells Rasheeda that Amjad's grandson Sunny wants to learn Holy Qur'an as well, so she should convince Molvi Aleemuddin to take the job because it will make things easier for them financially. Shakir also requests Molvi Aleemuddin to teach Sunny as he actually wants to help him & eventually convinces him. We got to see that Molvi Aleemuddin is a very admirable character but he is capable of getting a little stern when things don't go his way. Molvi Aleemuddin shares a very strong & beautiful bond with his eldest daughter Imaan, I loved how they showed that both Imaan & her father have long discussions & conversations about different matters revolving around religion. It also seems that Aleemuddin has an attachment with Imaan on another level, that is why he takes utmost care of her needs & necessities!
It seems that Aleemuddin's nephew Abdullah (Humayun Ashraf) is coming to stay with him for the sake of his education too & his mother is interested in getting Abdullah married to Imaan. Abdullah also seems interested in Imaan & that is why he seemed happy with his move where he will get to be around Aleemuddin's family, especially Imaan!
Overall, the first episode introduced all the characters in detail & gave us an insight into their lives appropriately. I must say I am actually quite glad that they decided to make things a lot more elaborate, because it was necessary for all the viewers to have a fresh start & fall in love with the beautiful characters once again. The director surely has taken the level of the script a notch higher with his immaculate direction & all the actors seemed to be owning their characters already, at such an initial stage of the drama, which once again is a bonus. I wish Maddy's character got a little more coverage in this episode but it's alright as he already is the main character of the drama so he will get a lot more chances to leave an impact on us. I will say that I see a great improvement in Sadia Khan's acting & she looked lovely throughout the episode. Imran Abbas makes all his character look so real due to his effortless acting, so I am already looking forward to his performance as Hammad. I will commend Firdous Jamal for such a beautiful recitation of Fajr Prayer, it was actually quite touching. Firdous Jamal's overall mannerisms showed the amount of effort he put in to own the character of Molvi Aleemuddin & his performance testified his experience as an actor, that is why, he turned out to be the star of this episode. I can't wait for the next episode already as I know we have so much in store for us. Please share your thoughts about the very first episode of Khuda Aur Mohabbat!
Keep Supporting,
Cheers,
Zahra Mirza.