Laaj – Episode 7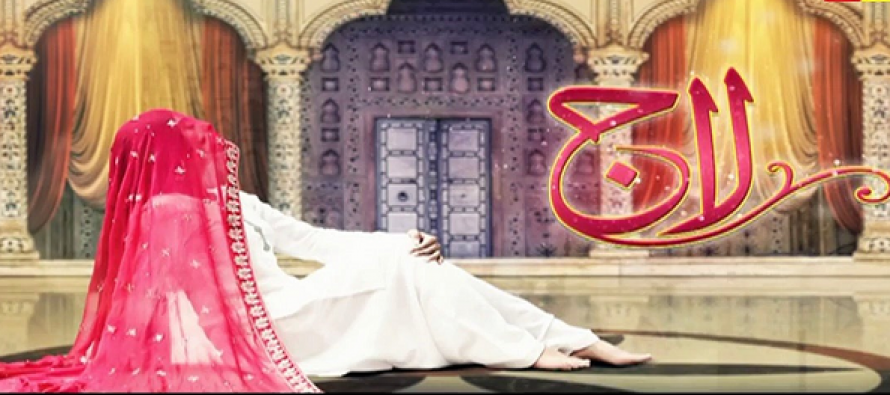 So this episode was not as engaging as the previous one but the note at which it ended and the preview for next week has definitely caught my interest as I had not anticipated this turn of events! Rafiq and his wife have done a runner and Bari Sahab demands no stone be left unturned in the search for the couple. Despite the police having taken Jahanzeb off to jail and the policeman not seeming the sort to be bribed or intimidated by them, Bari Sahab is still fairly confident Jahanzeb will be released from jail. She is very proud though of what Jahanzeb has done although I find her constant jibes and taunts regarding her son not being like a 'zanani' and being a 'mard' a bit odd as surely she knows she is in a way mocking herself too?! I mean, I doubt she is but she is a woman after all and when she draws comparisons with women it is done in a demeaning and condescending way so it does seem strange.
Eavesdropping, eavesdropping, eavesdropping! Sneak behind open doors, stand behind curtains, walk softly so you may walk in on a conversation and learn something valuable. Seriously – if a law was passed that eavesdropping scenes could not be used to move a story forward in a drama anymore, a lot of dramas would not know how to go on! Alisha 'overhears' Bari Sahab tell Shahzeb the truth and gulping like a goldfish out of water she is shocked and then outraged. She shares her thoughts with Shahzeb and Bari Sahab walks in on them and demands she leave. Even though I know Bari Sahab is more often out of line yet I find her character and her statements often amusing and the scene where she tells Alisha what she thinks of her with Alisha gulping furiously was entertaining. 'Bari Sahab ko kehna unn ki kissi baat ka bura nahin manaya' are her parting words to Shahzeb and all I could think was – as if Bari Sahab cares!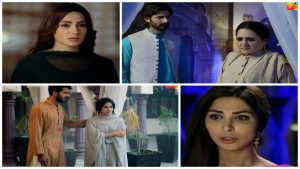 Alisha is either delusional or Shahzeb has fed her some silly notions for despite Bari Sahab having made her dislike of Alisha very clear, she still feels she can make a change and has decided to adopt the village and its people. Alisha's character does not ring very true to me. Yes, she is portrayed as someone who is clear headed and 'for the people' and wanting to bring a revolution – yet Sabeeka as Alisha is so not convincing. She seems more like someone who wants Shahzeb and live in the city and maybe try to bring some change in the village while not really living amongst the village people. Her article has apparently caused an 'uproar' although she claims she has not mentioned Shahzeb's village or his family.
Zainab is desperate to have Jahanzeb released and does not share Bari Sahab's confidence and faith in his return so easily. It is interesting how Bari Sahab loves Zainab and worries about her too when she feeds her herself – I wish Zainab could confide in her about her feelings for Jahanzeb. Sikander's plan is also disclosed – he feels killing Bari Sahab and her sons is too easy, quick and mindless a revenge. He prefers ' maarna nahin, ghaseetna hai'. The episode ends with Mannat feeling unwell and Zainab reporting back to Bari Sahab that Mannat is pregnant. Bari Sahab decides to have Mannat remarry as soon as possible and orders Zainab not to tell anyone about Mannat's pregnancy – except one of the housemaids overhears the conversation and I suppose the whole point of us seeing her overhear is that she will talk.
Although this episode was not very happening, it was still watchable especially with the preview for next week showing a twist I had clearly not expected and taking the story forward in an interesting way. I enjoy watching Asma Abbas as Bari Sahab – her dialogues at times are really interesting especially her analogy of a snake and Sikander. I missed Kamran Jillani in tonight's episode and there was far too much of Sabeeka and I really can not take much of her. Her acting is extremely mediocre and her goldfish antics do take the attention away from the entire scene being played out.
Definitely looking forward to next week's episode and to see how things go from there. Is Alisha able to make any changes or is she just another small fish in a big pond – pun intended! Will Jahanzeb be released? Although not mind blowing – Laaj still holds my interest – what do you think?
Kunwal Javid
---