Let me start by confessing that I truly felt for Shayan today. He is one decent guy and I don't think he deserves to be treated that way. Even though the circumstances Bushra and Shayan find themselves in are anything but normal, Shayan has always been kind and understanding and therefore I won't side with Bushra this time around.
I don't know if it's just me but seemingly, the first half of this episode promised a change in Bushra's approach towards her relationship with Shayan. I was dreading to see more of Shoaib-Fizzah marital problems but I think this track was tackled rather well and the writer intelligently used it to make Bushra acknowledge Shayan's kindheartedness. Shayan is the kind of person who's always there to lend a hand and that's what I like about him the most. Taraqqi hogayi- Bushra and Shayan finally had dinner together (in the absence of Sabiha :P). I was actually enjoying Bushra's sharmeeli, half-smiles and I was thinking to myself: oh, they are off to a new start! Alas, all good things must come to an end!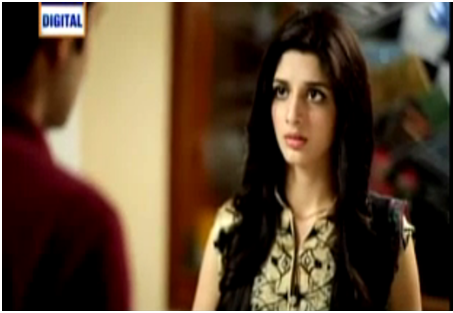 It was crystal clear that Shayan had entered Bushra's room to collect his cell phone and to let her know that his flight to Dubai has been postponed. After witnessing Bushra's reaction or I should say- overreaction, I am actually concerned: is our protagonist losing her mind? She misunderstood Shayan's intentions and it's clear that she has quite a low opinion of him. Look, if I put myself in Shayan's shoes, my reaction to this accusation wouldn't have been any different because Bushra has been treating him like a punchbag. Don't get me wrong, I really don't want to encourage physical abuse but I do feel that Bushra kind of needed that slap for the re-awakening of her conscience and sanity. This 'slap' also served as a reality check that Shayan harbours feelings and can run out of patience because he's a human being too, you know.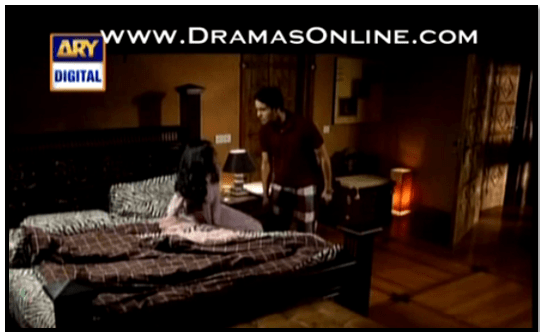 The post-slap scenes suggest that  Bushra's opinion of Shayan has changed for the better because she looked rueful when Shayan was leaving the house. I don't know if I should hope for something better but I somehow have a good feeling about the future installments. Also, Bushra has finally decided to spill the beans about her relationship with Shayan. I think this is one smart move because it's now or never to let the cat out of the bag. The longer she holds it back, the more suspicious this whole situation would get.
Tabdeeli aa nahe rahi- tabdeeli agayi hai!! Yes guys, Sofia (Bushra's mother) is regretful for all the times she sided with her husband and took Bushra for granted and I am beginning to like her for that because at least she has the heart to accept where she was wrong. She is no longer afraid of her husband's temper because her first and foremost priority is the well-being of her daughters. The reality checks she kept throwing Nasir's way were done beautifully and I just lovedd her dialogues. Tab biwi ban kar socha tha. Ab maa ban kar soch rahi hoon. I must say Saba Hameed nailed the role of a regretful mother!
Affan Waheed's performance is quite impressive in this serial in particular. Mawra Hussain looked gorgeous throughout the episode but honestly speaking, I MISS our old Bushra's simple and natural dressing. This sudden change in the wardrobe is beyond me!
Share your thoughts about this episode, please!
Maryam Mehdi