A good thing happened in Main Khayal Hoon Kisi Aur Ka when they showed the procedure of divorce. It didn't end in a second and they showed how there are laws and rules for such a big transition in anyone's life. Dania finally knows that she is not divorced. Arman who was constantly being the whinny boy actually proved himself to be a whinny boy. He did not even sign the divorce papers and all the time he was trying to get Dania to move out on him. Dania cried for days, went to see a lawyer but did not see the divorce papers. Why? This is a mystery that will never be answered.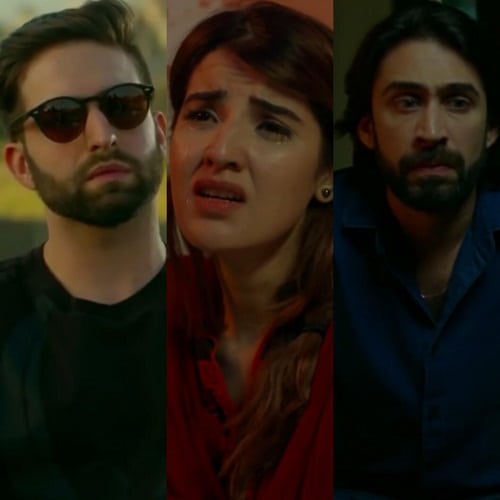 Things were about to go uphill. But Arman's father came up with the honeymoon idea. And like any normal couple who wants to take a break to work on their relationship, who tries to patch things up, Arman and Dania did not do that. They go out and instead of booking another room in the hotel with Arman's baap ka paisa and hide things comfortably, they decide to live on the streets of Islamabad. It has become a confusion for me that how Dania really is? In an effort to make her look helpless, they have made her look plain DUMB! First of all, there is a hostel who is not helping their student because she is married? Kahan paye jate hain ye hostels? Why are they not banned yet? Well, our sweet, too innocent Dania goes off with someone she does not know to an unknown place. Maybe Dania does not watch television or use social media, the kind of confidence this girl has depicted that. The worst parts were the scenes after Dania was caught up in that brothel. Hareem should have looked more worried in those scenes. She looked too chill for such a scenario. The emotions were so weakly portrayed in the scenes that they seemed like a joke.
Another DUMBO is Arman, how can anyone, man or woman drop a girl off to someplace and does not wait for her to get in? Bacha UK ka kamm, Mars ka zyada laga iss baat pe. Crimes against women are not only confined to South Asia or Pakistan to be more specific. They happen all over the world with a very huge frequency and even children know about this these days. Arman being a grown up should have known that. And his whole Abb kya karna hai infront of his friend was out of this world ridiculous. Alamdar is extremely weak in the dialogue department but his expressions were even worse in this one. A guy whose wife is missing should look worried like he is going to die in his next breath and not like he has lost his candy bar.
Ali Rehman Khan is still playing a supporting role. His lead characteristics have not started appearing yet. Rucksar Naaz also showed up but it was just her introduction yet and we will have to watch further to know how she performs.
This non-marriage marriage has become too twisted to be handled nicely. Let's see how they are going to treat a scenario of a girl reaching a brothel as this should be handled sensitively and not forgotten like it never happened.