For the record, I am not producing or writing a drama but I want to know what is the criteria for a channel to give a green signal to a script? I am confused the way APC was confused this week after the elections. Is the MKHKAK team trying to annoy us with their project or is this a project to measure the tolerance level in the society? All in all, I am on the brink of falling into the deep sea of confusion with this drama.
Dania who was an un-chahi dulhan and then she was a divorced dulhan is now a gumshuda dulhan and her dulha is too cool to care. Hareem Farooq failed to portray the emotions a girl should show when she is stuck in a brothel. She was sitting there calmly whining about Zaryab and thinking about the whole divorce scenario. She was not really trying to get out of there. She should have shown agitation after finding out what the place was. She was again very calm when the lady told her ke aaj raat bhi ruk jao yahan.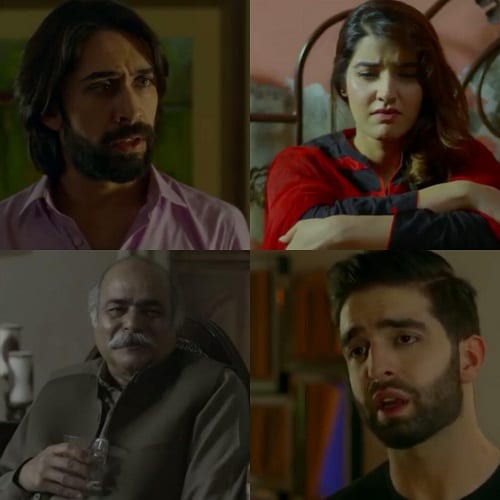 Armaan, on the other hand, is even chiller than his wife. He was procrastinating and then he decided to call Zaryab. If any woman from your household, even the helper disappears like that, you cannot be so calm. It does not matter if you have lived in Pakistan or you were somewhere else your whole life. It is a must that you will be trying to get the lady back. But all he did was went to his father in law, came back, called his brother and slept. He had a fever though afterwards and he was sleeping to get over it. Is fever deadlier than your wife gone missing? He was again planning how he will get Dania married to Zaryab than trying to find her in the first place.
Zaryab called Dania "Meri Dania", went out to different hospitals to find her and somehow did not think of informing the police or his father about the situation. His mother was ill according to the episode, however, she looked extra healthy. And Dania's father is too annoying. Rather than being a support system and supporting his only daughter, uncle baar baar dil pakar lete hain!
They also mentioned previously that the divorce was null and void and in this episode again Armaan thought of Dania as his divorced wife. If anyone understood this Shaadi or divorce or whatever this is, please let me know in the comments section!