This drama has rendered me speechless but unfortunately not in a good way. The million dollar question is what were the khayalat of the writer while writing Main Khayal Hoon Kisi Aur Ka. This drama is an amalgamation of so many wrongs that it deserves the award for the messiest drama next time at HUM Awards!
Main Khayal Hoon Kisi Aur Ka has degraded the institution of marriage in the worst way. They introduced talaaq in the first episode and forgot about it so easily. Divorce is the most despised thing in front of Allah SWT among halal things and they took it so lightly. They have not yet cleared if Dania is Armaan's wife or not and they are showing them living together in the same house. How can they insult marriage in this way? Moreover showing a husband trying to convince his wife (if she is even his wife) to marry his own brother is ridiculous.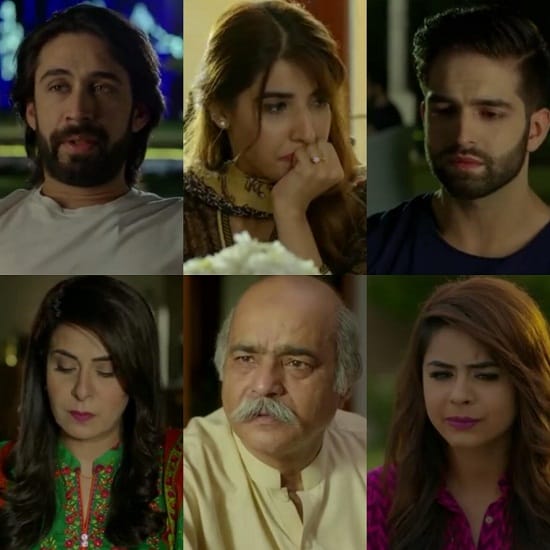 The drama tried to show how parents in our society pressurize their children for marriage. They also have tried to show the double standards of the society but have miserably failed in their endeavours. All MKHKAK has established uptill now is that marriage has no value. You can just wander around throwing talaaqs and qubools without giving a second thought. They have also been successful in establishing that if you are plain stupid and weak in decision making, you are a bechari because those are the things Dania is.
The concept of self-respect is also a victim of this story. A girl who has been ditched by her boyfriend should hate him. But we are watching Dania being jealous by her ex's engagement. I know there is a strong market for bechari heroines in Pakistan but they should be bechari, not whiny and stupid. A bechari would be the one who is trying to save her marriage however cruel or stupid Armaan is. That would have been compatible with the concept of bechargi. But here we have a heroine who is drooling over her stupid husband's coward brother. The two male leads also have zero substance in their characters.
The parents of this drama also deserve an article themselves as we have two extremes in Armaan's mother and Dania's father. This was a package consisting of bad performances, weak editing and a horrible script, I have still given it a fair chance by watching nearly half of it but that would be it! Goodbye MKHKAK!
What are your thoughts on the concepts shown in this drama? Share in comments!