Ohkay so, production of Momina Duraid, writing of Aliya Bukhari & direction of Shehzad Kashmiri; Mana Ka Gharana hit our TV screens tonight. Honestly speaking, the promos enticed me to give this drama a go & to be honest, I actually liked the very first episode. The only thing that still keeps me a from expecting much from this drama is the writer herself because she happens to have Aahista Aahista & Mausam to her credit, but on the other hand Shehzad Kashmiri is known for working in quality projects, so I hope that the reason why Shehzad Kashmiri decided to direct Mana Ka Gharana was because it happened to be a good script & it is because of him that I am giving this drama a chance to see how it evolves & also in a hope that this time around Aliya Bukhari has come up with something different, interesting & great.
Mana Ka Gharana actually includes Mana's (Sana Javed) father Ghalib (Humayun Fazal Chaudhry), her mother Saleha (Raheela Agha), her cousin Khizer (Shehroz Sabzwari) & her paternal uncle Maalik (Shamil Khan). They all are a close knit family & they happen to live in a small hill station. Ghalib & Maalik are Khizer's maternal uncles & looks like after Khizer's parents passed away, Ghalib decided to raise Khizer himself. Khizer is a patissier, he owns a bakery named 'Bakeology' & he is very passionate about his job. It looks like Khizer is a bit mature & responsible for his age & he is doing really well for himself. Also it was too evident that Khizer has a soft spot for Mana & he believes in doing every little thing that Mana asks him to because he wants to make her happy.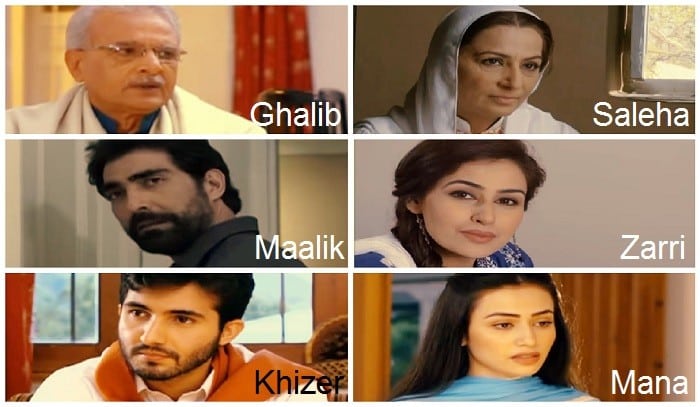 Maalik happens to be a professor & looks like he has a daunting past that has forced him to resort to isolation. Even though he shares a very cordial relation with everyone in the family, he likes to maintain his distance & isolation in order to deal with his stuff himself. As far as I could understand, Maalik was once betrayed by someone that he truly loved & that is why he has become quite bitter when it comes to females & doesn't believe in coming in contact with them ever, even if she happens to be a house maid.
Saleha has worked really hard to keep the whole family together & just because of her compassionate nature, she decides to invite Ghalib's first cousin Zarri (Erum Akhtar) who is being ill treated by her own sister in law. Zarri grabs the opprtunity & informs them that she has decided to shift to their home for good & that's when everyone starts worrying about Maalik's reaction as they know he doesn't like any sort of interference & can't tolerate anyone's presence in his home. Maalik finds out about Zarri's plans after she arrives & that's when he decides that he won't be staying in the same house. Ghalib tries to persuade Maalik so that he can be a bit more understanding about Zarri's tough circumstances but he doesn't budge at all.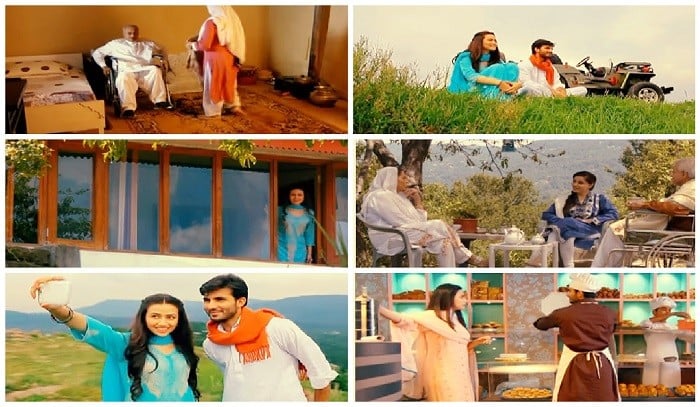 That's where the first episode ended but I liked how they introduced all the characters & told us about their natures. Mana is a care-free girl but when it comes to her family, she is quite considerate, like she was worried for her uncle Maalik & she was also concerend about Khizer's work. I really liked the relation both Khizer & Mana share, they are just like typical cousins who fall in the same age bracket which allows them to be friends with each other without any formalities. Zarri's character seemed a bit mysterious & I am sure she is going to change the dynamics of Mana's Gharana because she seems to be a bit opinionated & doesn't hold back in voicing out her opinions.
Overall the first episode was quite impressive & I had a good time watching it. There were a little comical moments that evoked a smile & this is what I feel made things a bit relatable & realistic because even in our daily lives, we do experience such moments. I loved the locations that they have chosen & the direction was superb. The production value was great which is a done deal for any drama that makes its way on Hum TV. The camera quality was crisp & the visuals were beautiful. I also loved the house they have chosen as their location, there was something earthly & warm about it. Sana Javed looked beautiful & it was refreshing to see Erum Akhtar back after such a long time. She has been out of the picture for quite some while now but I am glad she has decided to make an appearance again. I really liked the look Shamil Khan is sporting, he really looks refined & mature because of that. I didn't like the OST that much & I hope it isn't used a lot in the episodes to come because it can get a bit overbearing I feel. Just a little thing that I felt was odd was a little too much usage of English in their communication, they all belong to a small town & yes, they are educated but the way they spoke didn't really suggest that they belonged to that place as their language was more like what we hear in the cities. So, this is it from my side for the very first episode of Mana Ka Gharana. Please share your thoughts about it & let me know if you liked the very first episode or not? :)
Keep Supporting,
Cheers,
Zahra Mirza.