Oh well, they tried to make this episode quite happening but all this while, I was fishing to find some sense in the whole scenario that Shehryaar planned & executed & quite seamlessly at that. It is certain that this story is quite one-dimensional but at least the director & the actors have given what they could, that is why it qualifies as something that can be watched without expecting too much.
Shehryaar didn't forget what supposedly Khizer put him through, that's why he came back with a full proof plan of putting him down & making sure that he is thrown out of Mana's house just like that. Gul Bahar continues to malign his heart & mind but then again, I don't think it is only Gul Bahar's doing & she has a full control over Shehryaar because he ain't a kid himself. Shehryaar has a brain too & sadly, it is filled with just as much negativity as Gul Bahar's that is why, they both are turning out to remain undefeated in the matters concerning Mana's family as they all are very simple minded in comparison to this negative duo of Aunt & Nephew!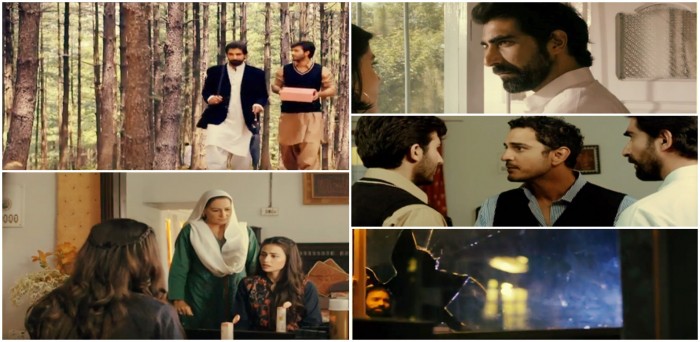 All this while, I was wondering what was taking Maalik so long in getting rid of Gul Bahar & I am glad that I got a decent answer to that. He is actually saving the promised amount of Haq Meher, so that he can eventually divorce her. That is Maalik's plan & I am glad that he put much thought into it & the writer came up with a proper justification for the time he's taking. Maalik has made up his mind that he wants a divorce & he's in no mood to reconcile with Gul Bahar. They both separated 8 years ago & now when Gul Bahar's adventure is over, she is longing to get back with him & start afresh because she fails to accept that there's nothing left in this relationship & also because she has nothing much to do with her life, she is thinking of giving a shot at being a wife once again. However, I am glad that Maalik gave her a clear cut answer & also, didn't hold back when Gul Bahar used Mana's name. Maalik has made it very clear to her that Mana's relationship with Shehryaar doesn't bother him & he won't be threatened by it, which probably is the only trump card Gul Bahar was relying upon.
What I totally fail to understand is that Gul Bahar didn't leave a good impression on this family & before her appearance, everyone pretty much hated her, so how does she get to have so much of an edge & control over these guys? She saw Mana at Khizer's bakery & she insulted Saleha & what surprised me the most is that Saleha listened to everything that Gul Bahar had to say without telling her off. At least Mana made some sense when she said that Gul Bahar was interfering in her life needlessly & that she will talk to Shehryaar about it. Gul Bahar insulted every single person during the drama that Shehryaar staged & no one told her off? Gul Bahar doesn't leave an opportunity to insult each & everyone & still no one gives her a shut-up call? Yes, Saleha can please her all she wants as Gul Bahar is related to Shehryaar & she brought his proposal for Mana but the rest of the family members need to take a stand & tell her to stop interfering in their lives & while they're at it, they can tell her to stop insulting them just like that too. Also, I don't really understand Gul Bahar's attitude. Where at one hand she hates Maalik's family, on the other she is dying to get back with Maalik knowing that he will never leave his family & this home for her? She knows that getting back with Maalik means that she'd have to live in the same house with all these people she looks down upon, so what is she really trying to achieve here?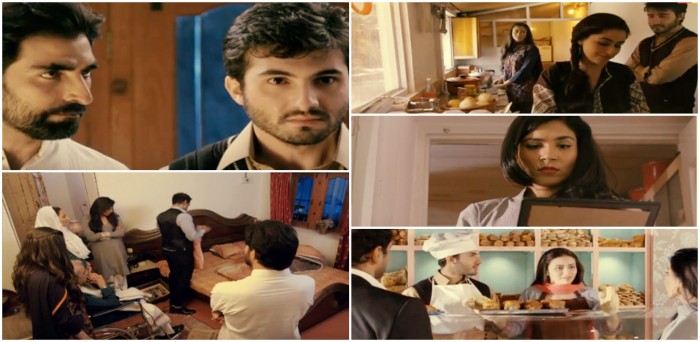 Finally, Shehryaar came up with a plan of accusing Khizer of stealing Mana's 'expensive diamond' ring that probably no one in her family must've seen before!?!?! He not only insulted Khizer but he took his revenge to another level by destroying his bakery too. Ohkay, for a second even if the family members do believe that Khizer stole the ring, what would they say when they will find out that the very same night, his bakery got destroyed too? It is like Shehryaar exposed himself by doing that as it clearly shows how much he hates Khizer & also, at such a peaceful place, who would do that to Khizer's bakery except Shehryaar? If Mana's family will put their mind into it they will know that Shehryaar is responsible for everything but I am sure they are so overly impressed by him to blame him for doing something so petty. I really want to know what their reaction would be when they will find out about Khizer's bakery? Will their mind allow them to think rationally & put two & two together where they will suspect Shehryaar for doing it to Khizer's bakery? I really thought that may be someone will understand that ever since Shehryaar has walked into their lives, he has only targeted Khizer, so it was an act that he was putting up for framing him, but nope, no one thought of that. May be Zarri will do some brainstorming as she doesn't really like Shehryaar, so I hope she tells Maalik to think rationally & come up with some sort of a solution that will expose Shehryaar's reality.
Overall, this episode was good. I found the editing a little choppy as there wasn't a flow in the scenes. The acting is strictly alright but Shamil Khan has really carried himself well as Maalik & so has Erum Akhtar as Zarri. I don't know why but Shehroz Sabzwari looks expressionless in most of the scenes. Ghalib uncle disappointed me once again with his lack of rationality & present-mindedness. His wife is treating everyone badly & there he was, worrying sick about why his wife was throwing a tantrum at him!?!?! The preview made me think that my detest for Mana is going to increase a little more because she will end up speaking the same language as Saleha where she will talk about Khizer's 'haiseeyat'. I think more than anything else, I am going to watch this drama till the end just to find out how Mana & Saleha will face everyone when their trust in Shehryaar will shatter & he will treat them just as badly as he has treated Khizer all this while too. Please share your thoughts about this episode of Mana Ka Gharana.
Keep Supporting,
Cheers,
Zahra Mirza.