Saleem Mairaj and Maya Ali owned this episode; the sincerity and precision with this these two actors have portrayed their characters on screen made their scenes worthwhile. I am especially impressed with their versatility. Even when Mannu's character had absolutely nothing to offer Maya Ali managed to give it her best and she was just as convincing as the stubborn strong-headed girl in the first few episodes. Saleem Mairaj made the viewers hate Jameel in the beginning and now I find myself enjoying his scenes more than any other character in the drama. He is a natural performer who definitely deserves a lot more recognition.  Salahuddin's character and Hamza Ali Abbasi's acting both have been very unimpressive. Salahuddin is very confused about what he wants but just like Maya Ali Hamza Ali Abbasi could have made this character a little bit more interesting but sadly that is not the case here. Salahuddin seems robotic even when he is supposed to be going through something very emotional. Jeena made her entry after 13 episodes and today she got hardly any screen time – not that I mind that!!! Ayesha Khan was wearing too much make-up in tonight's episode – no one goes to their workplace like this unless of course they want to 'win over' the boss who does not even give her a second glance! The make-up and the silk attire which she wore did not do the trick at all, in the end she had to take over Jameel's work in order to spend some time with the boss, even then she did not get his attention! Am I the only one who feels sorry for Ayesha Khan more than Jeena after watching this episode?
Honestly speaking at this point Salahuddin seems more twisted than Mikael! Yes Mikael is a very sick human being who does not think of anyone else except his own self but what Salahuddin is doing is just as bad. Although he says he is doing all this to make Mannu happy but his obsession with Mannu seems to be a way to get rid of the guilt he feels. Everything that he is doing for Mannu will be of no practical use to her in the long run. He kept on giving her false hope in tonight's episode and although his communication with Mannu temporarily made her feel good about her life but he is once again cheating her and getting her emotionally involved with him. Salahuddin is just as selfish as Mikael, the only difference is that these two people torture Mannu in different ways for their own selfish reasons. Jameel was right in pointing out that what he was doing was wrong! He also knows that this 'happiness' is temporary but once again he has no shame in playing with Mannu's life. He needs counseling more than Mannu and Mikael!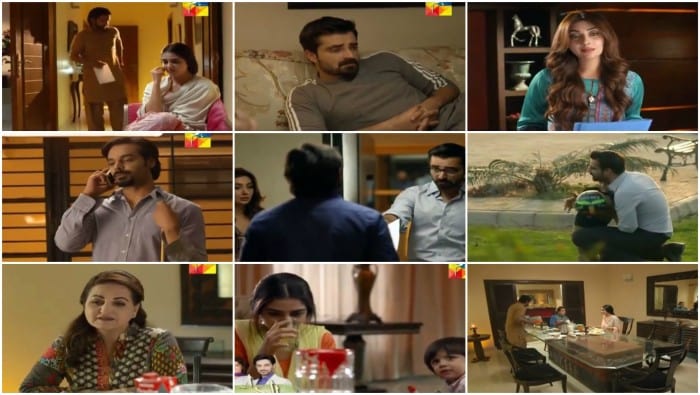 The scenes in which Jameel played the messenger were the best part of this episode, not because of Salahuddin but because of the chemistry between Saleem Mairaj and Maya Ali. Also, the way these scenes were directed was quite interesting. After a long time the viewers got to see that side of Mannu's personality which was missing from the past few episodes. After a long time she expressed how she truly felt. She has still not forgiven Salahuddin and although she says she wants him dead but what she really wants is that he should be out of her life for good. This indirect communication helped me understand what was going on in Mannu's mind. She has shut herself from the world because Salahuddin shut her out of his world. Mannu's mother in law's sudden change in attitude did not make any sense! She was giving marital advice to Mannu like she was newly married and asking Mannu to do other things for Mikael like she knew nothing about the problems between them! It was almost as if she was waiting for Mannu to have her baby so that she could put her through some more torture!
Jeena made an appearance in only one scene in tonight's episode and I found that scene really funny!!! Jeena's made up look and her desperation didn't go well with Ayesha Khan's personality at all. She really should focus on becoming a character actor now and not a glam queen. She is really pretty, there is no doubt about that, but she is also very talented therefore just like Saba Qamar every now and then it would be really nice to see her in a role which leaves more room for interpretation and performance. Any girl could have played this role, Ayesha Khan is wasting her talent playing this character. She mentioned in one of her interviews that she was done doing favors for people and she will choose only those projects now which offer something different but once again she is playing a role which has nothing new to offer.
This episode was definitely much better than many others we have seen lately but like every other episode I doubt anything tangible will come out of the communication between Salahuddin and Mannu. The preview of the next episode showed a confrontation between Mannu and Salahuddin after she finds out that he is the 'guru'!!!
Anyone else out there who will give anything to have an all-rounder servant like Jameel;)?? How many of you watched this latest installment? Don't forget to share your thoughts about it. And if you missed it, watch it on http://www.dramasonline.com
Fatima Awan