I must say that after watching over dramatic love stories in the recent past like Mera Naam Yousuf Hai and Sadqay Tumhare I expected a little bit more from tonight's episode. All through tonight's episode I couldn't help but look forward to what was going to happen next but at the same time I felt once again that the drama banked a little too much on direction and the script had absolutely nothing grand to offer. I will however give credit to the writer for giving us some wonderful on screen parents who are definitely not run-of-the-mill but other than that this drama needed a few more strong supporting characters to make it look like something more than just another love story. This episode had some beautifully shot scenes to its credit like every other episode of Mann Mayal, the last scene had to be my favorite. It went to show how difficult it was for both Mannu and Salahuddin to let go of each other but both of them eventually would have to do that because of entirely different reasons. Maya Ali and Hamza Ali Abbasi's brilliant performances have also given this otherwise typical love story the edge it needed to stand out in the crowd.
There is a saying, "there is always some madness in love" and this episode was all about that madness. Mannu's desperation was portrayed brilliantly but I thought it was slightly comical the way all those women were running after Mannu although it was not meant to be funny. I absolutely loved the way Mannu's impatience was shown after Bia told her that Salahuddin had talked to his parents. Mannu's optimism turned into the biggest disappointment of her life when Salahuddin did not open his door for her. In the end it was not the phupo or Mannu's father who separated them but it was Salahuddin's decision to let Mannu go because he thought she deserved better. He is someone who has always been shown as a very practical person. He tried to buy himself some time by telling Mannu that he was going to Karachi but everything changed when Mannu's parents found out what was going on between them.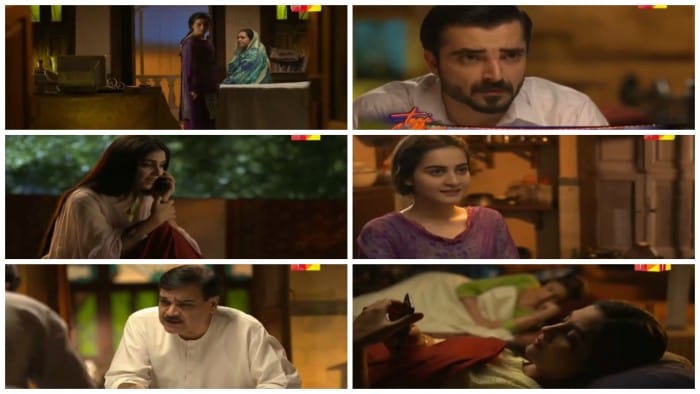 Mannu's father's reaction was totally in line with his character. Even with all the opposition he was willing to marry Mannu to Salahuddin but later on when Salahuddin's parents could not muster up the courage to ask him for Mannu's hand in marriage he knew that they will never open the door for her. It was a wise decision by a father who would have found it impossible to hurt his daughter by refusing to give her what she loves and a friend who could not say no to his best friend who was like a brother to him.
It was refreshing to see that this whole episode did not focus on "yeh shadi nahi ho sakti" scenario but gradually it was shown why ultimately Salahuddin will be the one who will back out of this relationship. Hamza Ali Abbasi has a very expressive face and he is an expert at giving the right expressions in every single scene. There were many scenes in tonight's episode which required an actor like him to do justice to those scenes and he did just that. I must say that I am very impressed by Aiman Khan's performance in the show, every single dialogue is delivered with perfection and her body language was flawless in every scene.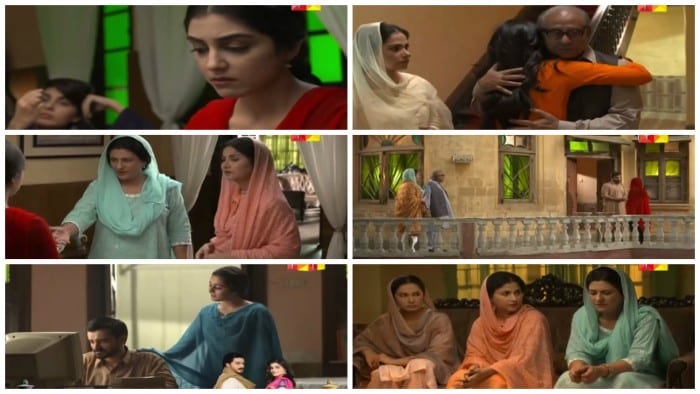 Lately in our dramas we have been watching the women take the lead when it comes to making sure that they get the love of their life therefore watching Mannu do all that she did for the love of her life wasn't very novel. Maya Ali has put her heart and soul into this character and it shows. I must say though that if things gets too serious from here on then I am going to miss the bubbly side of Mannu a lot since Maya Ali nailed all of those scenes in the first two episodes. All the actors playing supporting roles deserve a special mention for their brilliant performance which make this drama picture perfect as far as performances are concerned but since the characters are plain and simple therefore while some of them are likeable others don't really get noticed in the crowd. We kept on hearing over and over again in this episode and in the last one too just how rich Mannu's family was yet Mannu and her cousin were seen sleeping on the roof top. I am not sure if it is a norm in small cities to sleep on roof tops but I suppose people who can afford air conditioning would sleep indoors.
This episode ended on an emotional note and the preview of the next episode showed that we will see more of Gohar Rasheed's character in the next episode. I must say that I am looking forward to that since he is another actor who always manages to bring out the best in his characters.
How many of you watched this latest episode of Mann Mayal? Don't forget to share your thoughts about it.
Fatima Awan
If you missed this episode of Mann Mayal, watch it here…http://dramaonline.com/
[total-poll id=37949]