Maryam is a new drama serial that has started airing from Tuesday, 31st March. They have told a lot of story in the promos and preview so we already know that Mawra Hocane and Faisal Qureshi will get married and Ally Khan will create trouble in paradise by kidnapping Mawra. The first episode basically just served to introduce us to the characters.
The episode started with Sohail Asghar playing a very sweet widowed father to his two daughters, Noor and Maryam. All three of them are shown to be very close and caring for each other. Noor seems to be the sensible mature daughter while our heroine Mawra Hocane plays the bubbly Maryam. She is quite lively and headstrong as shown by the "kawwa" scene, though it didn't make much of a sense except probably showing that Maryam is different and daring in her choices.
In Faisal Qureshi's household, there is a glaring difference between him and his brother played by Kamran Jillani in both moral values and financial responsibility. Kamran (Sheraz) spoils a project and lies to their dad and his mother about it, which is pointed out very assuredly by Faisal Qureshi aka our hero Amman. Now why is Sheraz's wife all clad in white and crying hysterically after that seems a bit too much but probably we'll get to know her better in later episodes and understand it. Uzma Gillani is Amman's stepmom and her approach is quite usual. Predictably, she wants her good-for-nothing son to move ahead of Amman in the company and in their father's opinion.
Maryam first meets Amman when her friend Rida does his interview and she takes his pictures. She is quite infatuated by his personality from the very start which is quite understandable though as Amman is shown to have every dreamy quality in him. He is rich, handsome, hardworking, humble, loyal, gentle and what not :) Maryam makes an excuse for meeting him again and likes his dignified and respectful self even more. It was very cute to see him all nervous about striking the right pose, quite unlike the rich stuck up businessmen that most successful heroes seem in the first encounter. Faisal Qureshi does make a likeable character become extremely endearing by his natural charm and Mawra looks very pretty and young here. The innocence of Maryam is displayed very well by her sweet and smiley face. Their chemistry was beautiful, you could clearly see that Maryam is besotted and Amman is yet totally unassuming and clueless to what's going on in her mind.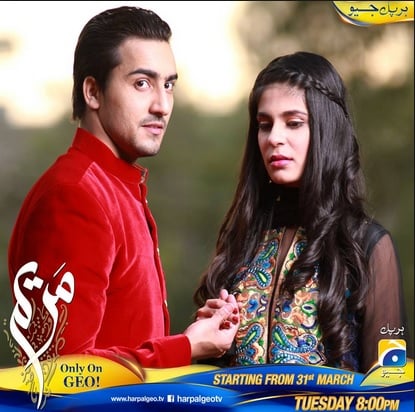 Ally Khan enters as Behram and behaves like a very sick minded person which is why even Noor shies away from him. He gets insulted by Maryam when he tries to help her in his possessive villainous manner after her car breaks down. Amman comes right there and Maryam readily accepts his offer for help. The candid remark which Maryam made; YEH HOTI HAI HERO KI ENTRY made quite an impact but didn't look very decent of Maryam to say so.
This episode ends with Maryam's and Amman's dads discussing Amman's marriage which goes on to show that him and Maryam won't have trouble getting together as their dads are already friends.
All in all it was a nice interesting start to a drama with every actor totally fitting in the mould of his or her character. Nobody seemed out of place at all. So let's see how the drama unfolds further….
Mohabbat ka dawa karnay walon nay hamesha aurat ko hi azmaya hai….
I don't know if its just me or every viewer is feeling irritated by the continuous repetition of this tag line… again and again and again.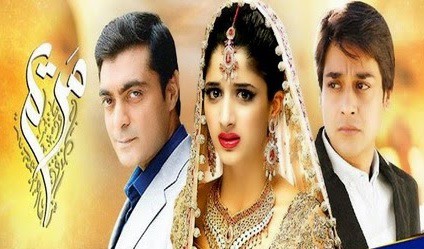 Despite this monotonous dialogue, the drama has been going well, even though it seems more like a Bollywood movie than a Pakistani play.. So far we have seen just how evil a step-mom can be and how dangerous a rejected cousin is. After a good start showing the friendship between Maryam's and Amman's dad, the play has had more than its share of zaalim samaj but they could not prevent the union of mature yet idealistic Amman and bubbly and optimistic Maryam. Uzma Gillani is excellent as Firdous, so much so that she is starting to give me creeps as the manipulative, cunning and multi faced woman she is. The marriage was out-rightly and then subtly opposed by her, first by blaming Maryam to be a thief and then by insulting her in that "burry lay kay ayain hain" scene.
Amman also has quite a few enemies but top of the list is his own step brother who got so frustrated by his mom's games that he decided to get Amman killed but he lived through the attack and wrongly blames Behram for it. The way Firdous begum scolded her son for the attack was another chilling reminder of all that this woman is capable of and yet she is so sweet to both her husband and stepson that they don't doubt her intentions over anything.
Maryam's sister Noor is the only one who is very apprehensive about this wedding but Maryam's enthusiasm keeps her from opposing it. The ceremony itself was nice especially the mehndi dance but Firdous managed to embarass Maryam's dad there as well. The bridal dress was very classy and Mavra Hocane looked beautiful, though not as younger than Amman as we are repeatedly reminded.
Behram went through the trouble of setting up a targeting gunpoint on the roof and finding the perfect aim, only to decide that this is not revenge enough.. very funny :)
We have been seeing how Uzma Gillani managed to show her true colors to Maryam on her wedding night while fooling Amman at the very same time. The conversation between Maryam and Amman was very sweet. Its nice to see a man so accomplished, yet so shy and respectful when it comes to the opposite sex.
Then there is all this drama about the bangles that were not the right size and Maryam had the guts to not wear them despite her mother in law's orders. Amman's dad though is very sweet and asks the cook to prepare Maryam's favourite halwa puri every Sunday. He seems such a nice and sensible man, how he remained so oblivious to Firdous's tactics all his life seems unreal.
Just as Maryam and Amman are getting to grow more in love with each other, mother in law from hell is creating more trouble. The tradition in which she takes bride's jewellery and Maryam's refusal to follow any such thing was very well played. The way Amman convinces her to give her jewellery shows that he understands whats happening in his house but for love and harmony in the family, he only thinks and feels positively about his relations. Maryam eventually gives in with a heavy heart, much to Firdous's delight who occupied too much screen space today. It may have been necessary because she carries the most powerful negative role in the play but I would have preferred more of the soft and cute scenes between our main couple than her.
Just so we dot forget Behram, he appears in the second half and after some smart talk with Amman tells him that he has bagged his 10 crore contract. Amman rushes to the office to sort it out.
Another important scene was between Anoushey and Maryam which showed that atleast Anoushey had the brain to differentiate between right and wrong, if not the guts to say so. Now we understand why she is so passive and depressed. With no parents to turn to and no child to call her own, and a husband as greedy and selfish as sheraz, its no wonder she aways cries. The red makeup around her eyes seemed fake though.
The last episode ended beautifully with the wicked witch Firdous exposed in front of her husband but the worst part was his heart attack. The same formula when the witness of all evil dies before telling anyone else and hence the villain 's secret remains safe :(
Hoping for uncle Ibrahim 's recovery so we can see anty Firdous punished but doesn't seem likely….
Mehwish